Traditional cocktails like an old fashioned are classics that are simple to make and great for go-to bar orders. However, recently I visited West Fork Whiskey and experienced several different versions of old fashioned cocktails. My favorite was definitely this Walk the Line cocktail featuring their rye whiskey. The Walk the Line Rye Whiskey Old Fashioned combines their rye whiskey, Chambord, orange bitters with Luxardo cherries for a delicate yet spicy version of the old fashioned cocktail.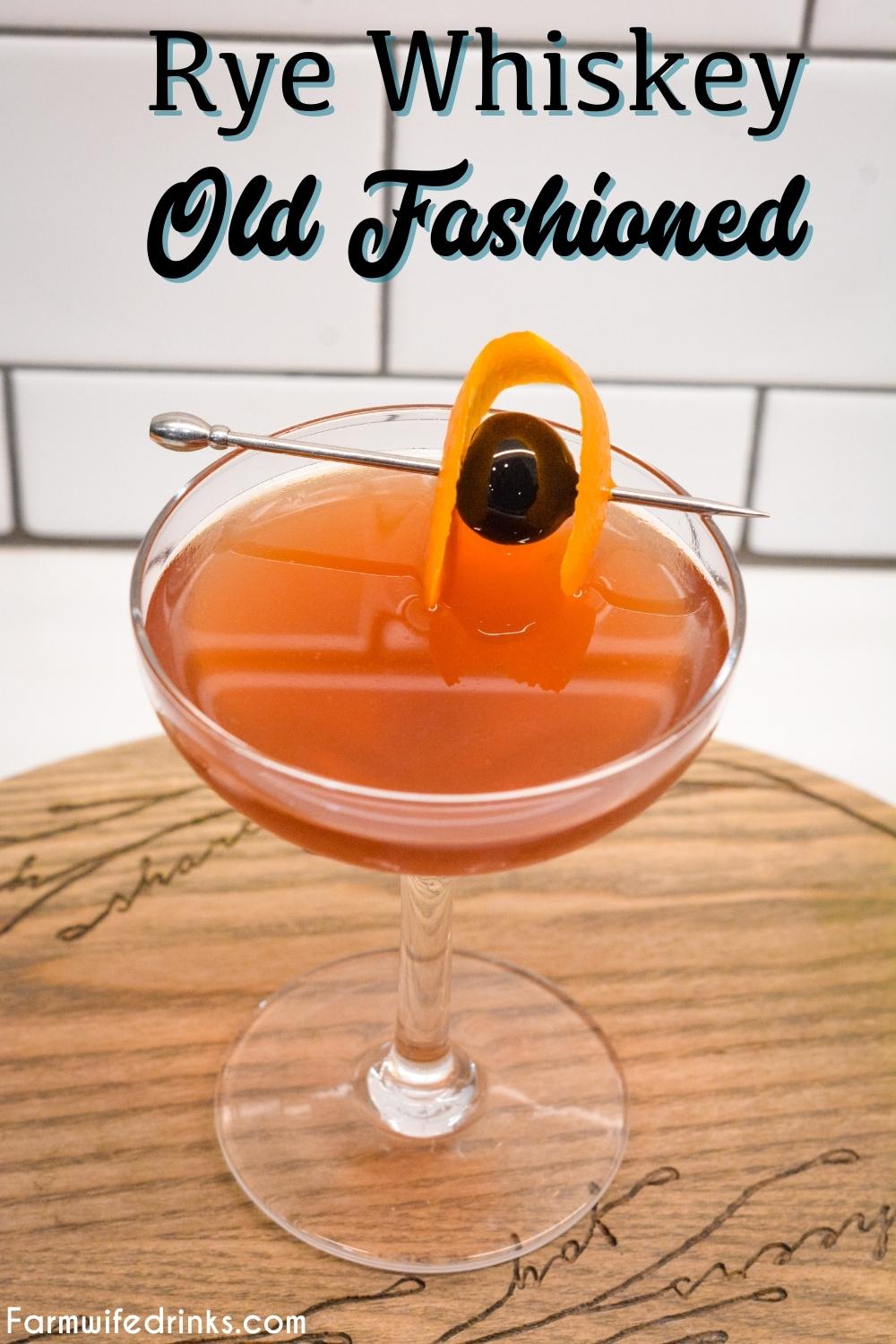 Nothing beats a classic cocktail. I love how the West Fork Whiskey folks take Indiana corn to blend with Indiana rye for this smooth whiskey that has the familiar spiciness a rye whiskey offers. While they used several specialty ingredients in their cocktails, I was able to figure out how to make an at-home version of the Walk the Line cocktail. By the way, good luck walking the line after having a few of these old fashions.
What goes in a Rye Whiskey Old Fashioned Cocktail?
A traditional old fashioned has whiskey or bourbon, simple syrup, bitters with just a hint of orange from an orange peel and then a bit of cherry from a cherry garnish. This rye whiskey version takes those elements and adds some interesting flavor profiles to it.
Here is what you need to make the West Fork Rye Whiskey Walk the Line Old Fashioned:
Rye Whiskey - There are a lot of rye whiskeys on the market. Lot's of people have opinions on what is the best rye whiskey for old fashioned cocktails. I will have to say, this rye whiskey from West Fork Whiskey was darn good. But maybe I am biased since it was made with good old Indiana corn and rye.
Chambord - The OG recipe called for a pomegranate cordial. Let's be honest, I am not going to make something at home like this. So either pomegranate juice or Chambord were my simple options. Naturally, I went with the chambord since I have it on hand for my French Martinis.
Luxardo Cherry Juice - Luxardo cherries are these glorious over the top maraschino cherries that the fine folks at West Fork Whiskey use in most of their old fashioned cocktails. Do not choke on the price of these cherries. But honestly, I pay a lot for good booze, why not for good ingredients to pair with the booze. Also, you can find these cherries in the grocery store in the liquor aisle by the other garnishes. They aren't cheaper on Amazon. They aren't cheaper in your grocery store or liquor store. They are just expensive.
Orange Bitters - These orange bitters are great to also have on hand very your whiskey drinks. Honestly, I am also going to get creative with my gin with these bitters as well.
Lemon Peel - The essence of lemon can be added to this cocktail by peeling the lemon peel and then squeezing it into the cocktail. You can also squeeze just a bit of lemon juice into the cocktail for even more lemon flavor.
Orange Peel - Be sure to have a whole orange on hand. So this way you can use peel off the skin to garnish this cocktail and a quick squeeze of the skin will release the orange oils into the cocktial.
Luxardo Cherry - Once you try these Luxardo cherries, you will understand why you spent this much on a garnish. Go ahead and let it soak in that whiskey for a while too.
How to make the West Fork Whiskey Walk the Line Old Fashioned Recipe with Rye Whiskey?
This cocktail is a stirred not shaken cocktail. So if you do not have a bar mixing glass and a long stir spoon, check out this bar set. Begin making the cocktail by pouring the bourbon over ice in the mixing glass. Follow the bourbon with the Chambord. Spoon a teaspoon of Luxardo cherry juice into the mixing glass. Hit the glass with orange bitters and then stir.
Have a fun old-fashioned champagne saucer coupe glass to pour this old fashioned style drink into. Through a strainer, of course.
Then garb your lemon and orange a do a quick peel of the skin with a citrus peeler. Squeeze the lemon skin to get the oils into the cocktail. Use a spoon to dig out one of those Luxardo cherries. Drop the cherry and orange peel in the glass with the cocktail or use a garnish pick to rest the garnish on the glass.
Enjoy the luxurious rye whiskey old-fashioned cocktail this Walk the Line cocktail is.
Whiskey or Bourbon Cocktail Recipes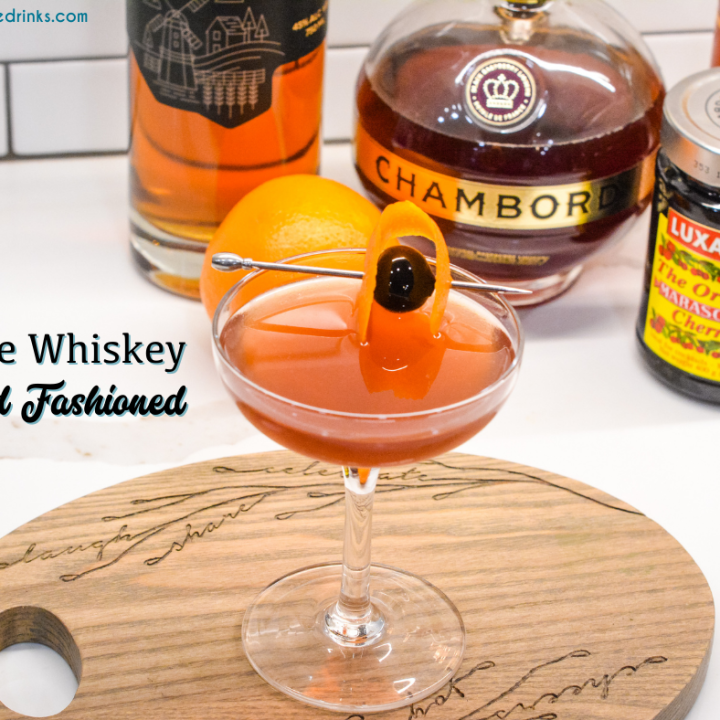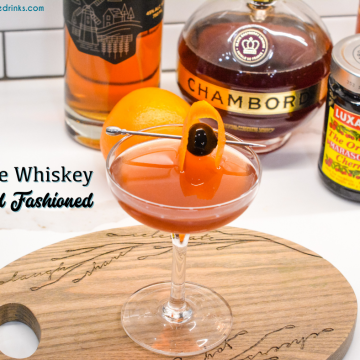 Rye Whiskey Old Fashioned
The Walk the Line Rye Whiskey Old Fashioned combines their rye whiskey, Chambord, orange bitters with luxardo cherries for a delicate yet spicy version of the old fashioned cocktail.
Print
Pin
Rate
Ingredients
2

shots

rye whiskey

1

shot

Chambord

1

teaspoon

Luxardo cherry juice

3

shakes

orange bitters

lemon and orange peel

1

Luxardo cherry
Instructions
In a bar mixing glass, add ice. Then pour the bourbon and chambord over the ice.

Add the Luxardo cherry juice and orange bitters.

Stir together for a few seconds.

Pour through a strainer into an old-fashioned champagne glass.

Squeeze the lemon peel to get the essence of the lemon into the cocktail.

Garnish with the cherry and orange peel.
Nutrition
Calories:
396
kcal
|
Carbohydrates:
22
g
|
Protein:
1
g
|
Fat:
1
g
|
Saturated Fat:
1
g
|
Polyunsaturated Fat:
1
g
|
Monounsaturated Fat:
1
g
|
Sodium:
5
mg
|
Potassium:
17
mg
|
Fiber:
1
g
|
Sugar:
19
g
|
Vitamin A:
2
IU
|
Calcium:
4
mg
|
Iron:
1
mg
Latest posts by Leah Beyer
(see all)