Are you looking for a fun way to add some zest to your summer days? The Irish Trash Can Cocktail is an exciting and flavorful drink is sure to make any gathering, or even just a quiet evening at home, the perfect opportunity for celebration.
Packed with unique flavors, this cocktail utilizes several ingredients that make it a truly special experience.
Plus, it's simple enough for anyone to prepare - so whip up an Irish Trash Can for yourself now and start celebrating!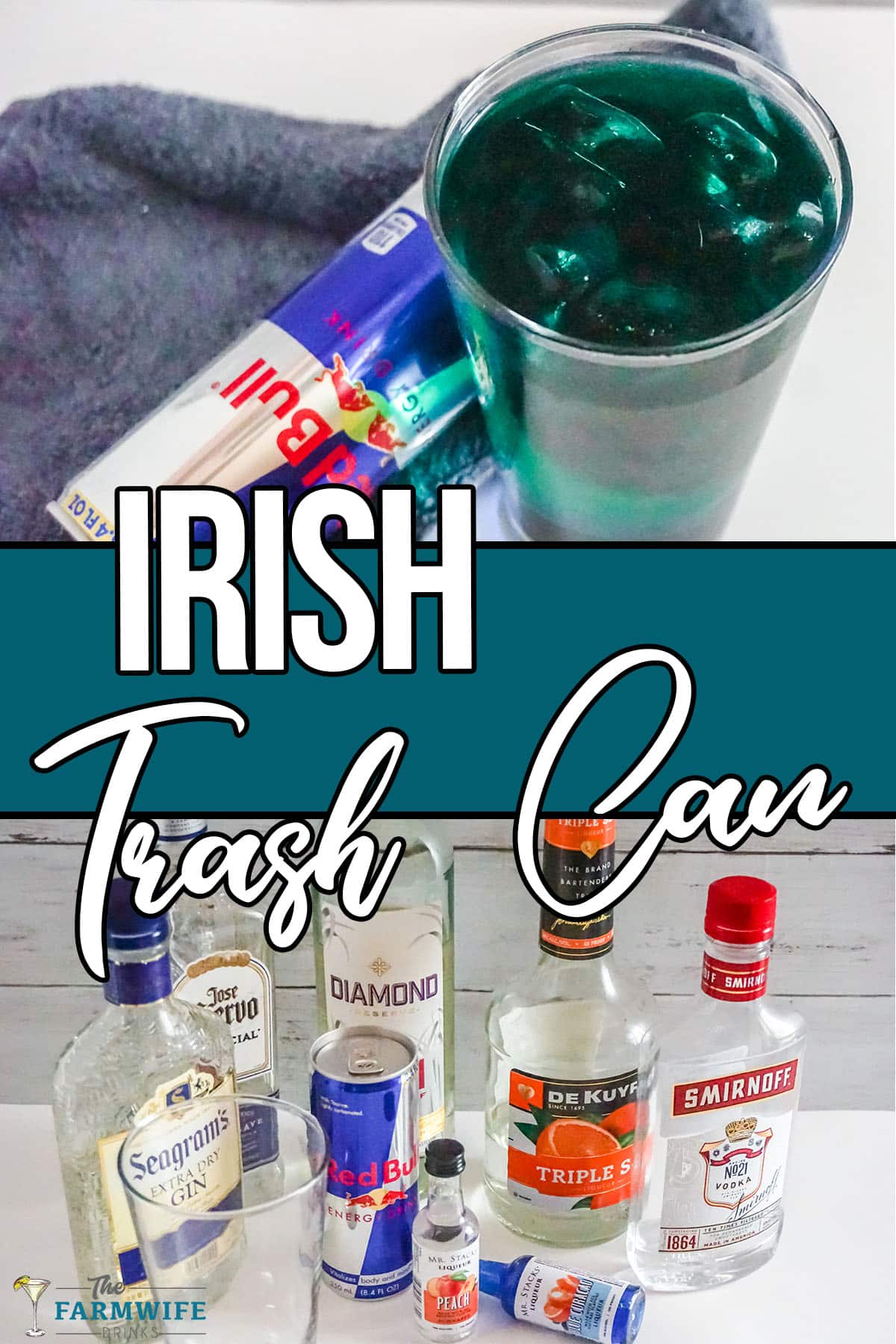 Jump to:
The Irish Trash Can Cocktail is a Fun Drink to Make
Looking to add a little bit of Irish fun to your next gathering? Look no further than the Irish Trash Can Cocktail.
This vibrant green drink combines the kick of an energy drink with the buzz of a fruity cocktail, making it a go-to choice for anyone looking to let loose and party.
Plus, the presentation alone is enough to impress your guests - watching all the different liquors and mixers combine into a bubbling concoction is a treat for the eyes.
Not to mention, its quirky name is sure to get everyone talking.
So next time you're in the mood for a little bit of party magic, whip up an Irish Trash Can Cocktail and get ready to let loose.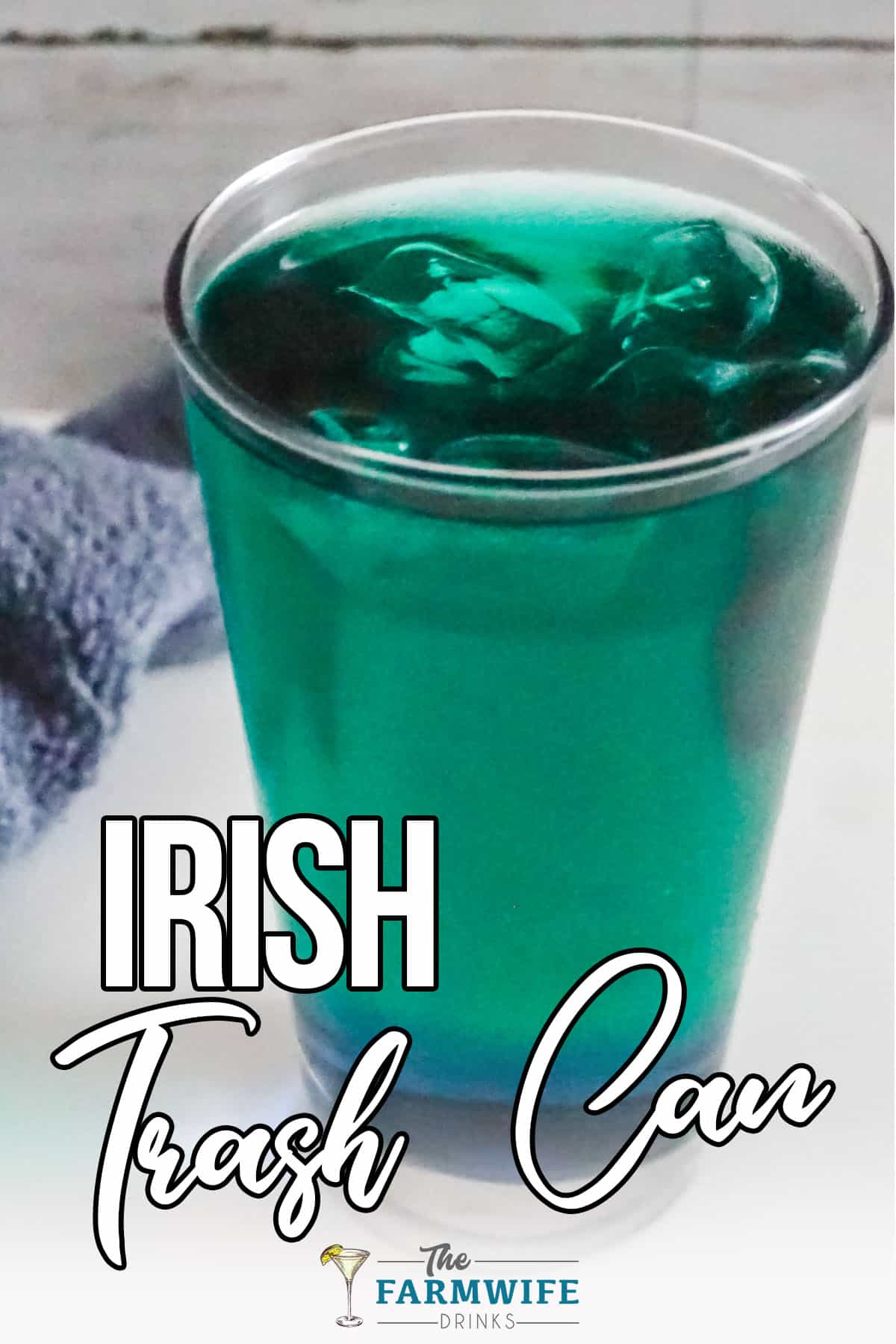 Ingredients
Do you want to make the perfect drink but don't know where to start? Well, fear not my friends, because I'm here to give you the lowdown on what you need in your arsenal. First things first, you're going to need these ingredients
Blue Curacao
Gin
Rum
Vodka
Peach Schnapps
Triple Sec
Red Bull
Ice
See recipe card for quantities.
Then, you'll need to think about getting a good measuring glass. Trust me, you don't want to be caught measuring out things poorly.
Next up, ice is a must-have. It's not a drink without some cool refreshment to keep it chilled.
Then, you've got yourself a drink that even your most critical guests will enjoy.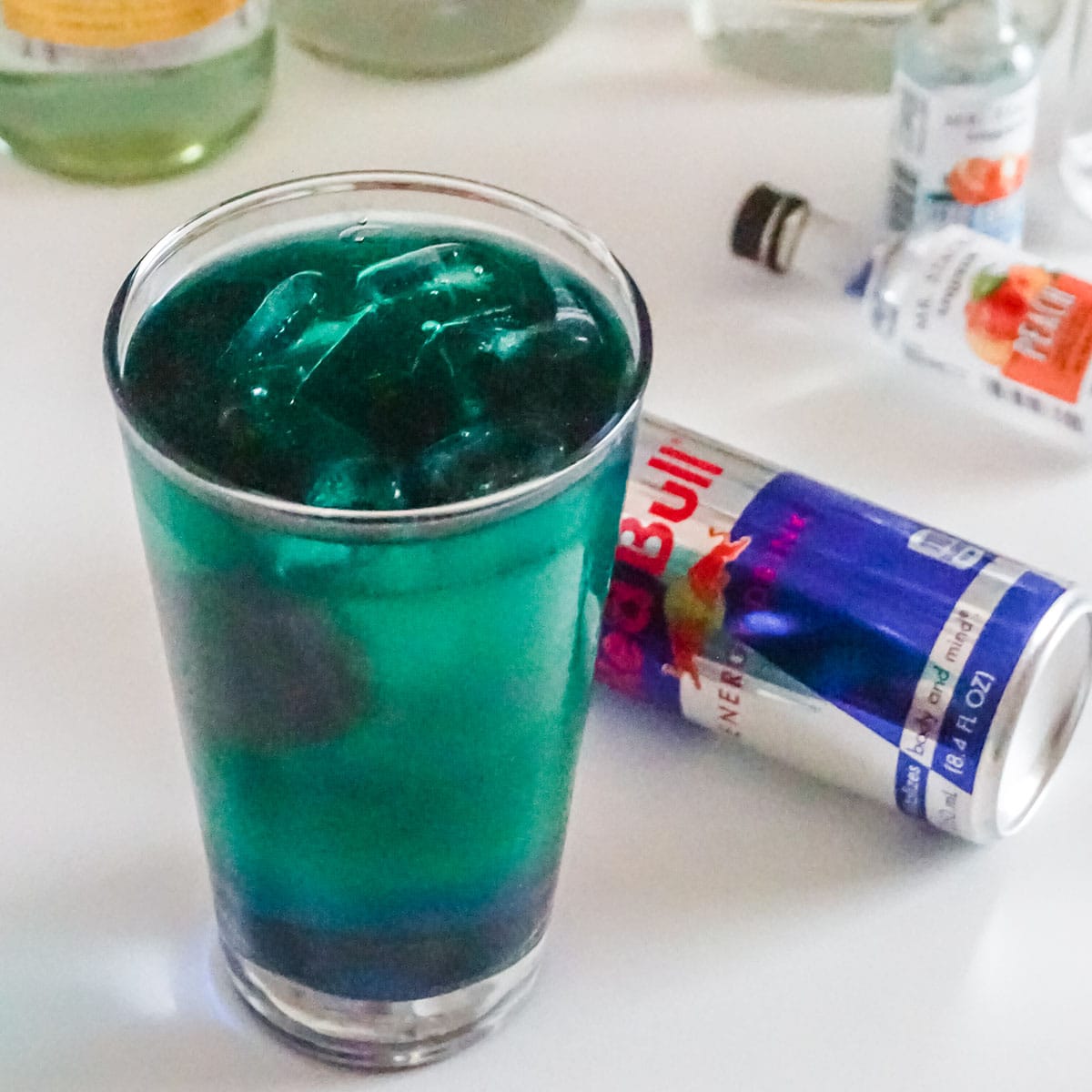 Instructions
Are you feeling thirsty? Let me tell you, there's nothing like a homemade drink to quench your thirst! Luckily, I am here to teach you the step-by-step process of making the perfect drink.
Step 1: In a large glass add in Blue Curacao on the bottom of your serving glass.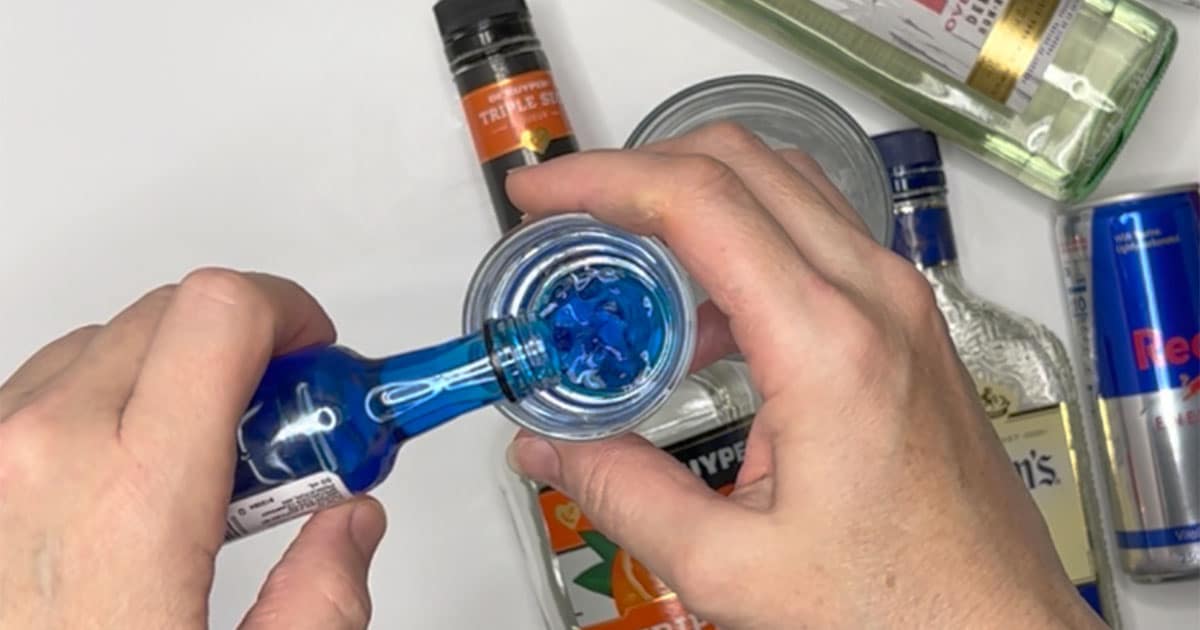 Step 2: Add in ice, gin, rum, vodka, peach schnapps and triple sec.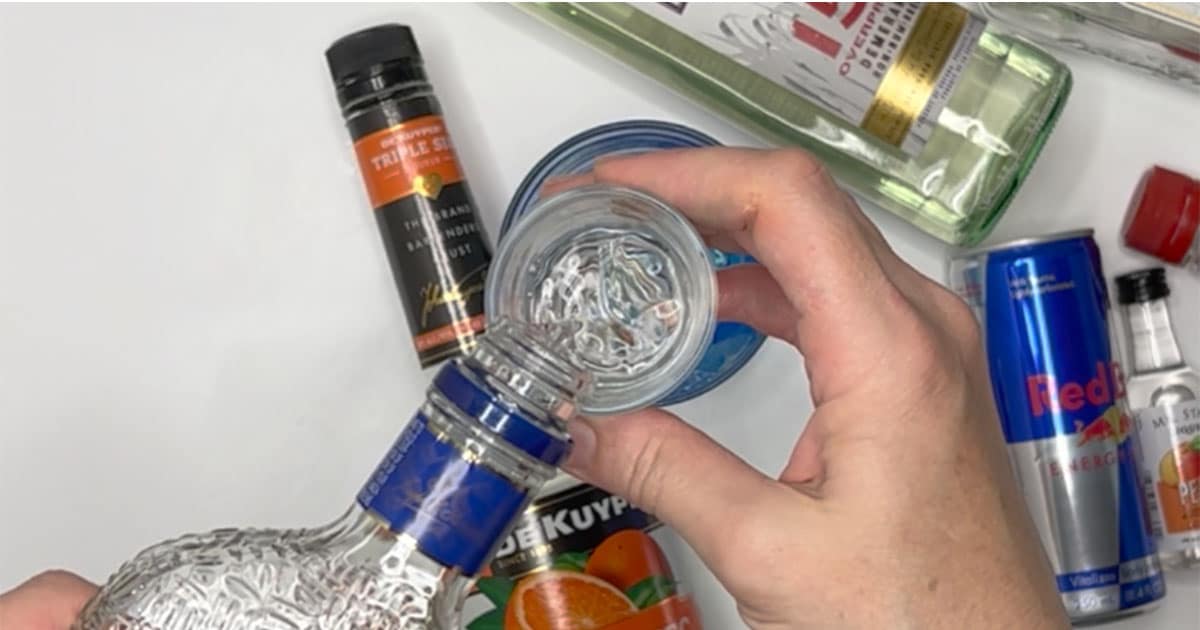 Step 3: Pour in Red Bull and leave can in glass upside down.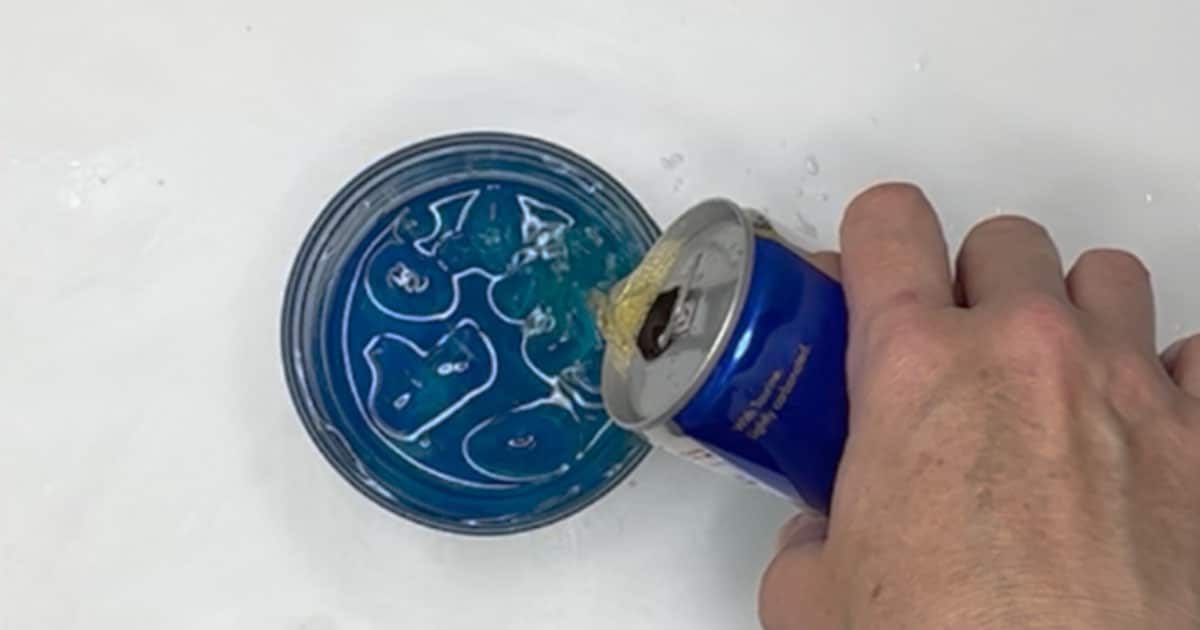 Tips for a more creative way of presenting the drink
Don't be boring with your drink presentation! It's time to inject some creativity into your bar game.
Impress your guests with an unexpected garnish or serve your cocktail in a unique glassware.
Get artsy with your ice cube molds, add a twist to your garnish by incorporating herbs or flowers that complement the flavors of the drink.
And don't forget the power of personalized coasters or custom stirrers to make your drinks stand out even more.
With these tips, you'll have your guests saying "Cheers to the most creative presentation!"
A few interesting facts about the Irish Trash Can Cocktail
When it comes to unique cocktails, the Irish Trash Can is definitely one to remember.
This flashy drink is created by mixing together multiple liqueurs, energy drinks, and sometimes even beer.
But what makes it truly stand out is the fact that a full can of Red Bull is inverted into the mixture, creating a fun and unforgettable visual.
While its exact origins are unclear, the Irish Trash Can has become a popular choice at bars and parties alike.
And although it may pack a punch with its high alcohol content, one thing's for sure - this cocktail is not to be missed.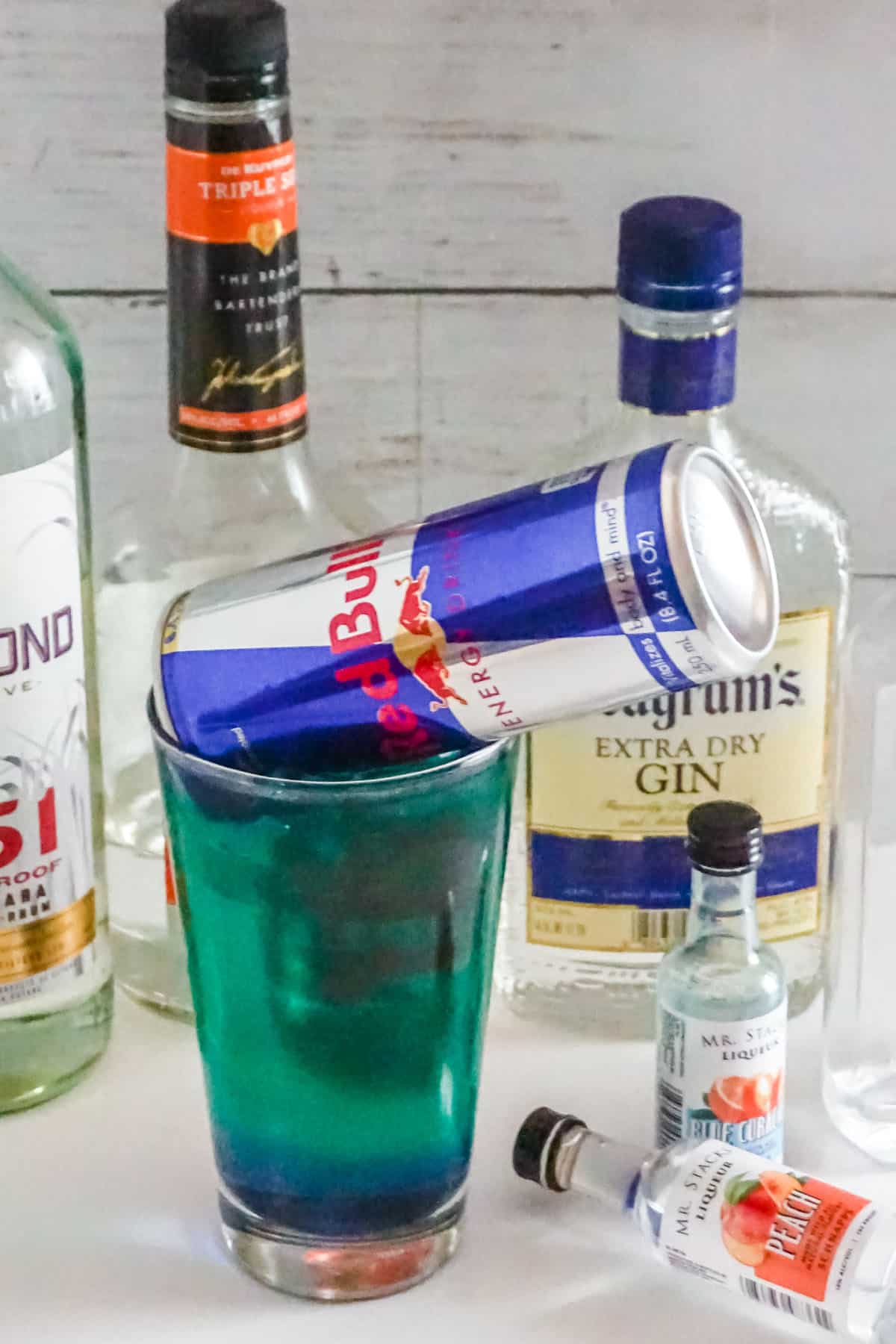 Home Bar Equipment
Having a well-stocked home bar with the equipment to make cocktails whenever you desire is important for the cocktail enthusiast. Build your bar for the perfect cocktail drinks with a few of my favorite items to make great drinks with great tools.
How to Store Cocktails
This cocktail is super easy to make, but you can make it ahead of time.
Refrigerating Leftovers - You can store leftovers of the Irish Trash Can cocktail in the fridge for up to three days.
Freezing Leftovers - Frozen Irish Trash Can slushies can also be made with leftovers. Just pop the leftovers in a freezer bag and pull out later.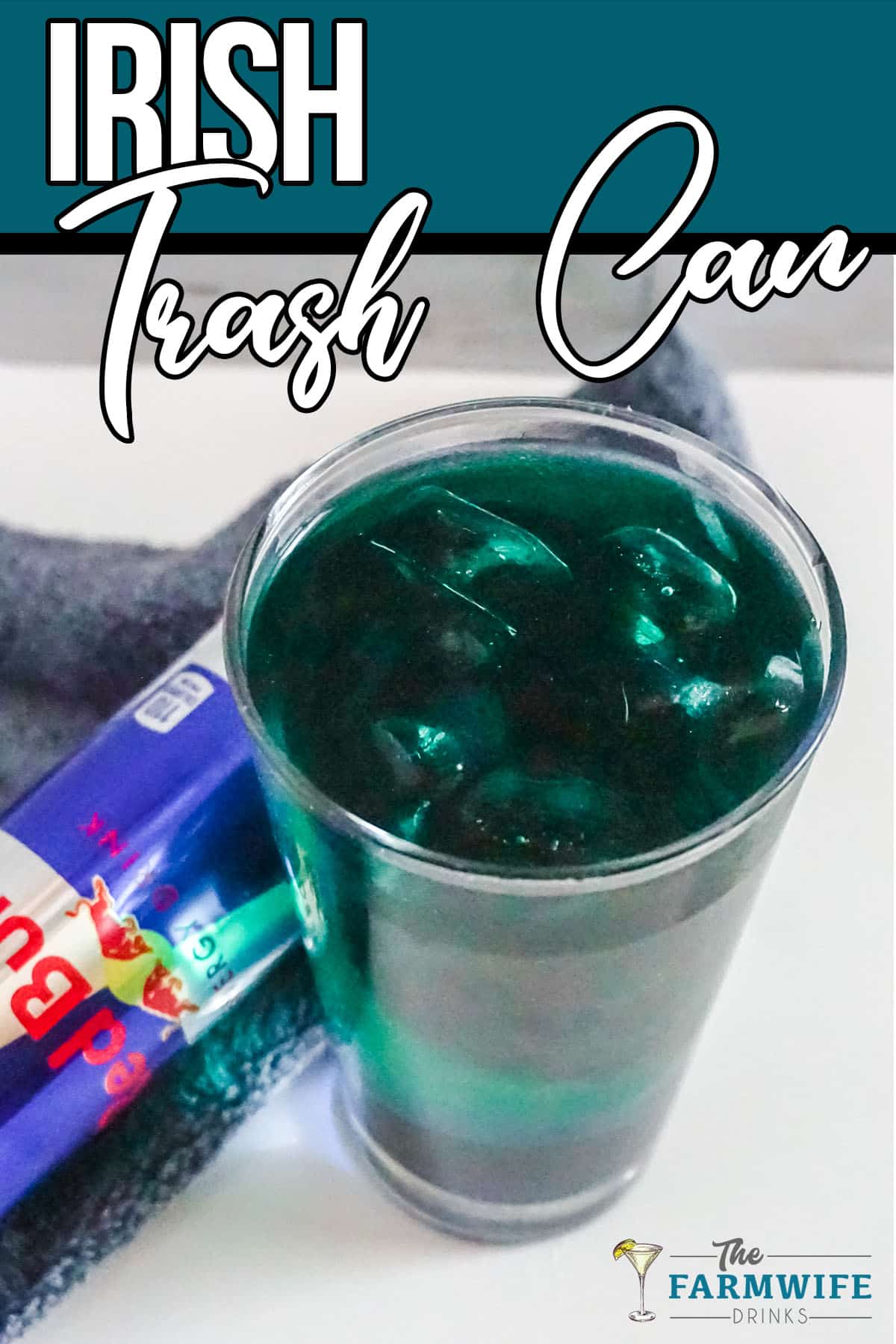 Tips for Making Stronger Cocktails
Start with high-quality ingredients and don't skimp on the spirits.
Use fresh juices, herbs, and spices to add layers of flavor.
Balance sweet and sour flavors by adding a bit of sugar or citrus juice where needed.
Consider using liqueurs for additional complexity.
Experiment with different combinations until you find something that works for your taste buds.
Use less ice in cocktails as it can dilute drinks too quickly.
Stir rather than shake when mixing drinks so they stay cold without watering down the alcohol content too much.
Add sweetness sparingly; if a drink tastes too sweet, add some bitters to balance it out.
Store all relevant ingredients together in one place so you have quick access when making drinks at home or behind a bar counter!
Tips for Making Chillier Cocktails
The heat of the summer can quickly make your cocktails warm. Here are a few tips for keeping your cocktails cool.
Freeze your Booze - Keep your vodka in the freezer in the summer. It will make your booze more syrupy but the cocktail ice cold.
Chill your Juices - Always have your mixers in the fridge. This means your juices too. Don't just keep your unopened juices on the shelf.
Refrigerate your Fruit - When using citrus, pop it in the fridge to chill it as well. It can act as ice cubes. While this recipe doesn't call for fruit, using frozen fruit instead of fresh fruit also helps keep drinks chilled.
With its combination of refreshing citrus fruit, tangy energy drink, and green coloring, it's no wonder the Irish Trash Can Cocktail has become a favorite of so many.
The cocktail can be as creative as you'd like to make it; whether you mix up your own fresh juices or use pre-packaged cocktails, there are plenty of ways to upgrade your drink-making game!
So why not whip up an Irish Trash Can Cocktail and see what all the fuss is about? And when you do, remember to give yourself a well-deserved pat on the back -- you're one step closer to becoming an expert in the art of making cocktails.
Cheers!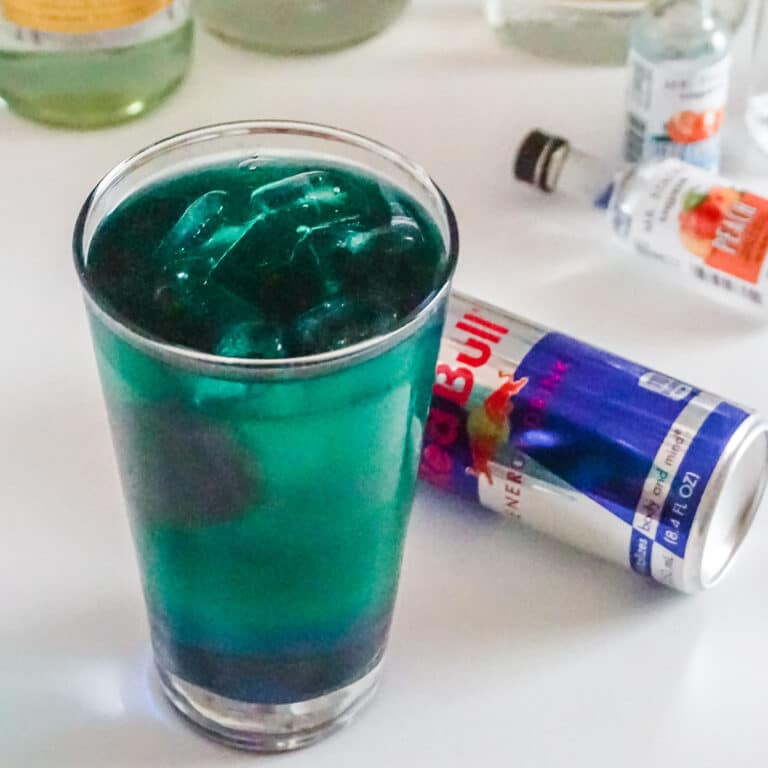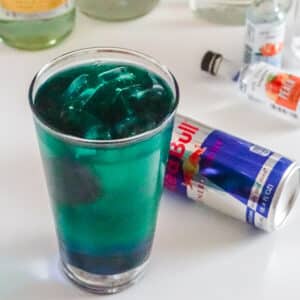 Irish Trash Can
The Irish Trash Can Cocktail is an exciting and flavorful drink is sure to make any gathering, or even just a quiet evening at home, the perfect opportunity for celebration.
Print
Pin
Rate
Ingredients
1

oz

Blue Curacao

1

oz

Gin

1

oz

Light Rum

1

oz

Vodka

½

oz

Peach Schnapps

½

oz

Triple Sec

1

can

Red Bull

½

cup

Ice
Instructions
In a large glass, add in Blue Curacao first on the bottom.

Add in Ice, gin, rum, vodka, schnapps and triple sec.

1 oz Gin,

1 oz Light Rum,

1 oz Vodka,

½ oz Peach Schnapps,

½ oz Triple Sec,

½ cup Ice

Pour in Red Bull and leave can in glass upside down.
Nutrition
Serving:
1
g
|
Calories:
494
kcal
|
Carbohydrates:
52
g
|
Protein:
0.3
g
|
Fat:
0.04
g
|
Saturated Fat:
0.02
g
|
Polyunsaturated Fat:
0.01
g
|
Sodium:
43
mg
|
Potassium:
9
mg
|
Sugar:
49
g
|
Calcium:
11
mg
|
Iron:
0.1
mg
Latest posts by Chantal Kirkland
(see all)