Chocolate cocktails are the perfect way to treat yourself to a decadent drink. Whether you're looking for something creamy, boozy, or fruity, there are plenty of options for you to explore.
From chocolate martinis to chocolate daiquiris, these chocolate cocktails and mixers will be sure to satisfy your sweet tooth.
If you're looking for something a little more low-key, there are also some delicious chocolate drinks that don't require any alcohol.
From hot chocolate to chocolate milkshakes, these chocolate drinks will be sure to hit the spot.
So why not indulge in a little chocolatey goodness with these 30+ ideas for decadent chocolate cocktails and drinks!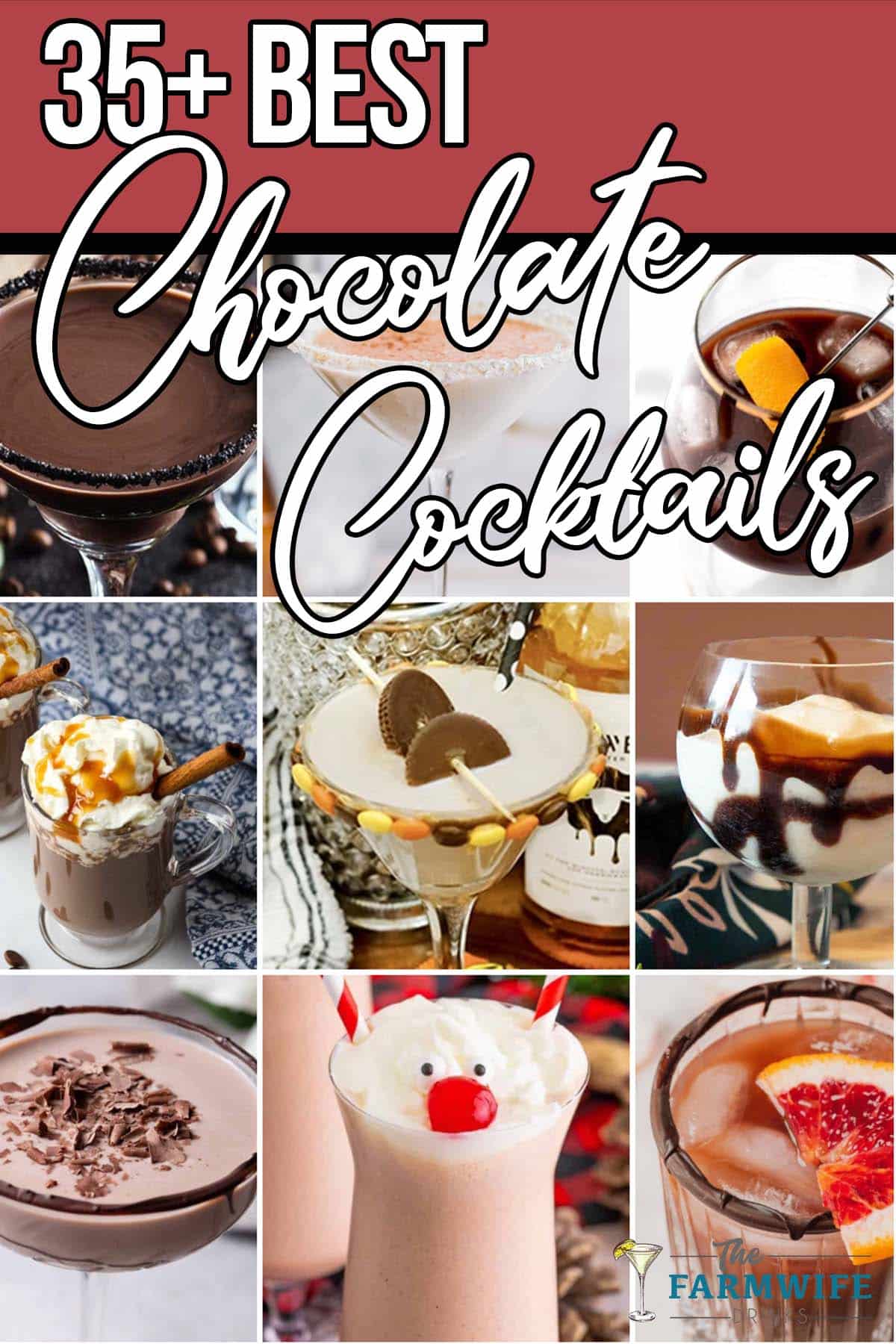 Chocolate is one of the most beloved flavors around the world.
From a simple bar to luxurious cakes and pastries, there's something for everyone when it comes to chocolate.
But why limit yourself to just desserts? It turns out you can make some delicious drinks with chocolate too!
Whether it's hot cocoa or a creative concoction, these 30+ recipes are sure to satisfy your sweet tooth.
Enjoy these decadent chocolate cocktails and drinks!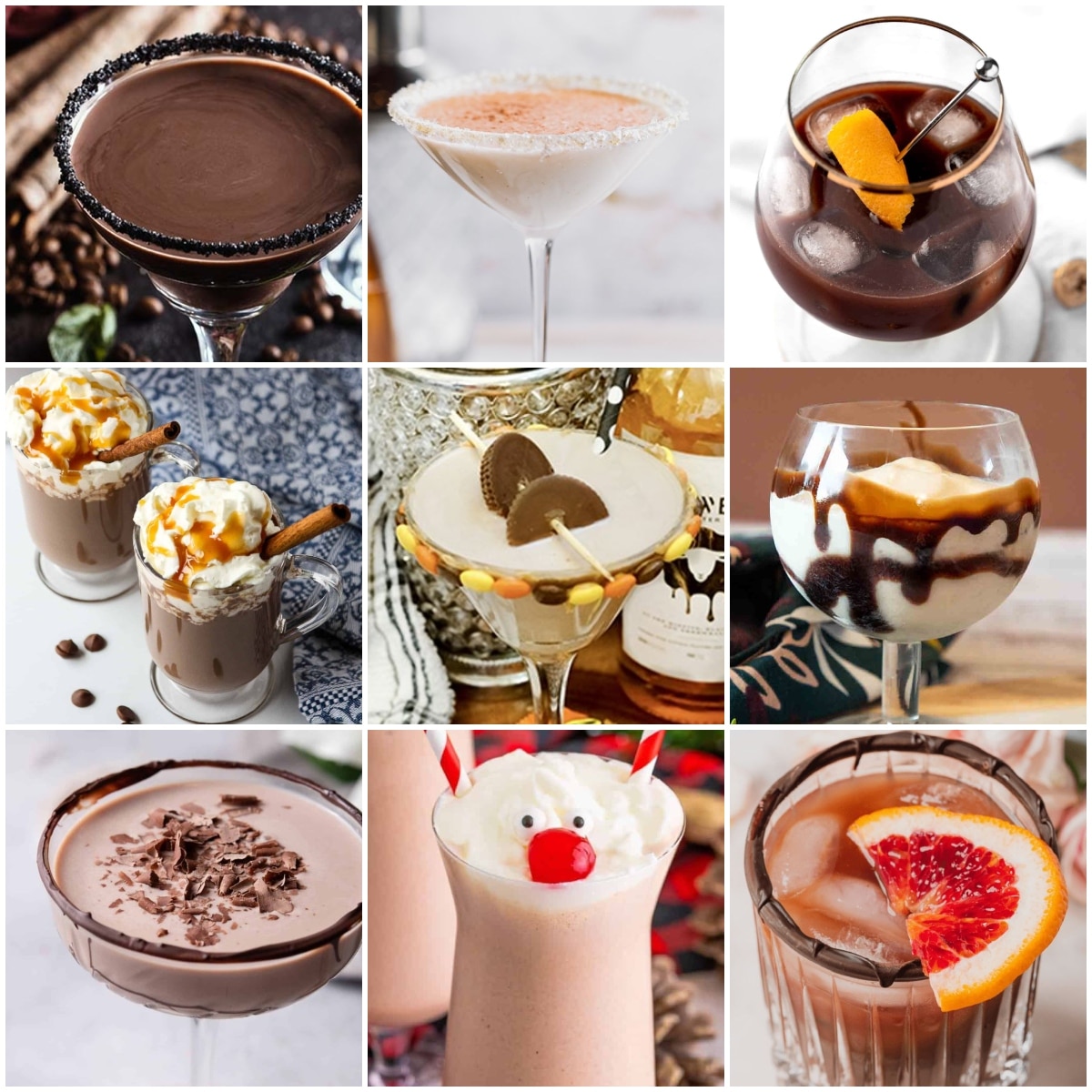 30+ Chocolate Cocktails and Drinks for Decadent Treats
Chocolate cocktails, chocolate mixers, and chocolate drinks - oh my! When it comes to creating decadent treats, chocolate is the perfect ingredient to get the party started.
Whether you're looking for a classic chocolate martini or an inventive new cocktail, the key is to find the right chocolate mixer.
From creamy chocolate liqueurs to chocolate bitters and syrups, the options are endless.
Start by considering the flavor profile of your drink and the type of chocolate you want to incorporate.
For a rich and indulgent flavor, opt for a dark chocolate liqueur or a white chocolate liqueur.
For a more subtle chocolate flavor, try chocolate bitters or a chocolate syrup. With the right chocolate mixer, you'll be on your way to creating the perfect chocolate cocktail.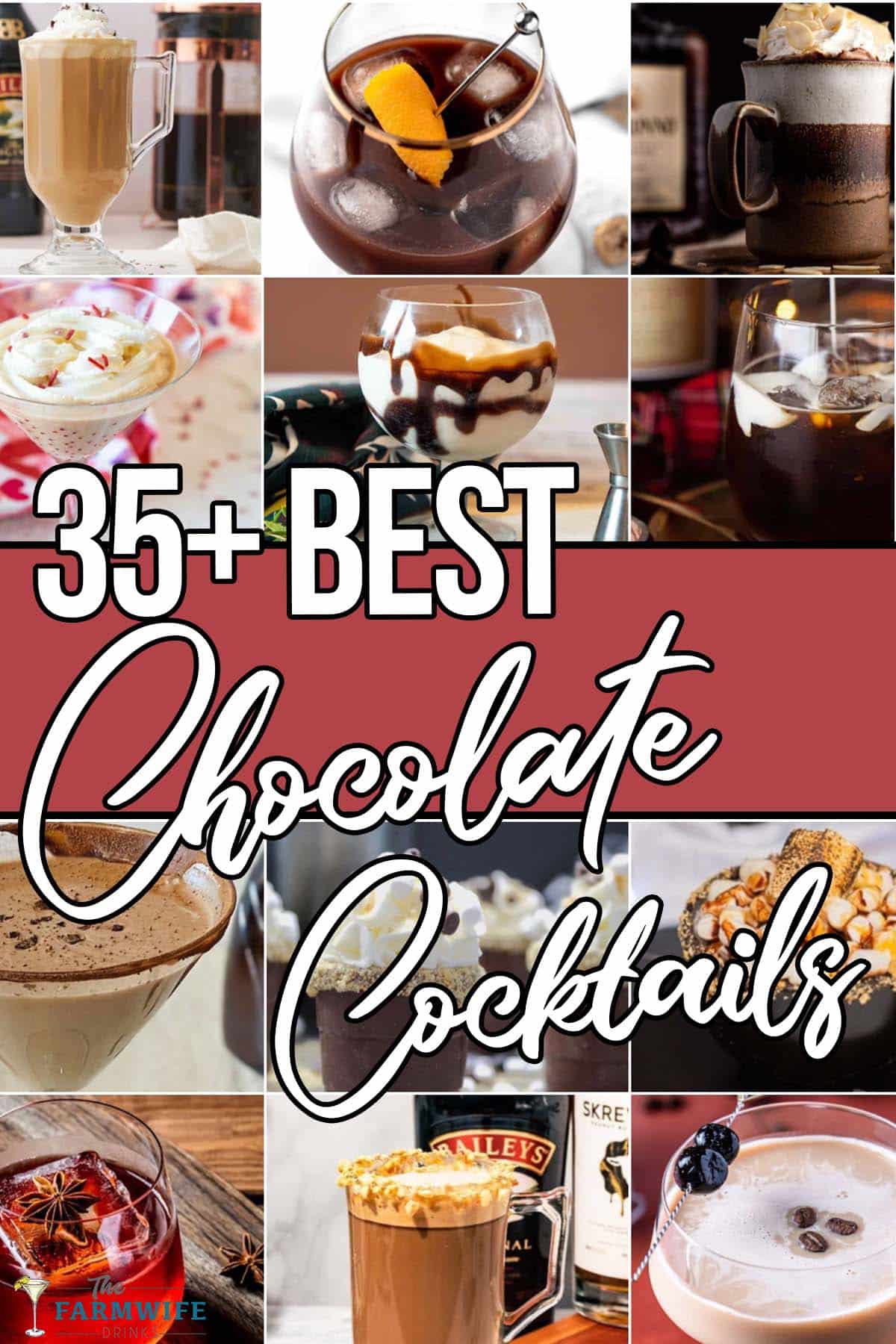 Jump to:
A delightful blend of peanut butter flavor and creamy texture, this martini is a must-try for dessert cocktail enthusiasts. Created by The Cookin Chicks, it's the perfect indulgence for a sweet tooth.
This sophisticated drink combines bold espresso flavor with the rich warmth of rum. It's a perfect after-dinner beverage, offering a delightful mixture of both energy and relaxation.
Drambuie Coffee Cocktail - Combining the herbal, spicy notes of Drambuie with the robust flavor of coffee, this cocktail is both exotic and comforting. It's an elegant choice for those who enjoy a rich and complex beverage.
A luxurious treat made with decadent Godiva chocolate liqueur, this martini is a chocolate lover's dream. Its rich, smooth texture, paired with a hint of vanilla, creates an unforgettable experience.
This drink offers a blend of sweet white chocolate, tart cherry, and bold espresso flavors. Perfectly balanced and visually appealing, it's an indulgent treat for sophisticated palates.
A seasonal twist on the classic Negroni, this version features the warm flavors of chocolate and almond. This autumnal cocktail is a comforting choice, perfect for sipping by the fire.
This warming beverage takes the beloved flavors of s'mores and adds a kick of alcohol. It's a cozy, indulgent treat perfect for enjoying by the campfire or fireplace.
A playful and tasty creation, these cocktail shots capture the essence of s'mores in a small, drinkable form. They're perfect for parties and offer a fun and unique experience.
Infusing the flavors of a Snickers bar into a creamy Irish coffee, this drink is both playful and rich. With Skrewball and Baileys, it's a perfect blend of nutty, chocolatey, and creamy flavors.
This cocktail combines the smokiness of mezcal with the sweetness of chocolate and cherry. It's a complex and exotic drink that appeals to adventurous taste buds.
This simplified version of the Godiva Chocolate Martini, offered by Homebody Eats, combines five ingredients to create a delectable, smooth drink. It's a perfect option for those wanting an indulgent cocktail without a lot of fuss.
A classic creamy cocktail, the Grasshopper features the bright flavors of crème de menthe and crème de cacao. Its vibrant green color and refreshing minty taste make it an eye-catching and satisfying choice.
This drink combines the rich flavor of Baileys Irish Cream with chilled coffee for a refreshing twist. Perfect for a warm day, it's a creamy, cool treat that coffee lovers will adore.
This simple yet elegant martini combines just five ingredients to create a rich chocolate taste. Offered by The Art of Food and Wine, it's a minimalist option for those who appreciate fine flavors.
A classic and elegant drink, the Brandy Alexander features a blend of cognac, crème de cacao, and cream. It's a smooth and luxurious cocktail often served as a delightful after-dinner drink.
A romantic and decadent chocolate martini, the French Kiss is crafted by Cuss Kitchen. With velvety chocolate and a touch of elegance, it's the perfect drink for special occasions.
This creatively named martini is a rich blend of caramel and chocolate, infused to perfection. Created by Cuss Kitchen, it's a deliciously sinful treat for those who appreciate bold flavors.
This ultimate creamy martini from Daring Kitchen boasts the richness of chocolate paired with the smoothness of Baileys. It's a drink that satisfies both chocolate enthusiasts and cocktail aficionados alike.
A delightful blend of RumChata liqueur and hot chocolate, this beverage is warming and comforting. Perfect for cold days, it offers a smooth and creamy experience.
This martini showcases the delicate sweetness of white chocolate, balanced with a touch of vanilla. It's an elegant and silky smooth drink, ideal for those with a penchant for lighter chocolate flavors.
A customizable recipe for homemade chocolate liqueur, allowing you to create a rich and flavorful drink tailored to your preferences. It's a fun and rewarding project for DIY cocktail enthusiasts.
This frozen take on the classic mudslide, from Attempts At Domestication, combines coffee liqueur, vodka, and cream for a chilled delight. It's a rich and indulgent drink perfect for a hot day.
This unique hot chocolate blends the flavors of a campfire with peanut butter whiskey for a nostalgic and warming beverage. It's an innovative twist on a classic winter favorite.
A simple yet tasty twist on traditional hot chocolate, this spiked version includes Kahlua for an added kick. It's an easy and delightful treat for those chilly nights.
Inspired by the popular Reese's peanut butter cups, this martini combines chocolate and peanut butter flavors. It's a playful and indulgent cocktail that recreates the beloved candy in liquid form.
A festive holiday cocktail, the Drunken Rudolph captures the joy of the season with bright red color and fruity flavors. It's a fun and cheerful addition to any holiday celebration.
This chocolate twist on the classic Old Fashioned, from The Littlest Crumb, adds depth and warmth to a beloved cocktail. It's a creative and satisfying option for whiskey lovers.
A rich and flavorful blend of dark hot chocolate and Amaretto liqueur, this comforting drink is offered by The Littlest Crumb. It's a perfect way to warm up on a cold evening.
This unique cocktail from The Littlest Crumb combines the freshness of a mojito with the richness of chocolate. It's a surprising and delightful fusion that both chocolate and mint lovers will enjoy.
This ultra-rich and indulgent version of the classic Mudslide from Art of Natural Living blends ice cream into the mix, creating a drink that's both a cocktail and dessert in one. It's a dreamy treat that's perfect for satisfying sweet cravings.
This enticing martini by Art of Natural Living combines the creamy richness of Baileys Irish Cream with a luscious chocolate undertone. It's a delightful fusion that makes for an opulent after-dinner drink.
This twist on the classic Old Fashioned introduces the depth of chocolate, complemented by the tangy notes of blood orange. It's a harmonious balance of bitter, sweet, and citrus, offering a fresh take on a beloved cocktail.
This recipe seamlessly blends the creamy, rich tones of Baileys Irish Cream with robust coffee. It's a comforting beverage that provides a gentle buzz, ideal for those looking to indulge in a little luxury.
Venturing away from the traditional vodka base, this Espresso Martini variation by Shutter + Mint uses gin, introducing a botanical complexity to the coffee-forward cocktail. It's a refreshing blend for those seeking a different kind of pick-me-up.
Creative Garnishes for Chocolate Cocktails
When it comes to chocolate cocktails, the possibilities are truly endless.
From classic chocolate martinis to more inventive creations, the combination of chocolate mixers and spirits can create an array of decadent treats.
For those looking to take their chocolate drinks to the next level, creative garnishes are the way to go.
Shaved chocolate curls, chocolate-dipped fruit, and chocolate-covered pretzels are just a few of the possibilities.
For a truly indulgent experience, why not combine a few of these garnishes together?
Whether you're looking to impress your friends or just treat yourself, these garnishes will take your chocolate cocktails to the next level.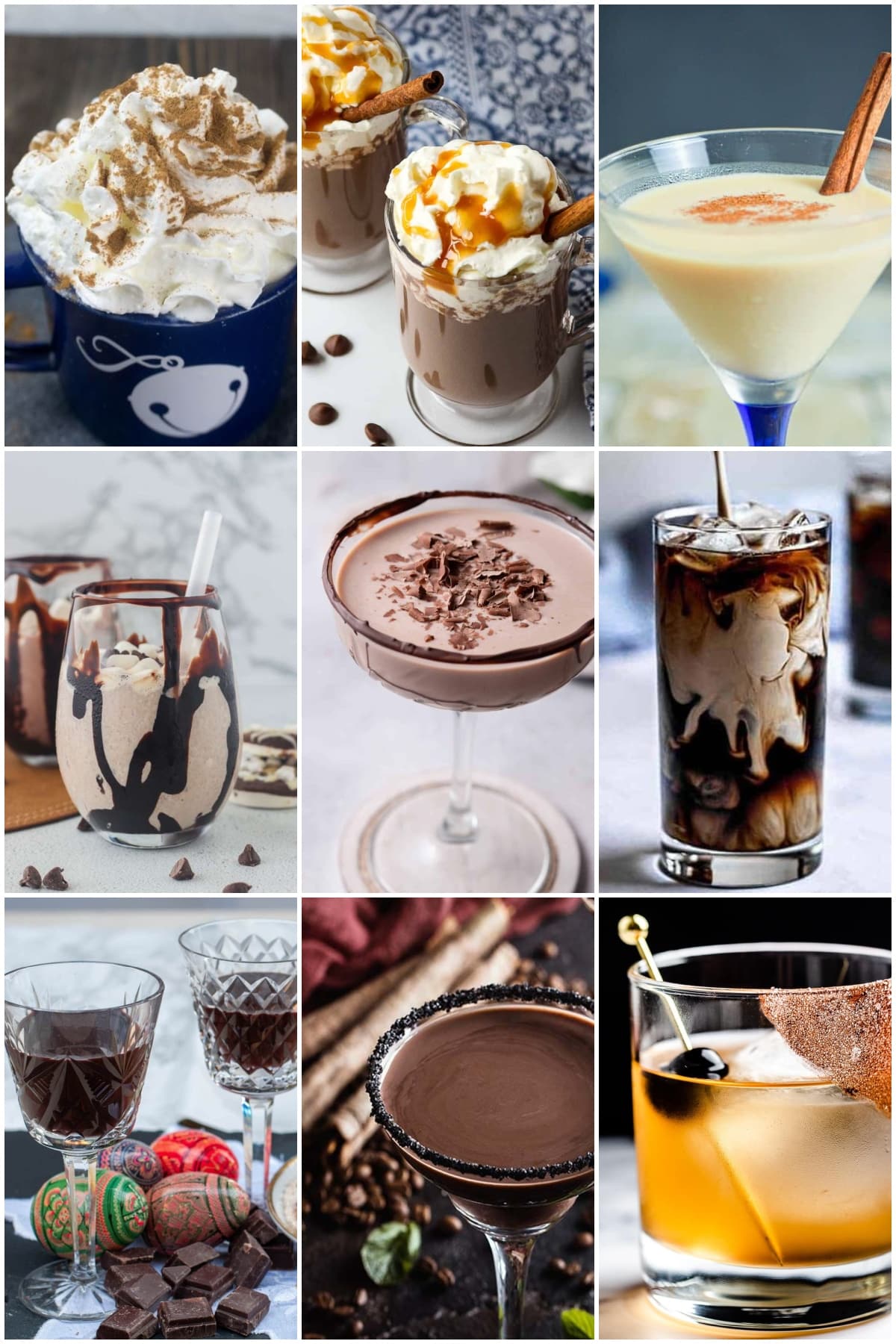 Tips for Serving the Perfect Chocolate Cocktail
When it comes to serving the perfect chocolate cocktail, there are a few key tips to keep in mind.
First and foremost, make sure you have the right ingredients. Luckily, there are plenty of chocolate mixers to choose from, like chocolate liqueurs, milk, and cream.
Once you have your chocolate mixers, you can start to explore the world of chocolate cocktails.
From classic recipes like a White Russian to more creative concoctions like a Chocolate Mint Martini, the possibilities are endless.
No matter what chocolate drink you choose to serve, a few touches of garnish can make all the difference.
Try adding a sprinkle of cocoa powder, a dash of chocolate syrup, or a sprig of mint for a truly decadent treat.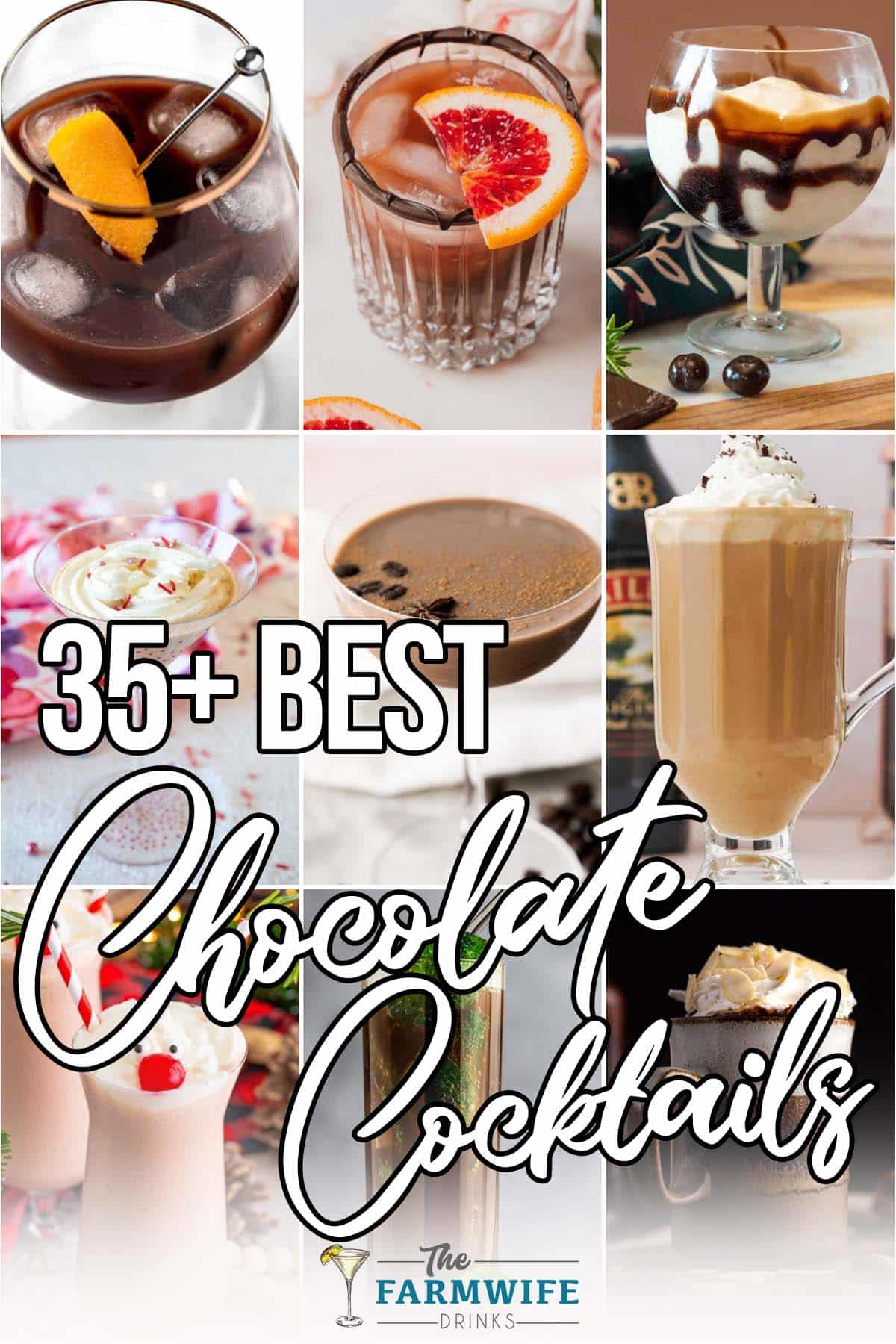 Chocolate cocktails and drinks are a delicious and decadent treat that can be enjoyed by all. With the right mixers, garnishes, and tips, you can create the perfect chocolate cocktail for any occasion.
Whether you're looking for a classic dessert cocktail, a unique twist on an old favorite, or a creative new concoction, there's something here for everyone.
So grab your favorite chocolate mixers and get mixing—the possibilities are endless!