When you are looking for the perfect July Saturday night cocktail, look no farther than at this Island Lemonade Punch. The pink lemonade cocktail known as Island Lemonade is filled with coconut rum, gin, peach schnapps, and vodka and tastes just like the islands. Fill a big jug with Island Lemonade and head to the lake for a perfect summer night.
The pink lemonade punch is perfect also for bridal showers, bachelorette parties, and pool parties. As a pink party punch, it can look so summery with sliced lemons letting it be a focal point for any beverage and food table.
If you are looking for other party punches of various colors be sure to check out Poolside Cosmos for another pink punch. Mermaid Water is a great blue green punch while Vodka Party Punch is a great red punch. If you are looking for a kid-friendly punch that you can also spike, are orange sherbet punch, Martha's best punch recipe, and green party punch.
Jump to:
Island Punch Ingredients
While the base of this punch is pink lemonade, the four liquors you add to the pink lemonade are what give the punch the island flavors. However, you can make the island punch your own, by switching up the liquors a bit too.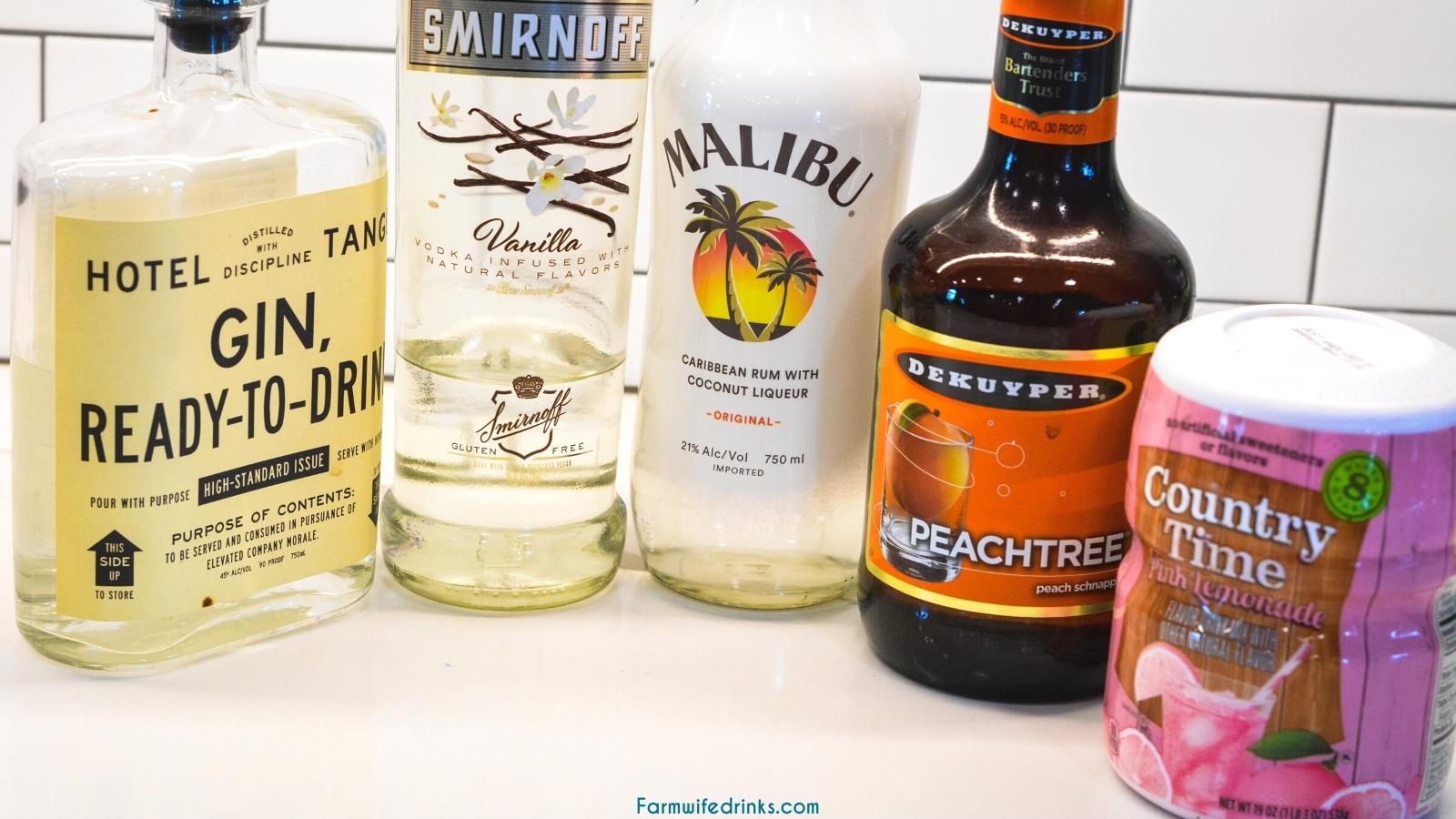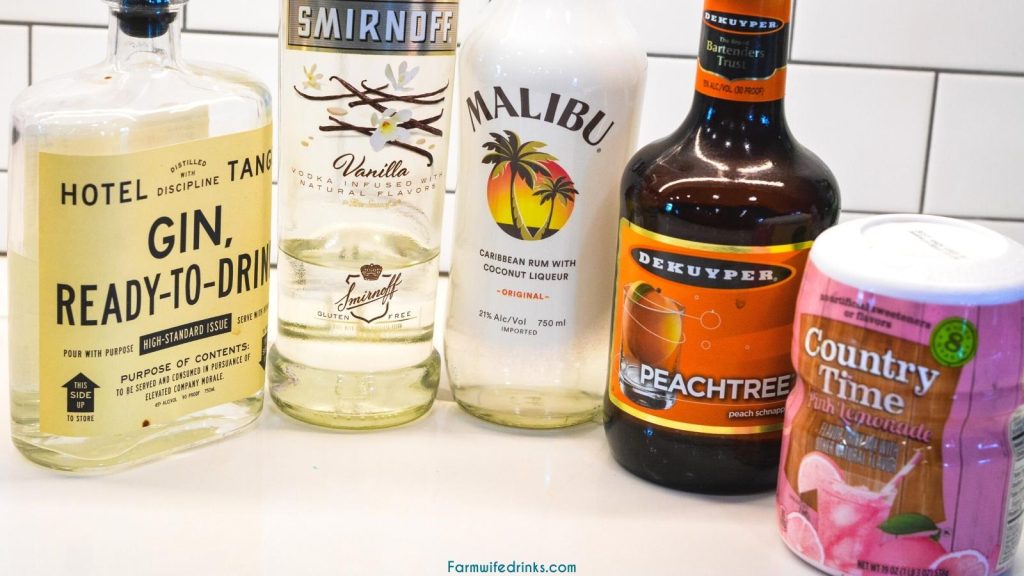 Rum - Malibu Rum or any Coconut rum is what the original island lemonade calls for. However, I have made this island lemonade numerous times with just regular Bacardi rum too. If you do not like coconut flavors, substitute the white rum.
Vodka - Your favorite vodka is fine here, but I also have used vanilla vodka, citron vodka, and pineapple vodka too. The flavors are subtle but are noticeable in the punch.
Gin - In terms of gin you also have some flexibility here too. A traditional London gin is fine. I have come to love craft gins. A citrus-forward gin would also work great in this cocktail recipe.
Peach Schnapps - Bring a bit of sweetness in with some peach schnapps pucker. The pucker brings the sweetness to cut the tartness of the lemon flavors and bitterness from the liquors. Island Punch Pucker can also be substituted for peach schnapps.
Pink Lemonade - Country Time Pink Lemonade is exactly what you need to make this island lemonade. Frozen concentrate pink lemonade will work too. But nothing beats pink Country Time Lemonade.
See the recipe card for quantities.
How to Make Island Lemonade
To make Island Lemonade punch, start by grabbing a gallon drink dispenser. Then fill with this delicious spiked lemonade.
This light pink punch will be a hit for all of your friends.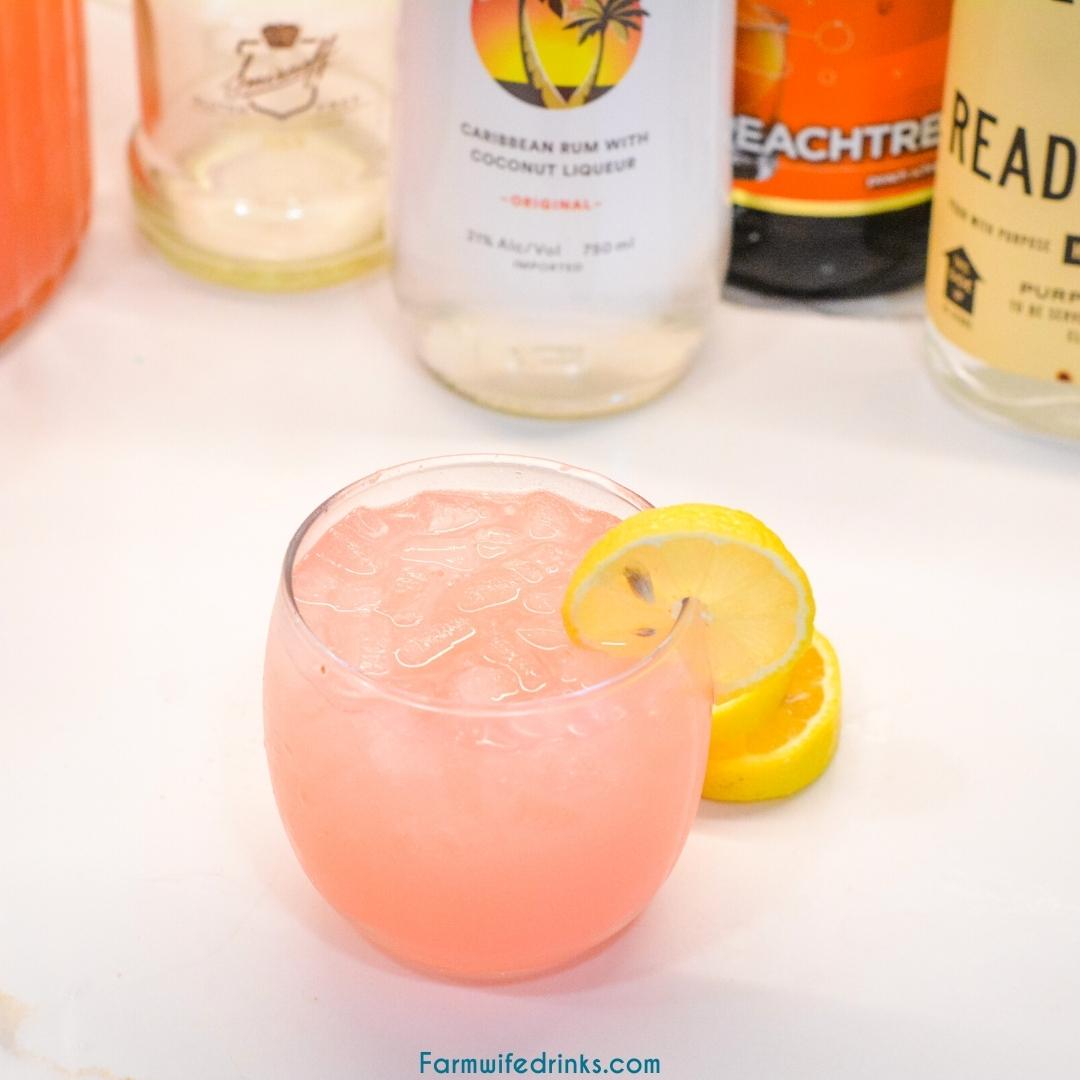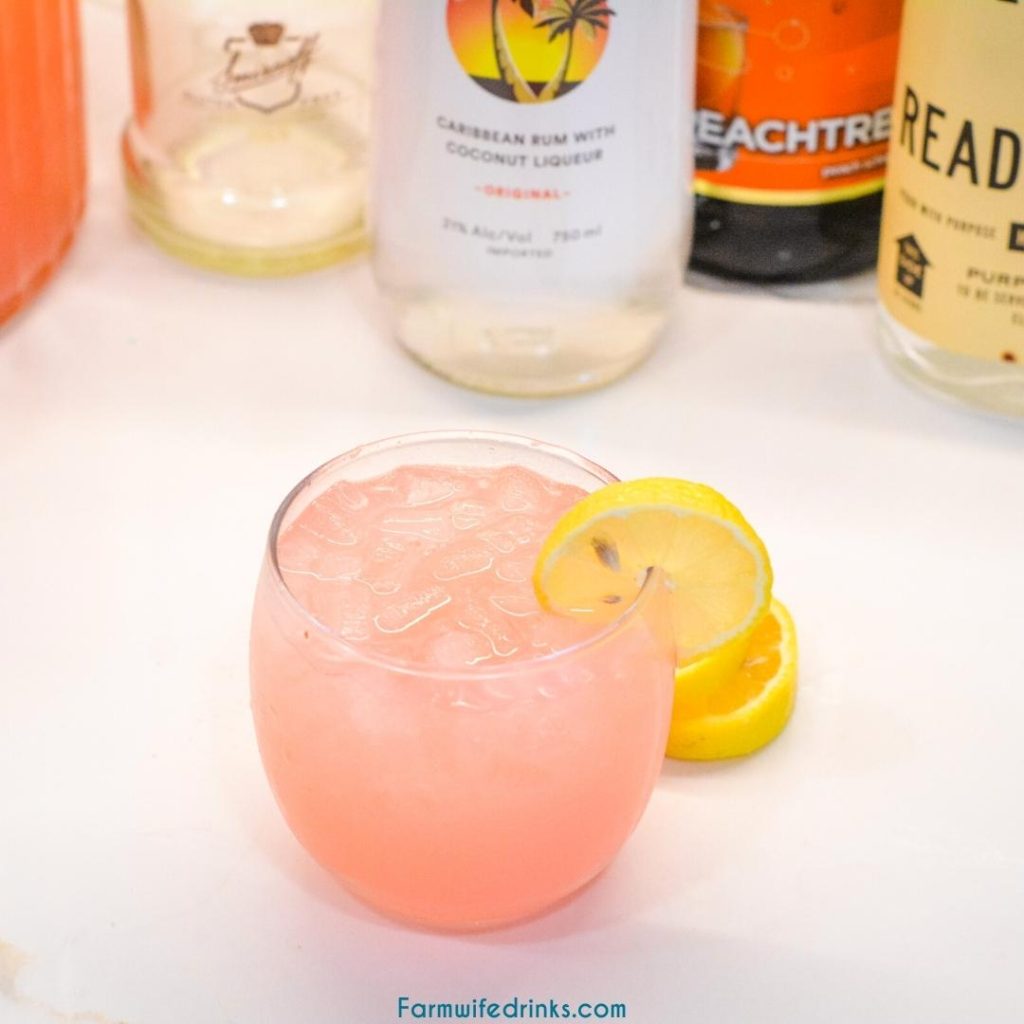 Substitutions
The key to making any delicious boozy punch is quality ingredients. However, substitutions are always acceptable.
Vodka- Tito's is a solid mid-priced vodka you can use in this punch. Smirnoff makes good flavored vodkas that I would recommend if you are substituting a flavored vodka.
Rum - Malibu Rum is what the original recipe called for and is the most recognized coconut rum brand. Several local, craft coconut rums also can be substituted for this recipe.
Peach Schnapps - The sweetness of the peach schnapps is critical. However, other schnapps can be substituted. Island Punch pucker is my first recommendation. Triple Sec can also be used if it is all you have on hand.
Pink Lemonade - While science hasn't told me why pink lemonade just tastes better, yellow lemonade can also be used for this island lemonade punch.
Island Punch Variations
Make this punch your own by changing up the flavors. Here are some ideas on how you can make variations to the standard Pink Island Lemonade recipe.
Bubbly- add chilled club soda instead of water if you are looking for a carbonated version of this island punch.
Strawberry - Use pink strawberry lemonade and strawberry vodka for a more strawberry-forward Island lemonade.
Kid-friendly - Looking for a fun pink lemonade punch for the kids? Add some ginger ale to the pink lemonade and some lemon slices to fancy it up for them.
Bacardi Island Punch: Want a rum island punch? Just switch out the gin for Bacardi Rum.
Storing the Island Punch Lemonade
This Island lemonade can stay in the fridge for three days if you are not using carbonated water. If you are using carbonated water and making the punch ahead of time, do not add the soda water until right before you serve the Island Lemonade.