Looking for a fun and festive drink to serve at your next party? Look no further than this Creamsicle Mimosa Float recipe! This drink is easy to make and sure to please a crowd.
Plus, it's perfect for any occasion - from brunch to baby showers to birthday parties! So gather your ingredients and get ready to celebrate in style with this delicious creamsicle drink.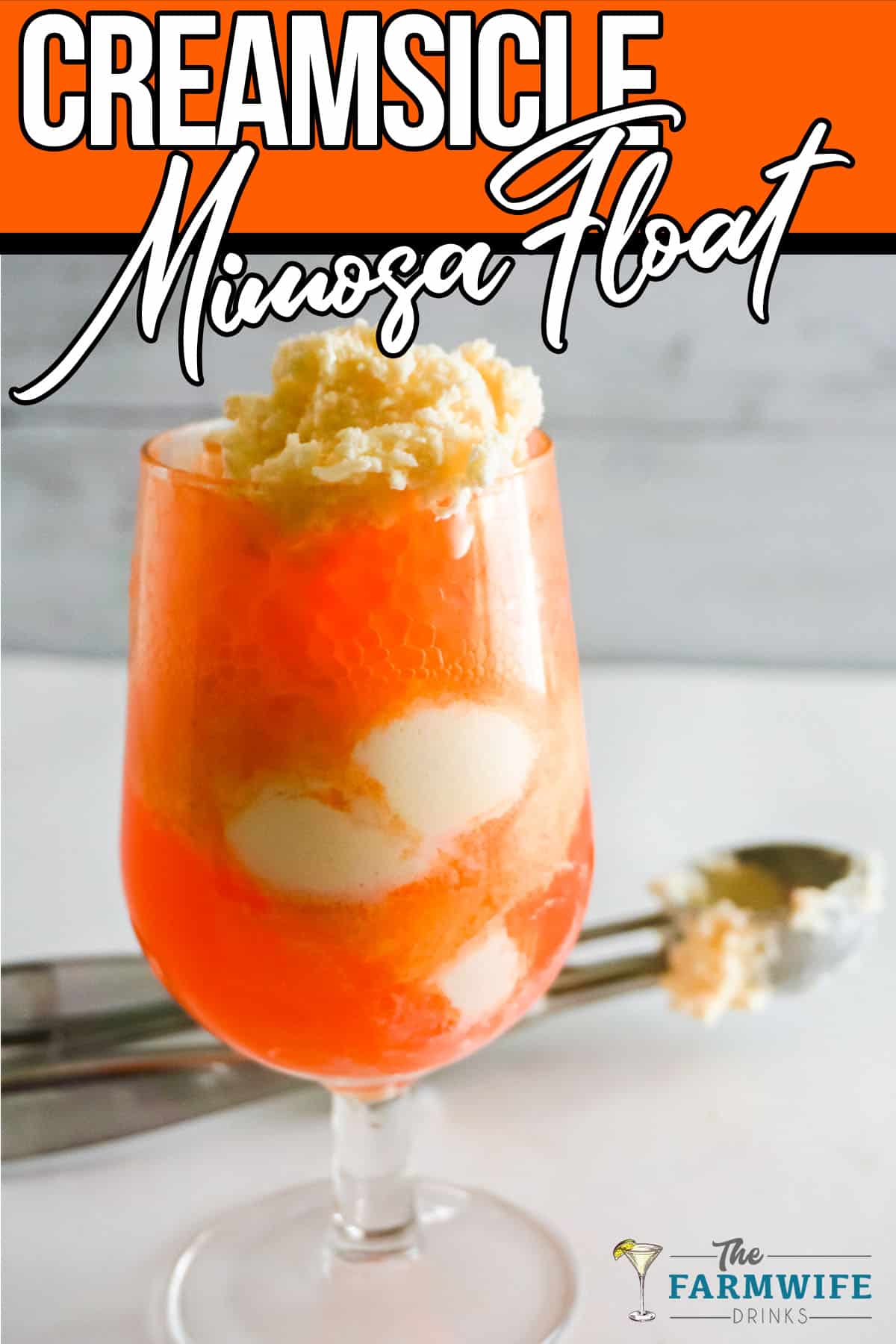 Get the Party Started With This Creamsicle Mimosa Float Recipe
Mimosas are a classic brunch drink, perfect for any special occasion. Whether it's an intimate gathering or a large celebration, mimosas can add some extra sparkle and fun to the meal. Not only do they look beautiful in glasses but their refreshing flavor is sure to please everyone.
They're also incredibly versatile—you can serve them as part of a light breakfast spread or alongside heartier dishes like pancakes, eggs Benedict, and French toast.
Plus, you can customize your mimosa with different juices and fruits for endless possibilities! So next time you're planning a brunch party, don't forget about this timeless beverage that will be sure to have your guests feeling festive.
What Do You Need to Make a Creamsicle Mimosa Float?
Its super simple, 3 ingredient recipe that you're really going to enjoy, I'm sure. Let's get right to it:
8 oz (1 cup) Campagne
2 Scoops Vanilla Ice Cream
1 pk. Orange Crush Individual Drink Mix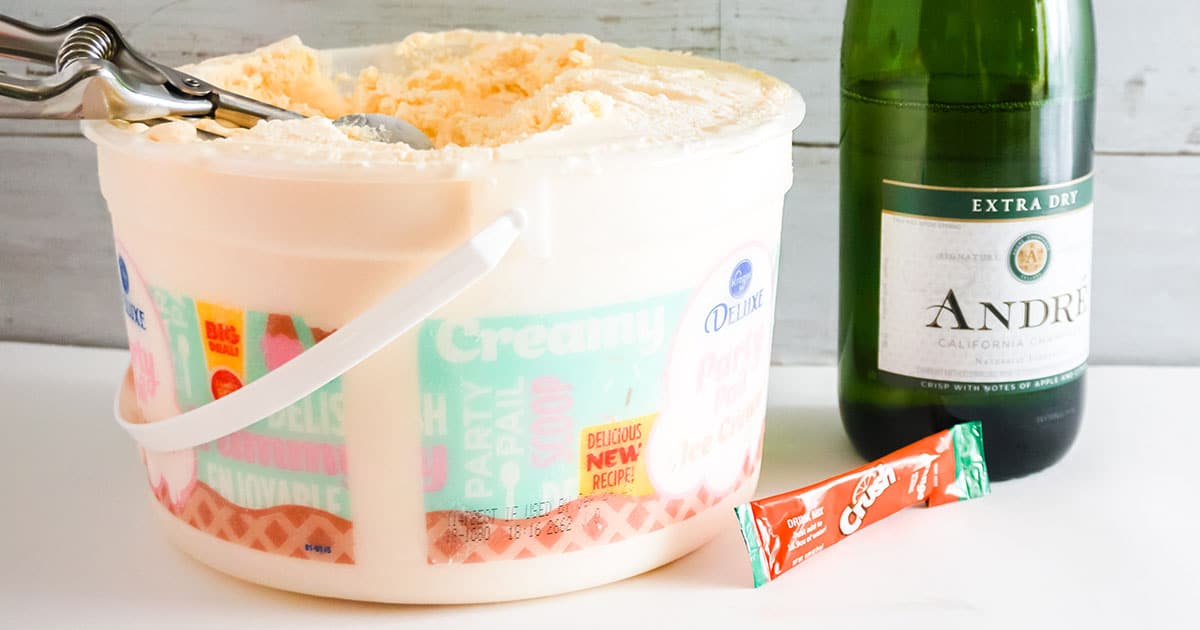 How To Make an Orange Creamsicle Mimosa Float
Mix champagne and orange drink mix together in a measuring cup.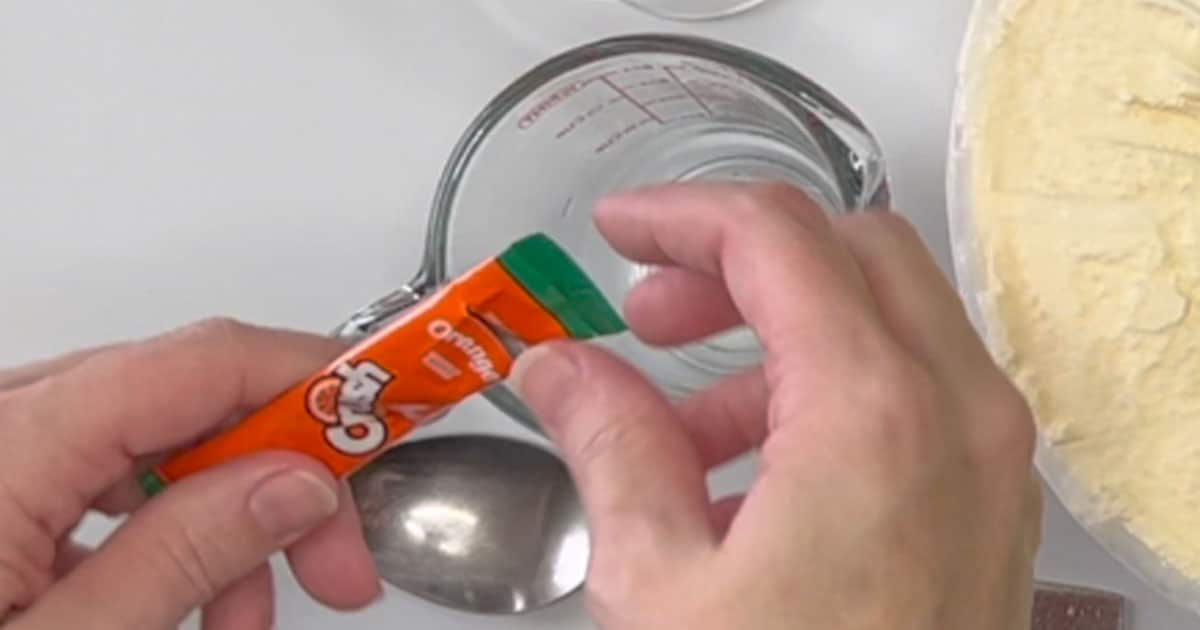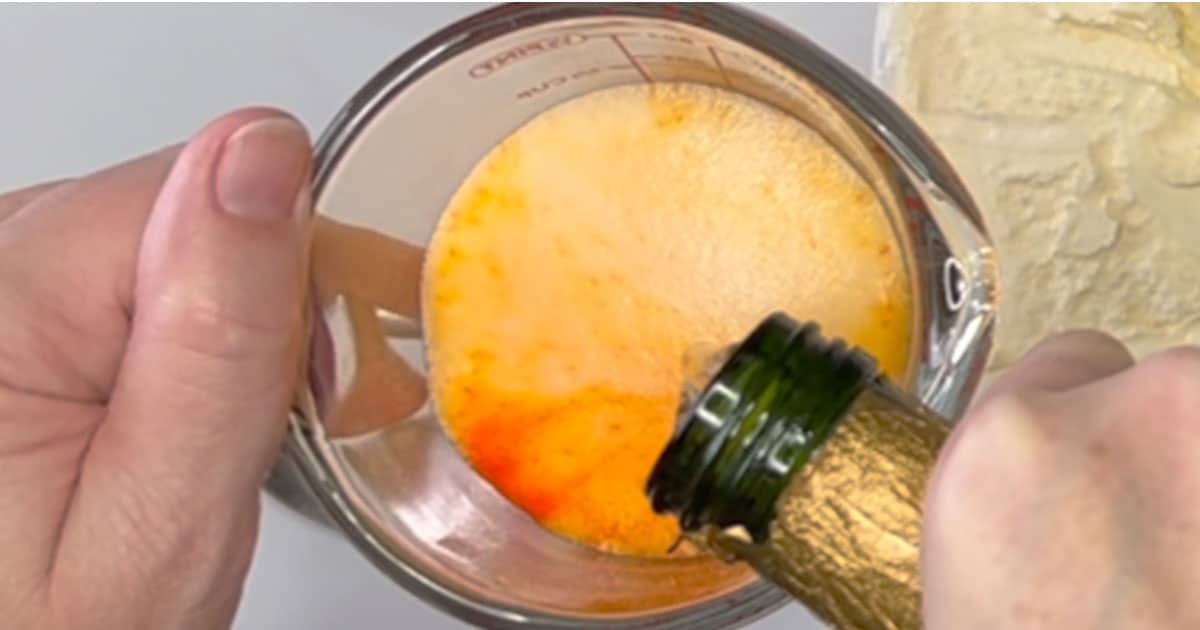 Drop in two small scoops of vanilla ice cream.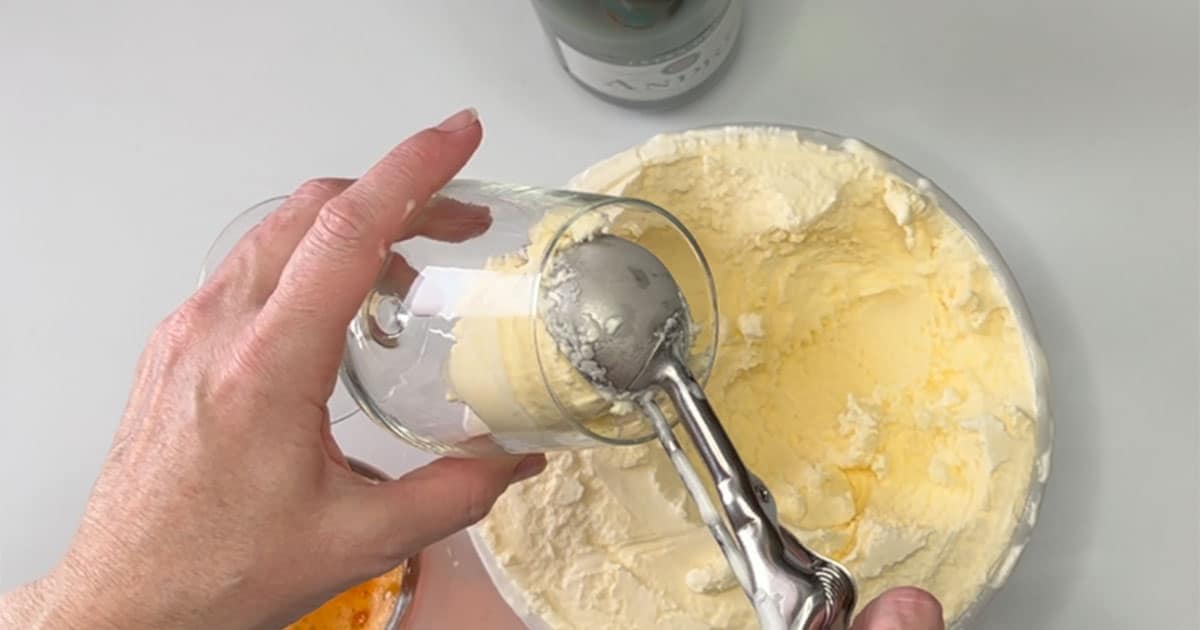 Pour champagne mixture over ice cream.
What Are Some Variations on This Mimosa Float Recipe?
We can easily replace the Crush drink mix for ½ cup of the real Crush drink. Another simple substitute in this recipe is to replace the vanilla ice cream with orange sherbet for a more intense orange flavor.
But if you want to really vary things up, here are some fun mimosa float ideas I've had:
Strawberry Mimosa Float: Replace the orange juice with strawberry puree and add a few sliced strawberries to the glass.
Mango Mimosa Float: Substitute mango nectar for the orange juice and add diced mangoes as a garnish.
Peach Mimosa Float: Use peach schnapps instead of vodka, and top off with fresh peaches or peach syrup for an extra sweet treat!
Pineapple Coconut Mimosa Float: Combine pineapple juice, coconut liqueur, frozen pineapple chunks, and shredded coconut flakes in place of the usual ingredients for a tropical twist on this classic drink!
Cherry Limeade Mimosa Float: Add maraschino cherry syrup to limeade before topping it off with champagne or Prosecco for a delicious spin on this bubbly cocktail!
Raspberry-Vanilla Creamsicle Mimosas: Mix raspberry simple syrup into vanilla ice cream before layering it over your favorite sparkling wine or champagne for an indulgent dessert-like beverage that's sure to be popular among guests!
Chocolate Banana Milk Shake & Michelada Hybrid (aka Choco-Michelada): Blend together chocolate milk shake mix, strawberry puree, a squeeze of lime juice, and your favorite Mexican beer for an interesting mash-up that's perfect for spicy food lovers!
No matter what type of mimosa float you decide on, it will be sure to be a hit at your next gathering.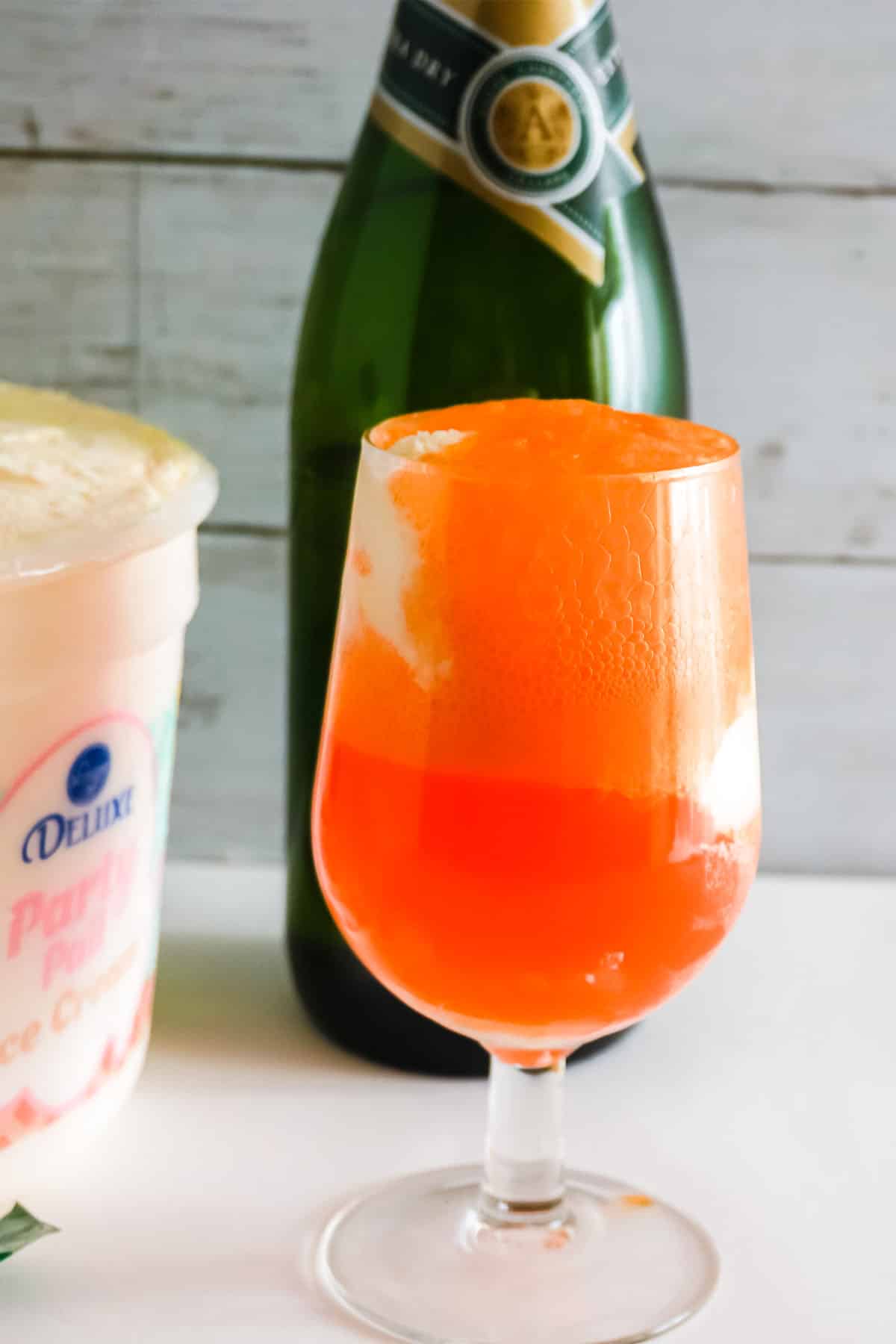 Tips For Making a Mimosa Float Stronger
If you like your mimosa with a stronger kick, there are a few easy ways to make it happen. Here are some tips to make a stronger mimosa float:
Add a shot of vodka or tequila to your basic recipe for an extra touch of flavor and strength.
Substitute orange juice with triple sec or Cointreau for a stronger citrus flavor.
Use sparkling wines or champagnes with higher alcohol content for extra potency.
Try adding a splash of your favorite flavored liqueur to create unique and delicious drinks.
Tips to Make Colder Mimosas
I'll be honest, you're not going make a much colder mimosa than a mimosa float. But, for other cocktails might need some help. I get it, a light and refreshing cocktail, mimosas are a must-have for any occasion. But sometimes they can become too warm while sitting out. To keep your mimosa cool and bubbly from start to finish, here are some tips you can use:
Put the bottle of champagne in an ice bucket or tub with lots of ice. This will keep your bubbly cool and refreshing from beginning to end.
Use frozen fruits! Frozen raspberries, pineapple chunks, and blueberries are great to add to your mimosa and will help keep it cold. For this particular creamsicle mimosa, I'd use frozen orange slices!
Chill the glasses in advance. Place them in your freezer for at least 15 minutes before serving to ensure your drink stays cold the longest.
Use an insulated tumbler or wine glass for your drink. This will help keep the mimosa colder for longer!
You can freeze your champagne to make this super chilled cocktail. But beware leaving the champagne in the freezer too long because it will solidify a bit and turn into a champagne slushy if you're not careful.
How to store the leftovers?
If you have the champagne and ice-cream already mixed together, I would store it in the freezer right away. Nobody wants a melted ice-cream float. However, if you have not mixed them together the ice cream can go straight into the freezer while the Champagne bottle can go into the fridge.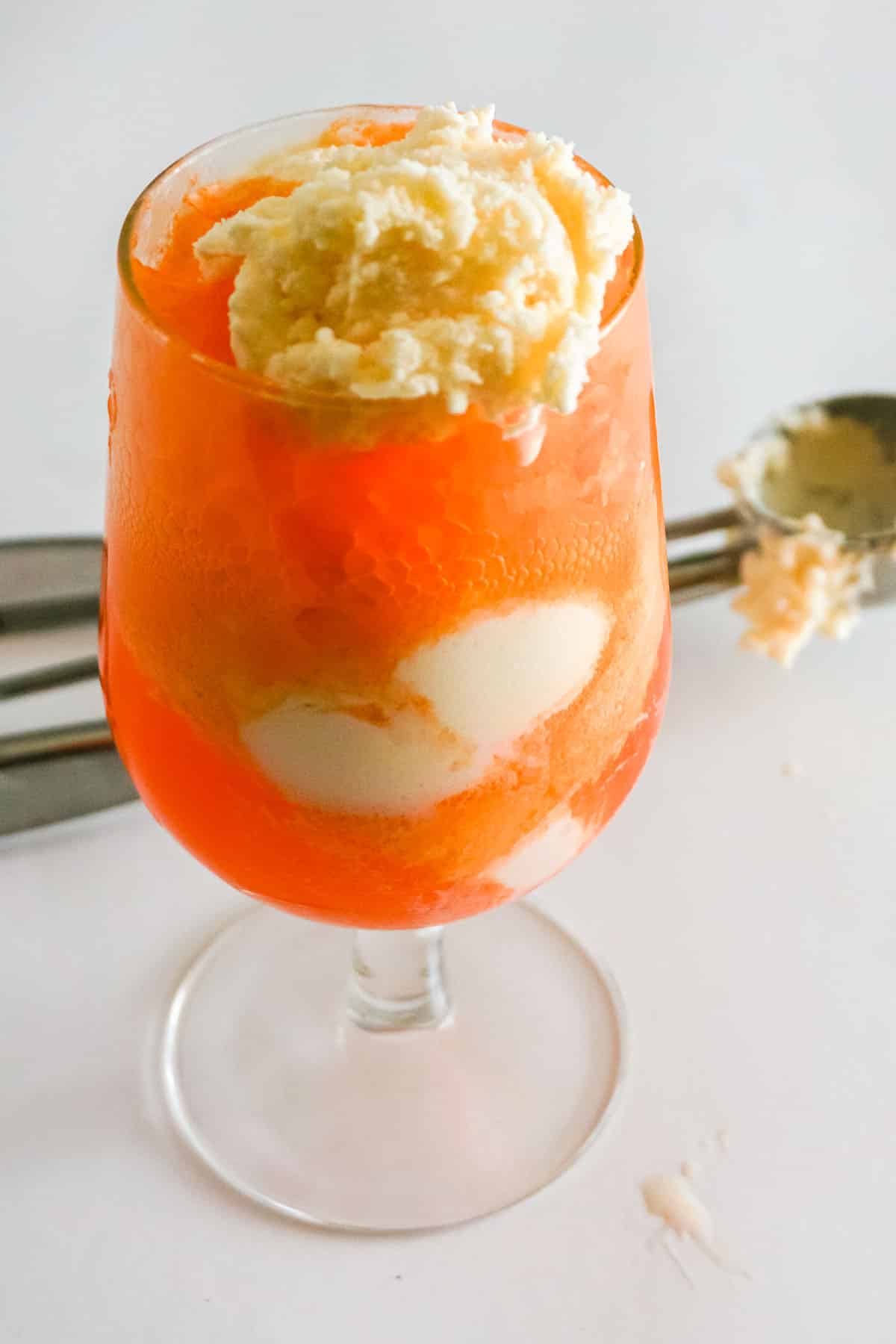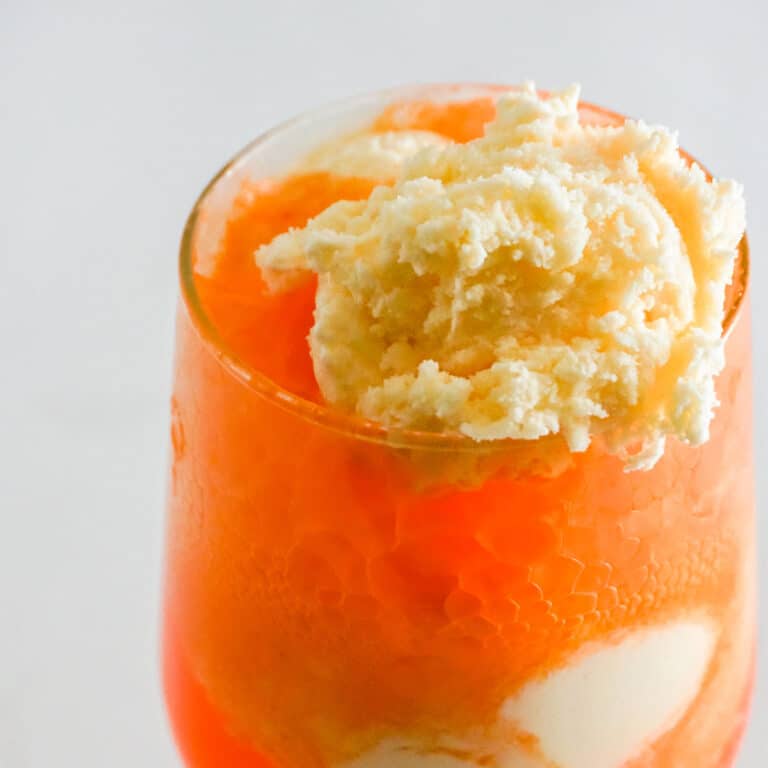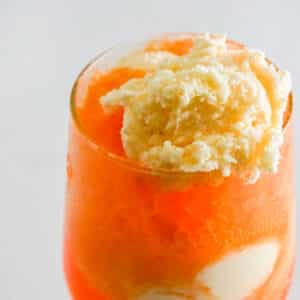 Creamsicle Mimosa Float
Let this recipe take you back to your childhood, enjoy that creamsicle as an adult. Orange flavor, creamy Ice-cream together with bubbly!!
Print
Pin
Rate
Ingredients
8

oz

Champagne

2

Scoops

Vanilla Ice Cream

1

pkt

Orange crush Individual drink mix
Instructions
Mix champagne and orange drink mix together in measuring cup.

8 oz Champagne,

1 pkt Orange crush Individual drink mix

Drop in two small scoops of vanilla ice cream.

2 Scoops Vanilla Ice Cream

Pour champagne mixture over ice cream.

8 oz Champagne,

2 Scoops Vanilla Ice Cream,

1 pkt Orange crush Individual drink mix
Nutrition
Serving:
1
g
|
Calories:
384
kcal
|
Carbohydrates:
34
g
|
Protein:
5
g
|
Fat:
15
g
|
Saturated Fat:
9
g
|
Polyunsaturated Fat:
1
g
|
Monounsaturated Fat:
4
g
|
Cholesterol:
58
mg
|
Sodium:
121
mg
|
Potassium:
462
mg
|
Fiber:
1
g
|
Sugar:
31
g
|
Vitamin A:
556
IU
|
Vitamin C:
1
mg
|
Calcium:
189
mg
|
Iron:
1
mg
Latest posts by Chantal Kirkland
(see all)