Need a festive and fun drink to enjoy during the holiday season? Look no further than this Christmas Punch Recipe! It's perfect for kids and adults alike, and is a great way to celebrate the holidays with your friends and family.
This recipe is easy to follow, and will leave you with a delicious and refreshing drink that everyone will love. So what are you waiting for? Let's get mixing!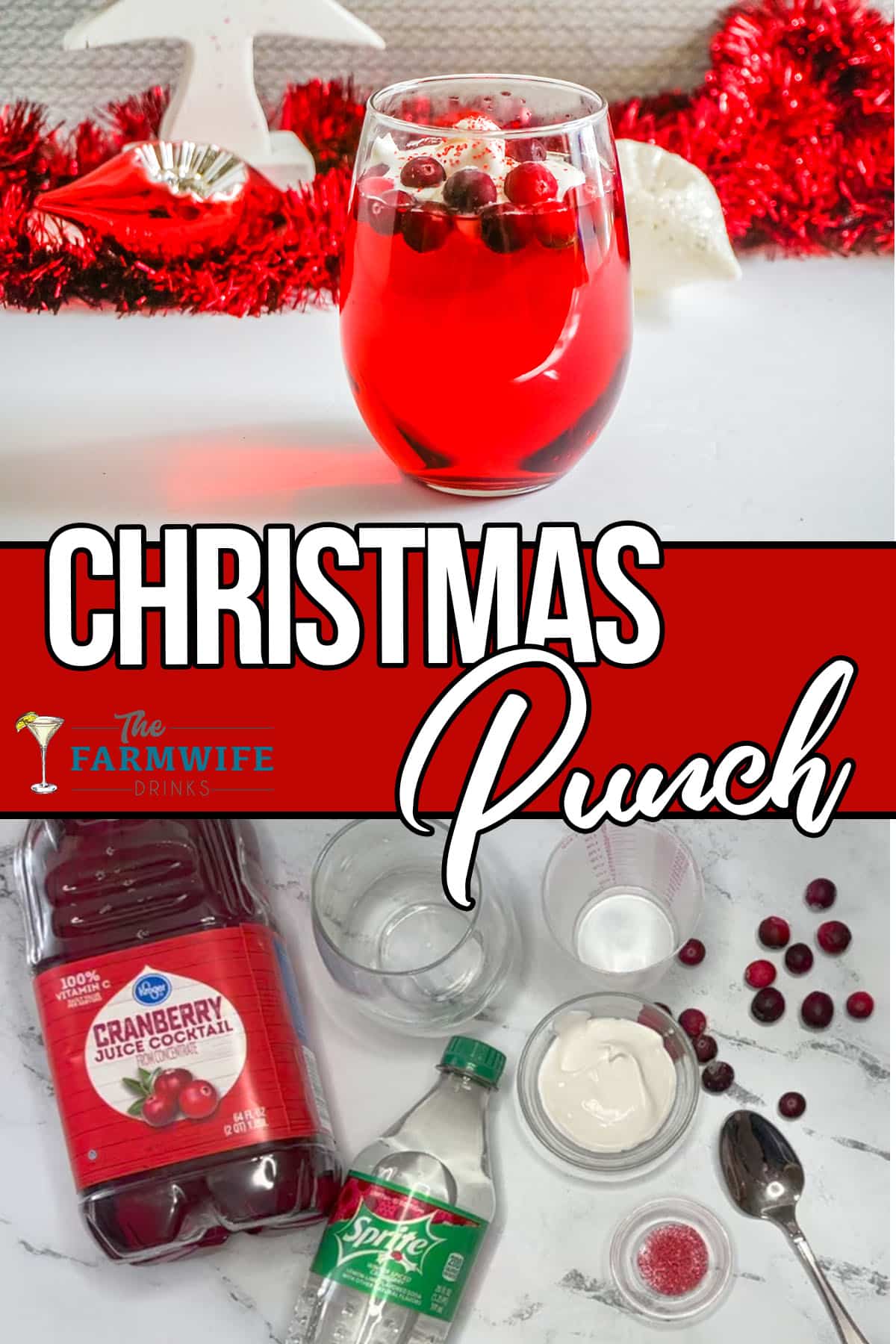 This Christmas Punch Recipe is the perfect drink to serve at any holiday gathering. Whether it's a family gathering, a work party, or just a night with friends, this festive and fun mocktail will be sure to bring some cheer to the occasion.
Kids of all ages will love it as a special treat, while adults can enjoy it without worrying about any added sugar or alcohol.
This Christmas Punch Recipe is a great option for any holiday gathering, and pairs especially well with festive, seasonal foods.
For starters, this mocktail goes great with appetizers such as cheese platters, vegetable crudités, and crab dip. Not only do these classic holiday dishes taste great on their own, but they also provide a great opportunity to pair them with this delicious drink.
Jump to:
Ingredients for Christmas Punch Mocktail
No matter what you're making, some ingredients are always required, so here's what it takes to make this fun Christmas mocktail punch:
Cranberry juice cocktail

Winter Spiced Cranberry Sprite
Frozen Cranberries
Whipped Topping
Red Sanding Sugar
See the full recipe card below for quantities.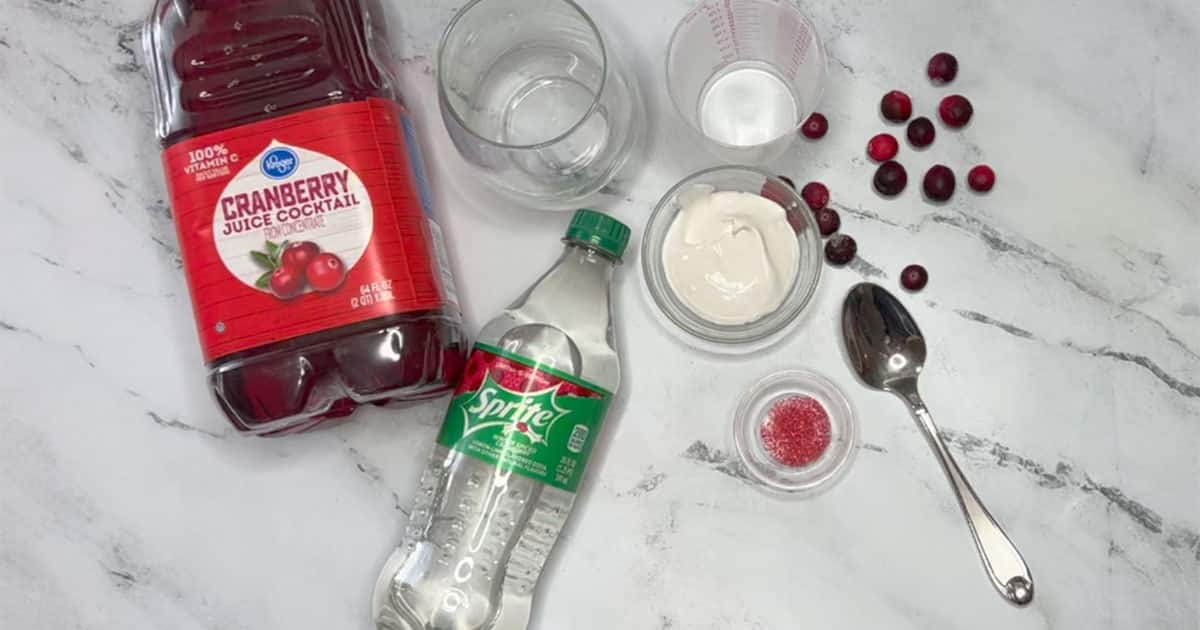 Instructions to Make this Christmas Punch
In a cocktail shaker filled with one cup of ice, add Cranberry Juice.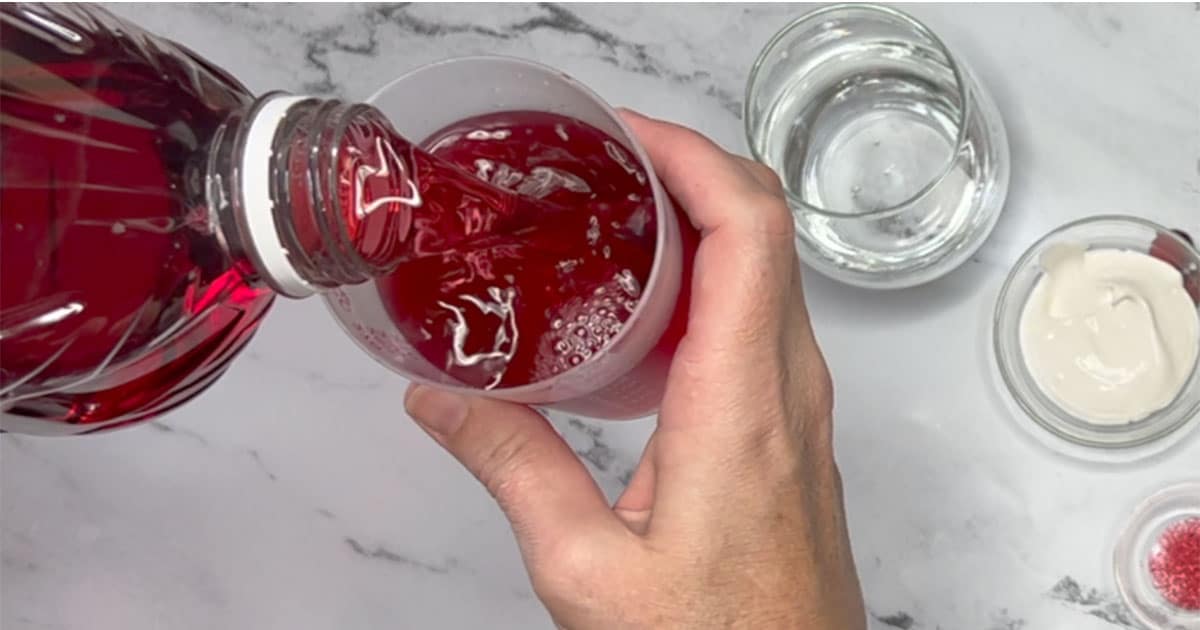 Add the Winter Spiced Sprite.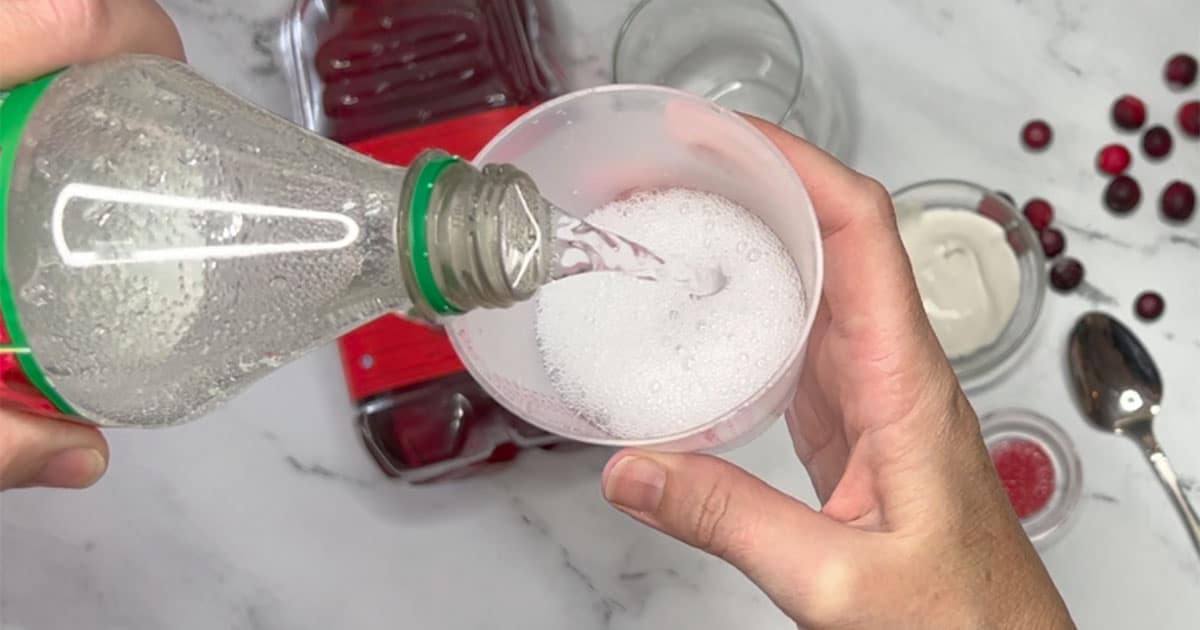 Pour out into glass without the ice.
Add in Frozen cranberries.
Top with the whipped topping.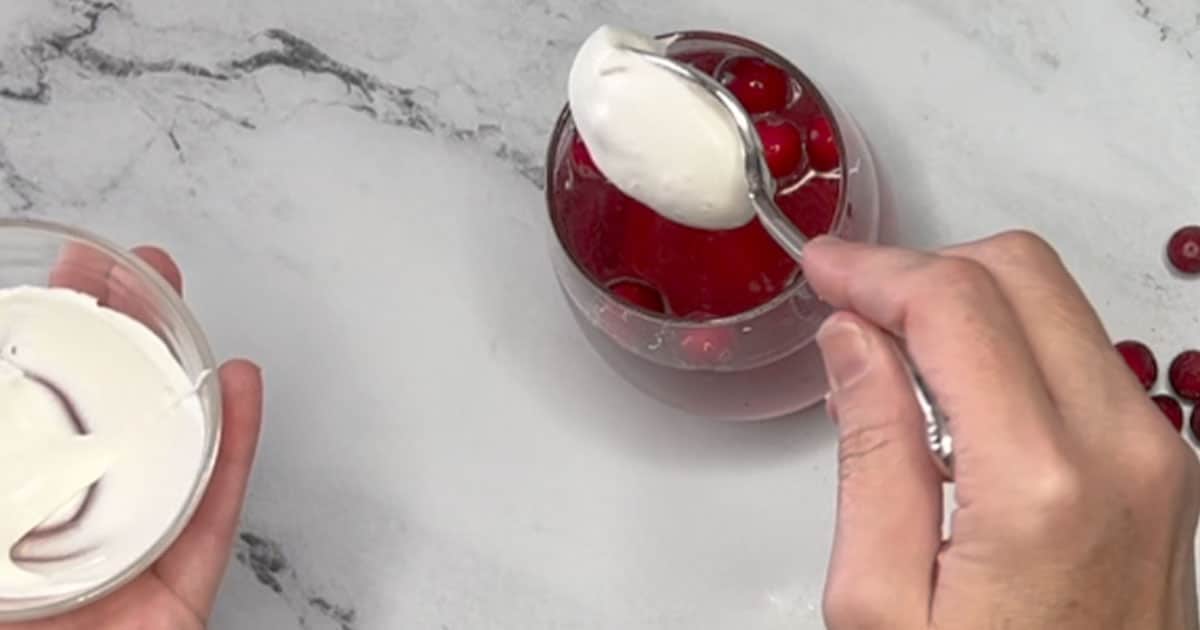 Sprinkle with red sanding sugar.
What Are Some Variations on This Recipe I can Make?
This Christmas Punch Recipe is incredibly versatile and can be adapted to suit your own tastes or the dietary needs of your guests.
For a light alcoholic option, you can substitute some prosecco for the Sprite.
Alternatively, you can also add in other juices for extra flavor, such as cranberry, orange, or pineapple juice.
If you're looking for a sweeter drink, you can add in some honey or maple syrup.
Lastly, if you're feeling adventurous, you could even try adding some vodka or rum to give it a bit of a kick!
No matter how you decide to make this recipe, your guests are sure to love it!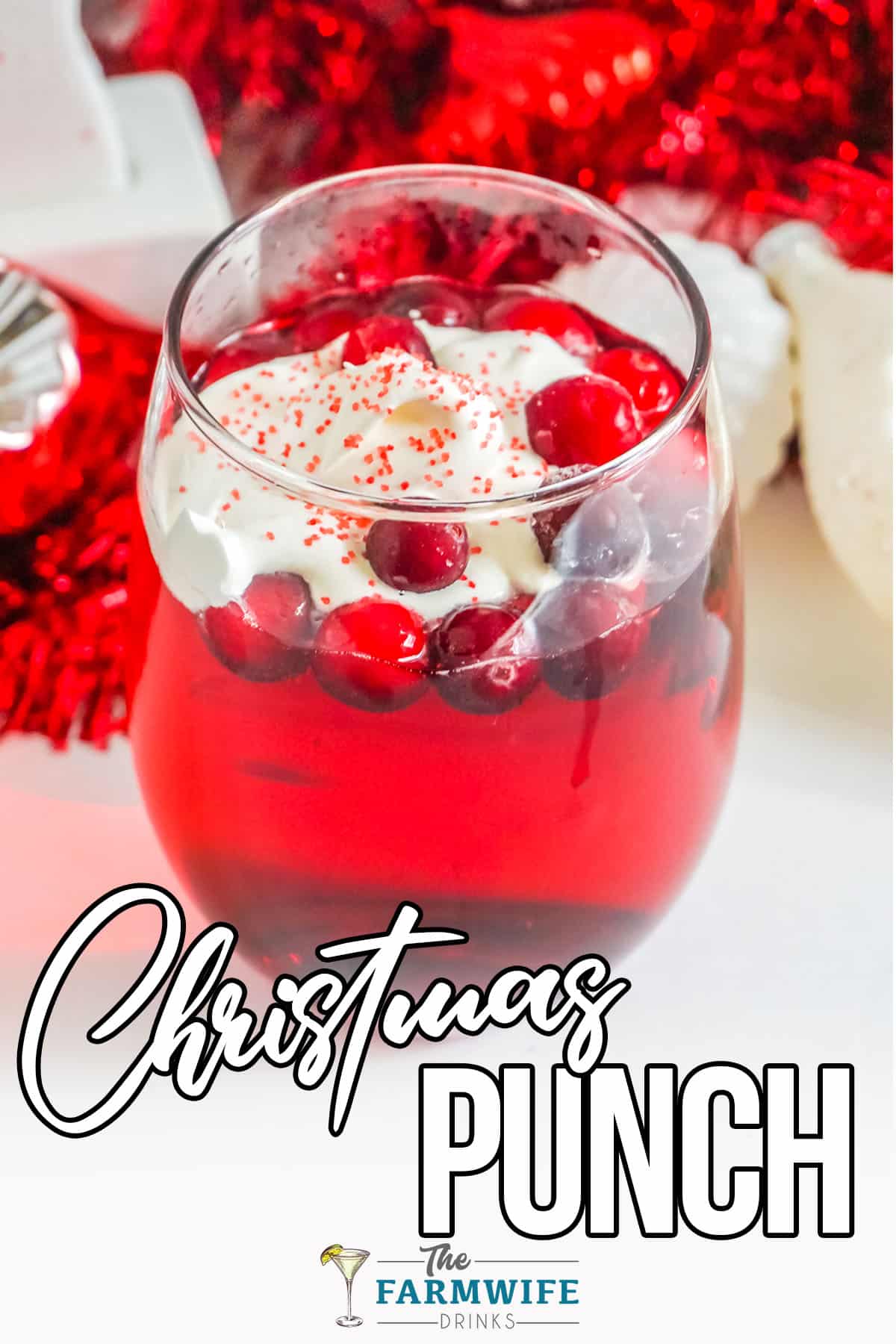 Is This a Vegan Mocktail?
Yes, this Christmas punch recipe is vegan-friendly. All of the ingredients are naturally vegan so you don't have to worry about any animal products or byproducts being used in it. Just make sure that when you are buying things, make sure it's vegan friendly as some items may contain animal products.
Is This a Gluten-Free Mocktail?
Yes, this Christmas mocktail punch recipe is gluten-free. All of the ingredients used in this mocktail are naturally gluten-free so you don't have to worry about cross contamination. However, it's always best to check the labels of any store bought items just in case to make sure they don't contain any hidden gluten ingredients.
How Do I Serve This Drink?
This holiday punch is best served in a "fancy" glass. The ultimate festive look is best achieved for kiddos if they can use a glass they're not normally offered. So out with the plastic and in with the "fancy" - just this one time. You can also serve this drink in shot glasses as an after dinner treat, or even freeze it into popsicles for a fun twist!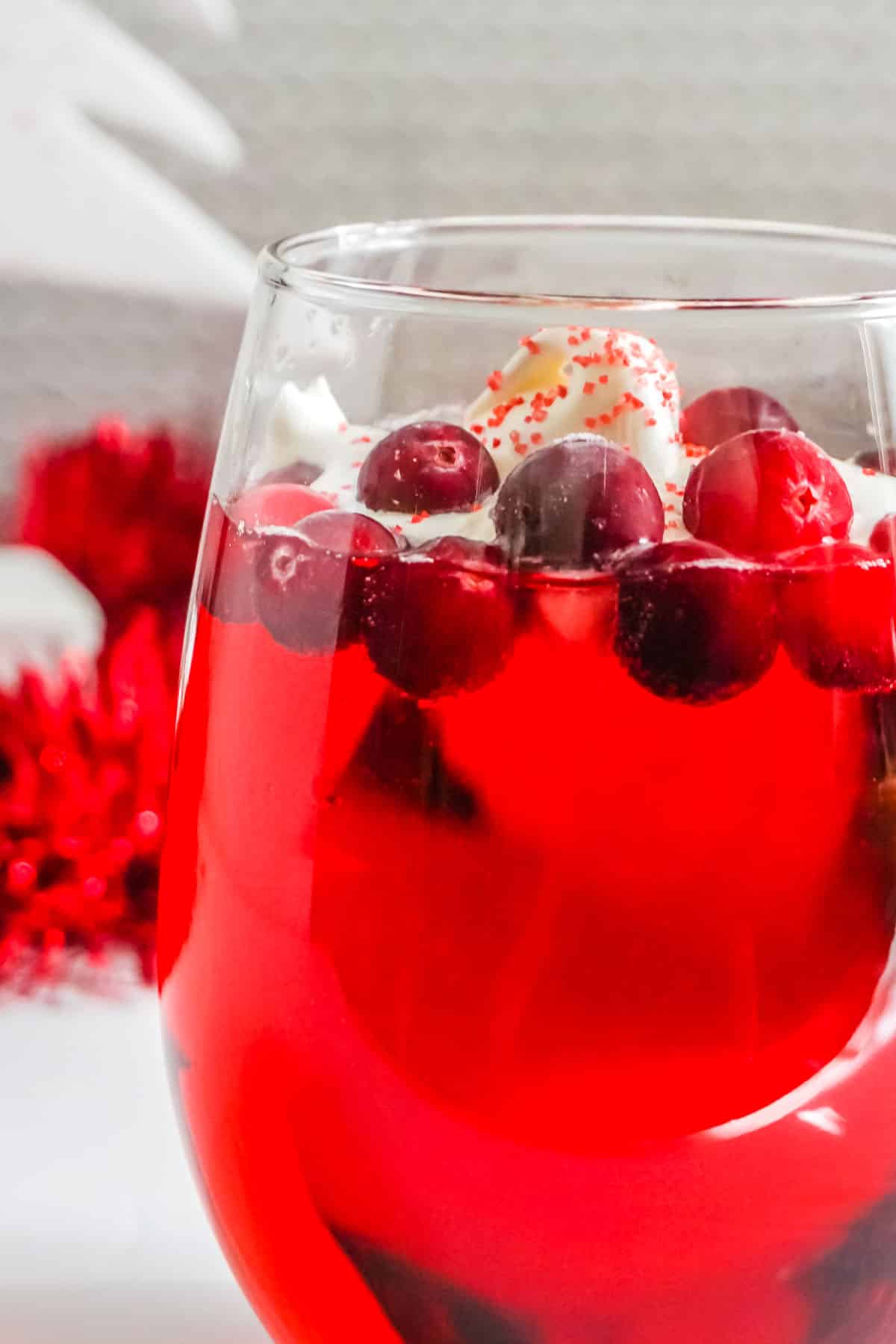 Home Bar Equipment
Having a well-stocked home bar with the equipment to make cocktails or mocktails whenever you desire is important for the drink-making enthusiast. Build your bar for the perfect drinks with a few of my favorite items to make great beverages with great tools.
How to Store Leftover Mocktails
This mocktail is super easy to make, but you can make it ahead of time.
Refrigerating Leftovers - You can store leftovers of the Christmas holiday punch in the fridge for up to three days.
Freezing Leftovers - Frozen holiday mocktail slushies can also be made with leftovers. Just pop the leftovers in a freezer bag and pull out later.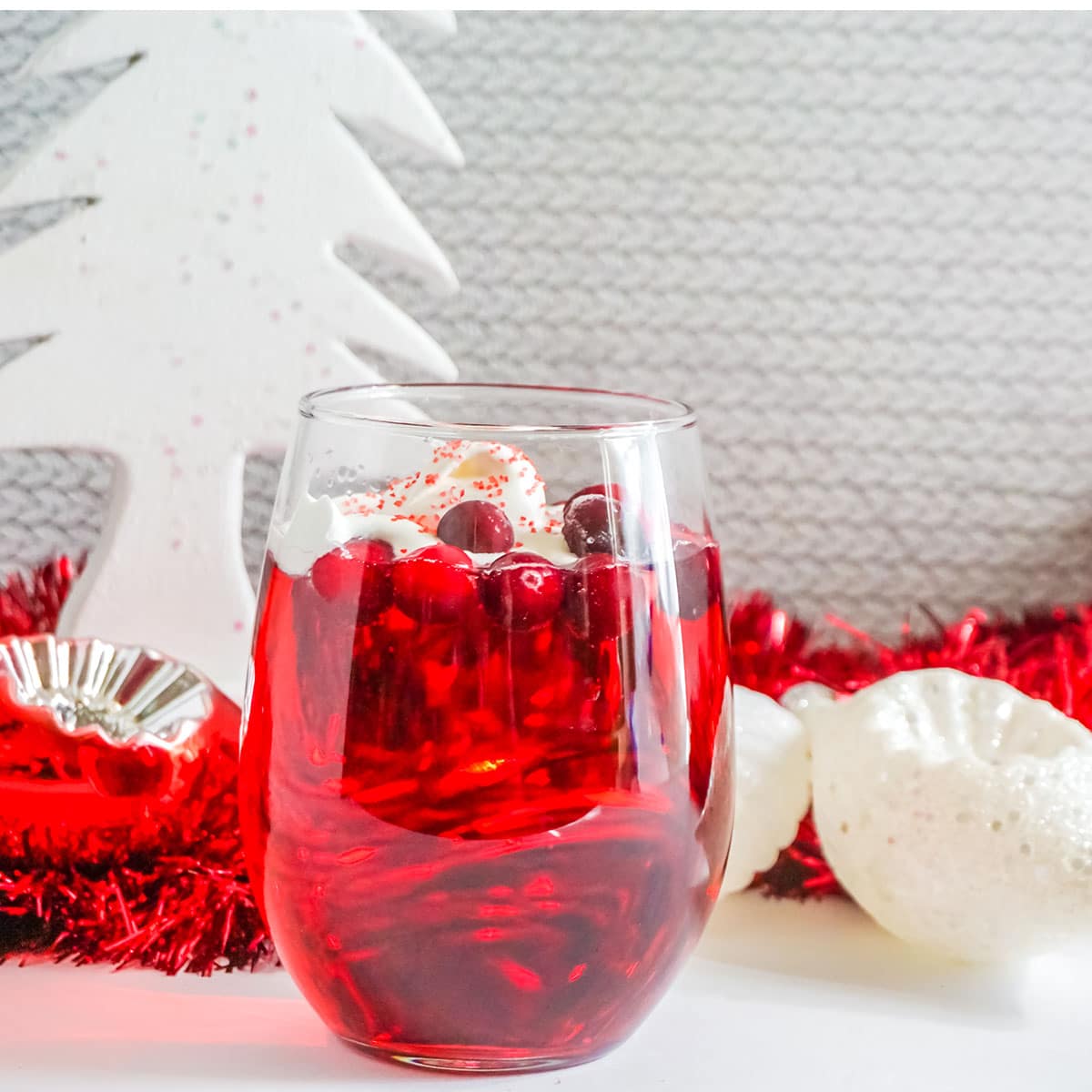 More Mocktail Recipes You'll Love
This Christmas punch mocktail is one of my favorites, but there are so many more options. You can make so many fun flavors that the kids will love - and you, too! Here are some of the mocktails that I love most:
Green Sherbet Punch
Green sherbet punch is a lime flavored green punch combining lemon-lime Kool-Aid, pineapple juice and sprite with lime sherbet for a fun and flavorful drink. #Sherbet #Greendrinks #GreenPunch #Mocktails
Check out this recipe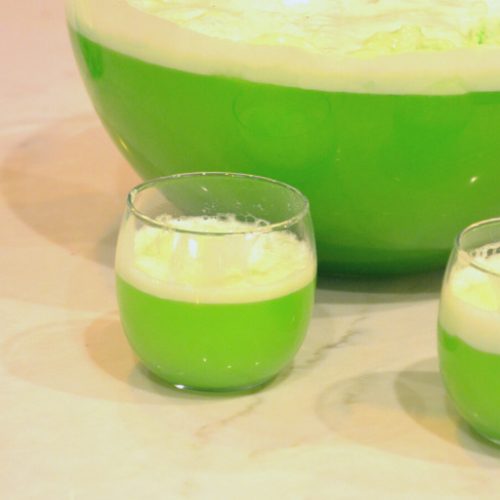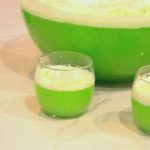 Strawberry Pink Lemonade Slushies
Strawberry Pink Lemonade Slushies combine frozen strawberries with pink lemonade to make a great, refreshing frozen mocktail for the kids and adults to enjoy all day long.
Check out this recipe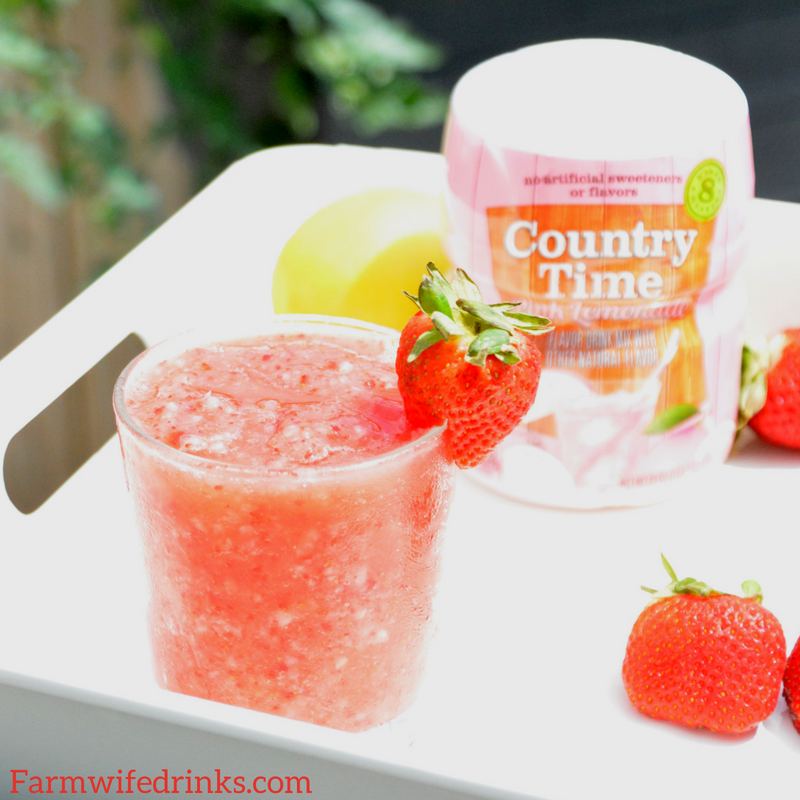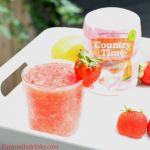 Homemade Italian Cream Sodas
The homemade Italian Cream Sodas are a fancy kiddie cocktail made with three simple ingredients you can have on hand for a quick, fun drink with your kids.
Check out this recipe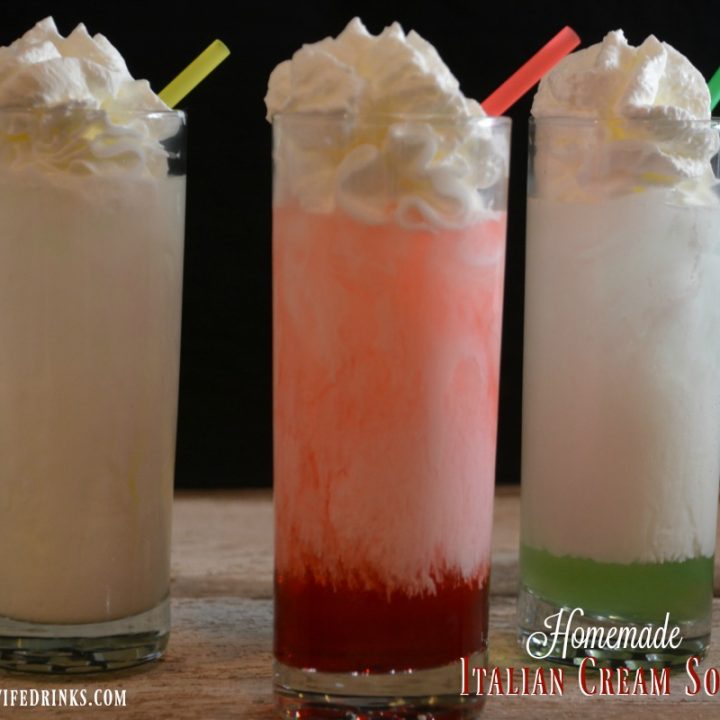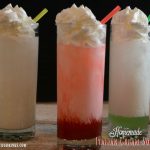 Frozen Strawberry Lemonade
Frozen strawberry lemonade is slushy twist on a summertime favorite. Kids and adults alike will love it.
Check out this recipe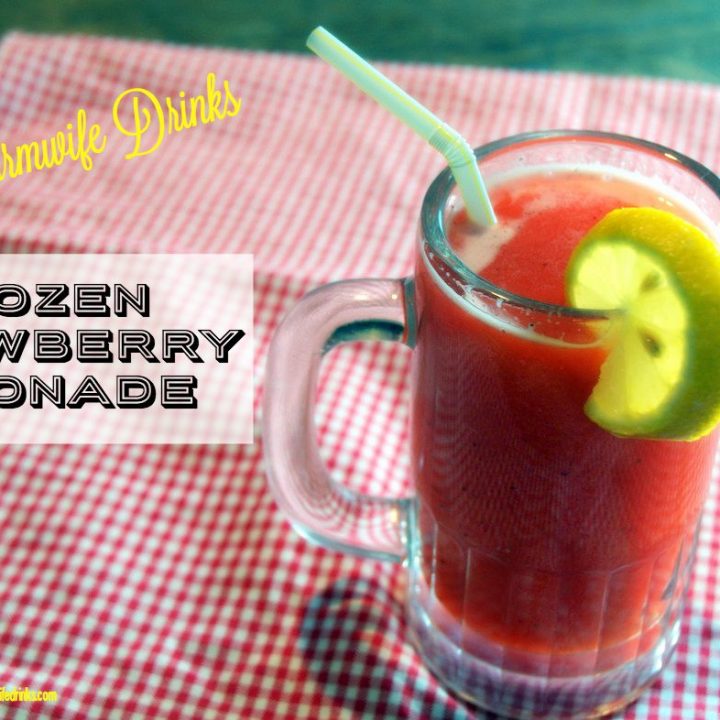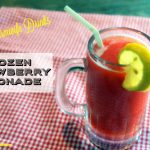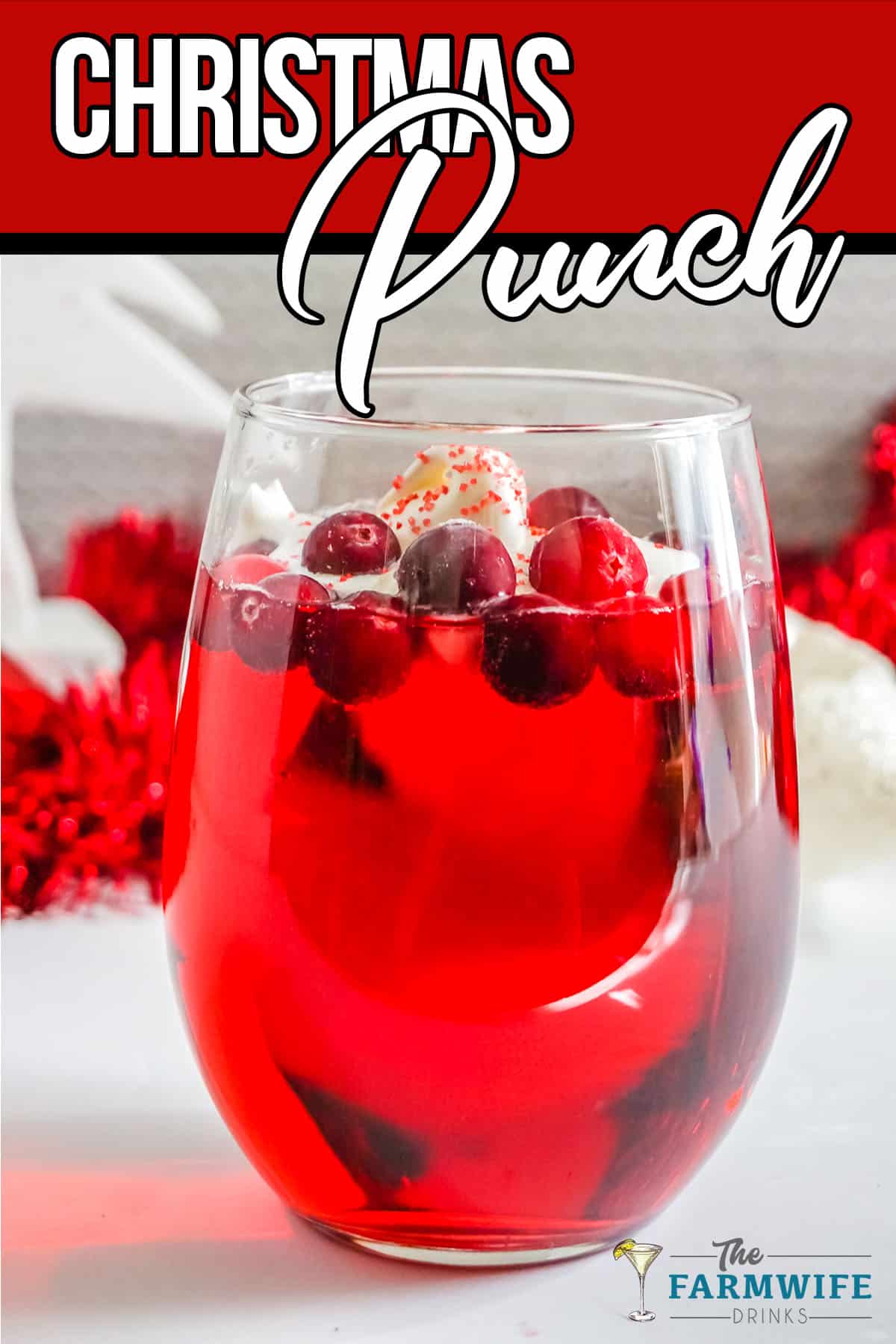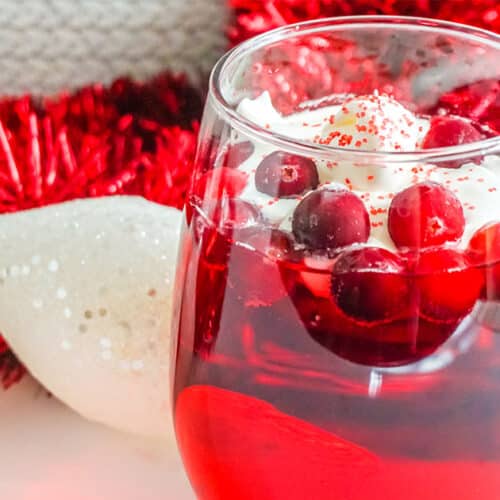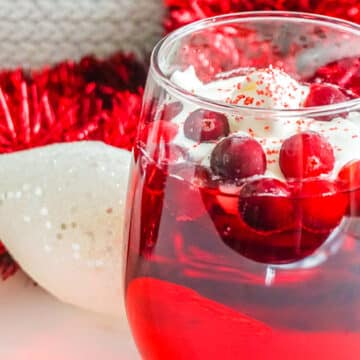 Christmas Punch
Easy and fun Christmas punch that's kid-friendly and perfect for a little holiday-related treat for the kids. Definitely the holiday mocktail of your dreams.
Print
Pin
Rate
Ingredients
4

oz

Cranberry Juice Cocktail

4

oz

Winter Spiced Sprite

¼

cup

Frozen Cranberries

1

tablespoon

whipped topping

1

teaspoon

red sanding sugar
Instructions
Combine Cranberry Juice with Winter Spiced Sprite. Using Cocktail shaker filled with 1 cup of ice.

4 oz Cranberry Juice Cocktail,

4 oz Winter Spiced Sprite

Pour Out into cup with out Ice.

Add in the Frozen Cranberries.

Top with the Whipped Topping.

1 tablespoon whipped topping

Sprinkle Sugar on top of the whipped topping.

1 teaspoon red sanding sugar
Nutrition
Serving:
1
g
|
Calories:
252
kcal
|
Carbohydrates:
63
g
|
Protein:
0.3
g
|
Fat:
1
g
|
Saturated Fat:
1
g
|
Polyunsaturated Fat:
0.1
g
|
Monounsaturated Fat:
0.1
g
|
Cholesterol:
0.1
mg
|
Sodium:
19
mg
|
Potassium:
51
mg
|
Fiber:
0.1
g
|
Sugar:
55
g
|
Vitamin A:
32
IU
|
Vitamin C:
75
mg
|
Calcium:
15
mg
|
Iron:
0.3
mg
Latest posts by Chantal Kirkland
(see all)