Whether you're a tea aficionado or a newbie to the tea game, you'll find something to love in this collection of 100+ Epically Refreshing Iced Tea Recipes in Every Flavor Imaginable.
From classic flavors like lemon and honey to more creative concoctions like strawberry basil and lavender mint, you'll be sure to find your perfect cup of iced tea.
No matter your flavor preference, you'll be sure to find something to quench your thirst and cool you down in this collection of over 100 iced tea recipes. So, let's get brewing!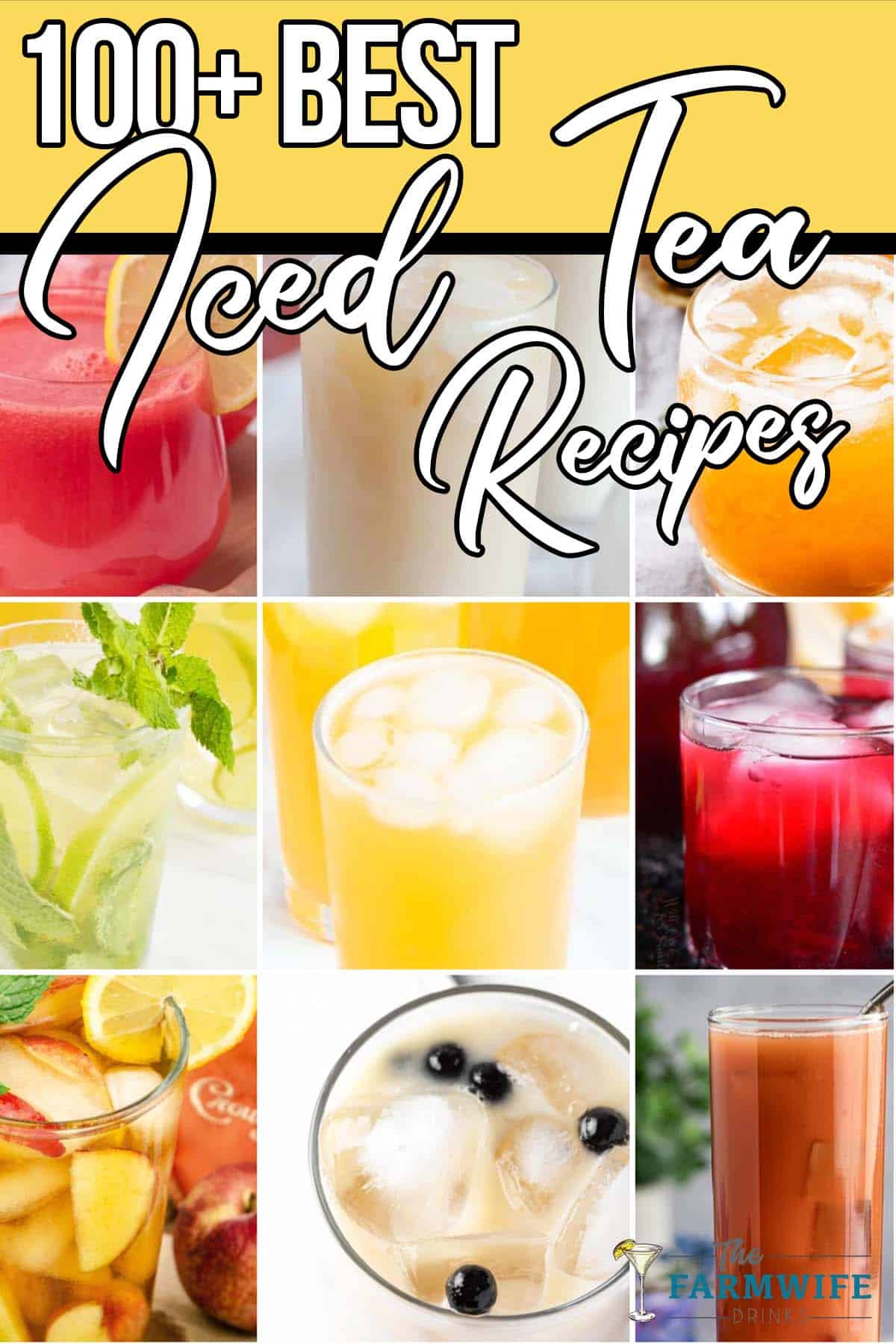 Epically Refreshing Iced Tea Recipes in Every Flavor Imaginable
When it comes to iced tea recipes, the possibilities are endless. From classic favorites like lemon iced tea to more adventurous options like ginger peach iced tea, you can easily find a flavor that suits your taste. And with so many different tea recipes out there, you can make iced tea in over 100 different ways.
Whether you're looking for something sweet, tart, or herbal, the perfect iced tea recipe is out there for you.
So get creative and explore the world of iced tea recipes – you'll be sure to find something you love!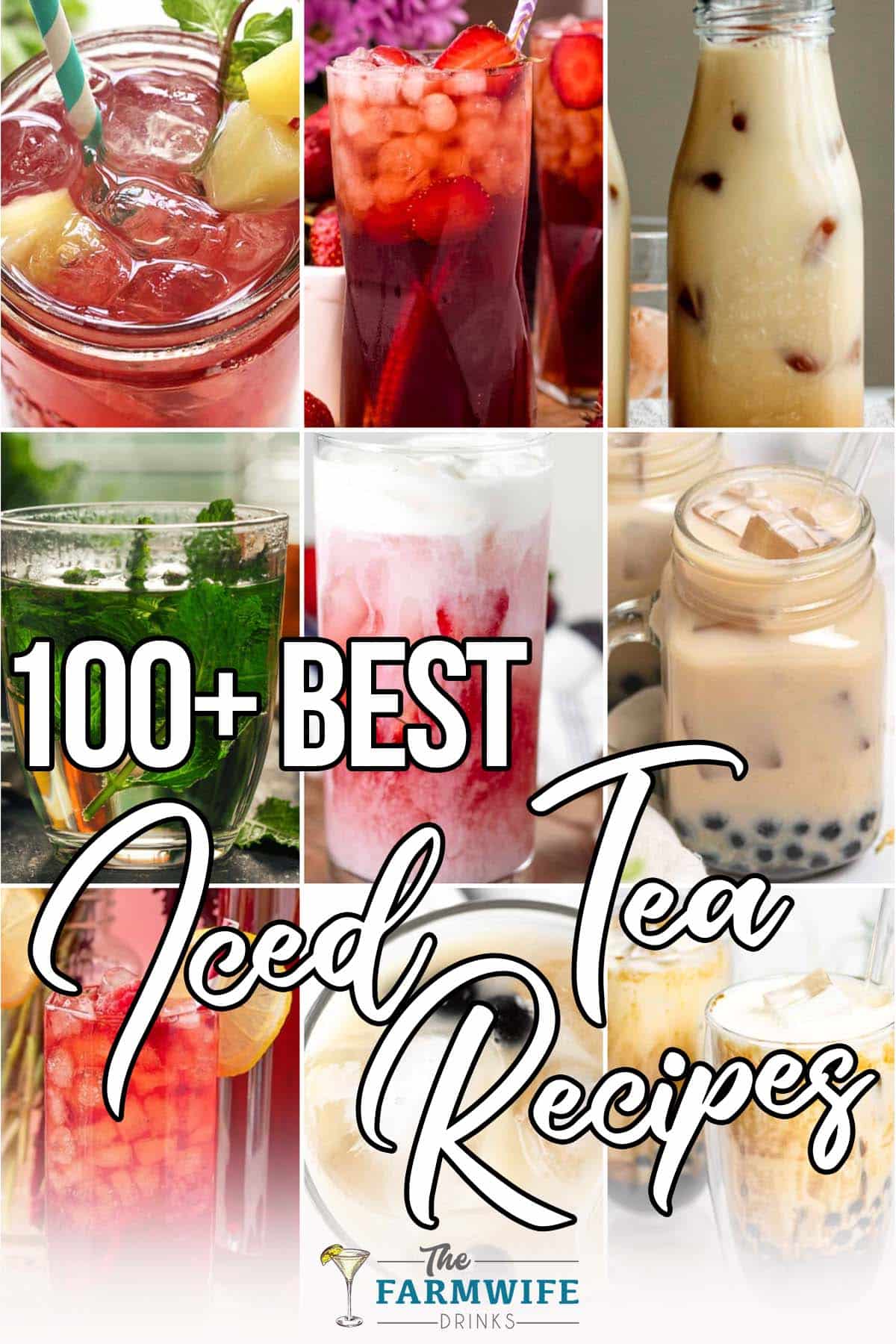 Jump to:
A delightful blend of fresh strawberries with classic sweet tea, offering a fruity twist.
A tantalizing recipe that combines sweet blackberries with traditional tea for a unique taste.
A refreshing beverage that blends the juiciness of peaches with the richness of sweet tea.
A plant-based recipe for a concentrated chai tea syrup, perfect for making your favorite chai drinks.
A drink inspired by fresh strawberries, designed by Kim Schob to quench summer thirsts.
A rejuvenating herbal iced tea, tailored for those in need of a relaxing break.
A zesty and cooling iced tea, combining fresh lemon and mint.
A fusion of classic iced tea and sangria, perfect for summer parties.
An African-inspired iced tea capturing the spirit and flavors of Botswana.
A refreshing iced tea made with linden, enhanced with mint and lemon notes.
A fruity, caffeinated drink inspired by Starbucks' famous peach green tea.
A floral, fruity blend of berries and hibiscus, ideal for a caffeine-free refresher.
A flavorful iced tea blending sweet peaches with a spicy ginger kick.
A classic, refreshing drink based on the timeless green tea blend.
A visually stunning tea that shifts colors, derived from butterfly pea flowers.
A Southern-inspired drink combining the traditions of sweet tea and mint julep.
A timeless recipe from the South, offering a classic sweet and strong tea.
A sun-brewed tea with aromatic lemongrass and calming lavender.
A creamy, spiced beverage that's a staple in Thai cuisine.
A guide to brewing tea using the sun's heat for a natural infusion.
A tropical blend combining ripe mangoes with robust tea.
A refreshing tea recipe infused with the cooling sensation of mint.
A versatile latte recipe using the rich and earthy matcha green tea powder.
A vibrant and health-packed tea derived from hibiscus flowers.
A DIY guide for brewing sun tea using garden-fresh herbs.
A soothing tea recipe using fresh or dried lemon balm for a calming effect.
A refreshing mix of fruity peach, green tea, and tangy lemonade.
A tropical fusion of ripe guava and robust black tea served chilled.
A sweet and tangy combination, blending peach flavors with green tea and lemonade.
A homemade version of Starbucks' tangy and fruity iced tea lemonade.
A fruity rooibos tea with peach flavor, available in sweetened and unsweetened varieties.
A classic recipe for making the perfect glass of iced tea.
A floral and tangy tea blend combining rosehip and hibiscus flowers.
A simple concoction blending the sweetness of strawberries with classic iced tea.
A calming drink infused with the aromatic essence of lavender flowers.
A soothing and chilled beverage made from the gentle chamomile flower.
A quick and convenient method for making classic boba tea using an Instant Pot.
A floral twist on the classic bubble tea, infused with rose essence.
A summery drink capturing the juiciness of peaches in a cold tea blend.
A tangy and refreshing blend combining classic iced tea with zesty lemonade.
A boozy twist on the classic drink, blending pomegranate with tea and lemonade.
A creamy and fruity beverage inspired by Starbucks' popular pink drink.
A nutrient-rich tea combining strawberries, green tea, and chia seeds.
A guide to making the classic Taiwanese beverage with tapioca pearls.
A straightforward recipe for making classic lemon-flavored iced tea.
A zesty iced tea that delivers the lemony punch without the caffeine kick.
A versatile guide showcasing three unique ways to prepare iced tea using an Instant Pot.
A double treat with a Starbucks-inspired drink and its Instant Pot version for quick preparation.
A succulent blend of sweet tea infused with fresh strawberry essence for a fruity delight.
A floral and herbal concoction, blending the aromas of rose with the distinct taste of rooibos in a latte form.
A refreshing mix of strawberries and mint leaves, giving classic iced tea a summer makeover.
A tropical twist on iced tea, combining the sweetness of pineapples with classic tea.
A timeless drink rooted in Southern traditions, offering a rich and sweetened tea experience.
A cold-brew method capturing the deep flavors of hibiscus, also known as Rosa de Jamaica.
A calming blend of chamomile tea with the refreshing touch of mint.
A caffeine-free herbal tea that offers the rich taste of rooibos in a chilled form.
A vibrant and tart infusion of hibiscus flowers cold-brewed to perfection.
A relaxing cold-brew blend featuring the gentle notes of chamomile and aromatic lavender.
A fragrant beverage infused with rose petals, blending the floral notes with creamy latte.
A creamy milk tea infused with calming lavender, offering a blend of floral aroma and taste.
A refreshing sun-brewed tea, made following the AIP diet, infusing green tea with fresh mint.
A tangy and sweet iced tea made from the delicious essence of ripe raspberries.
An insightful guide to making sun tea and discussing its safety aspects.
A light and fruity tea combining the sweet flavors of peach with refreshing green tea.
A nutritious blend of nettle tea and lemonade, also highlighting the health benefits of nettle leaves.
A traditional Thai beverage, this rich and creamy tea is a delightful mix of spices and condensed milk, often served with tapioca pearls.
A modern twist on classic milk tea, featuring a caramel-like swirl of brown sugar syrup, complemented by chewy boba pearls.
A classic Taiwanese drink that captures the unique, subtly sweet taste of wintermelon, blended seamlessly with creamy milk tea.
A fragrant blend of the citrus-infused Earl Grey tea combined with the creaminess of milk for a comforting drink.
A boozy take on traditional iced tea, adding a splash of alcohol for a refreshing adult beverage.
A tangy and aromatic tea that immerses the zesty essence of lemons for a revitalizing drink.
A replica of the Starbucks favorite, this drink combines fruity flavors with a creamy vanilla cold foam topping.
A homemade version of Starbucks' tropical guava-infused black tea, perfect for a refreshing sip.
A delightful combination of classic sweet tea with the summery sweetness of strawberries.
A fruity twist on the traditional iced tea, infused with the tangy and sweet flavors of raspberries.
A herbal concoction capturing the earthy and aromatic notes of sage, suitable for both warm and cold preparations.
A versatile tea recipe celebrating the refreshing notes of mint, perfect for sipping either hot or cold.
A bubbly and fruity beverage that fuses the tropical sweetness of pineapple with the tang of passionfruit.
A non-alcoholic drink blending the tropical notes of coconut, the refreshment of mint, and the earthiness of green tea.
A rejuvenating iced tea that combines the robustness of green tea with the cooling essence of mint.
A unique and flavorful iced tea infused with the sweet and slightly tart taste of mulberries.
The citrusy notes of Earl Grey tea harmoniously blended with the natural sweetness of honey, served chilled.
A homemade brew that combines the timeless flavor of iced tea with the fruity punch of fresh strawberries.
A classic tea that captures the juicy and fragrant essence of ripe peaches.
A quick and frothy way to enjoy the earthy flavors of matcha, perfectly blended with creamy milk.
A warming blend that marries the zesty brightness of oranges with the spicy kick of cinnamon for a comforting cup.
A flexible recipe, allowing you to cold brew or prepare in advance, infused with the juicy goodness of strawberries.
A tropical escape in a glass, blending the exotic taste of guava with the boldness of black tea.
A sweet and fragrant bubble tea experience, harnessing the delicate flavor of lychee and paired with chewy tapioca pearls.
A versatile drink offering three unique takes on the combination of whiskey and peach tea.
A refreshing blend of antioxidant-rich berries combined with the earthy notes of green tea, served chilled.
A zesty and fruity concoction that infuses the tang of lime with sweet strawberries in an iced tea base.
A delightful replica of the popular Starbucks drink, bringing together peach, green tea, and lemonade.
A smooth and rich method of extracting flavors, this cold brew highlights the gentle taste of green tea.
A chilled twist on the classic, combining Earl Grey tea with hints of vanilla and milk for a creamy refreshment.
A vibrant blend fusing the tropical tang of passion fruit with the mellow notes of green tea.
A tropical delight that immerses you in the luscious taste of ripe mango combined with classic iced tea.
An authentic Asian beverage, this drink captivates with its blend of tea, spices, and creamy sweetness.
A summery infusion that mixes the hydrating properties of watermelon with the antioxidant-rich green tea.
A creamy fusion showcasing the distinct flavors of oolong tea harmoniously blended with milk.
A fragrant drink that weaves together the floral undertones of jasmine with the creaminess of milk tea.
A visually striking milk tea, characterized by its brown sugar streaks, mimicking tiger stripes, combined with the creamy taste of classic milk tea.
A guide to crafting the perfect brown sugar bubble tea with a "tiger stripe" aesthetic and chewy boba.
A creamy and colorful beverage that captures the subtly sweet and nutty flavor of taro root.
A refreshing iced tea variation that highlights the sweet and tangy flavors of ripe raspberries for a fruity sip.
A classic chilled beverage, this tea harmoniously blends the sweet and fragrant notes of peaches with traditional iced tea.
A zesty and invigorating concoction that combines the tang of lemon with the cooling essence of mint for a perfect summer refreshment.
A traditional drink from the streets of Hong Kong, capturing the bold tea flavors with a hint of zesty lemon.
Ah, iced tea. The perfect summer refresher, the perfect way to cool down after a long day in the sun, and the perfect companion to a good book. But why settle for the same iced tea recipe year after year?
With our collection of over 100 iced tea recipes, you'll never run out of ideas for your next cup of tea. From classic flavors like sweet tea and raspberry iced tea to more exotic flavors like hibiscus tea and strawberry-basil tea, there's something for everyone.
And with so many different recipes to choose from, you'll never get bored. So grab some tea leaves, brew up a pitcher of your favorite iced tea, and enjoy!