When it comes to making the perfect dirty martini, you don't need to rely on fancy techniques or expensive ingredients - all you really need are a few simple steps and the right attitude.
This is your guide for learning how to make a classic dirty martini; complete with loads of tips, tricks, and some fun martini trivia!
I'll show you what makes a great martini experience - be sure that by the time you're done reading this, armed with newfound knowledge and confidence in your bartending skills, no gathering will be complete without 'that guy' (or gal - or person) mixing up delicious drinks (yes YOU!).
So grab whatever tools you have laying around (a couple of glasses at least) and let's have some fun mixing drinks!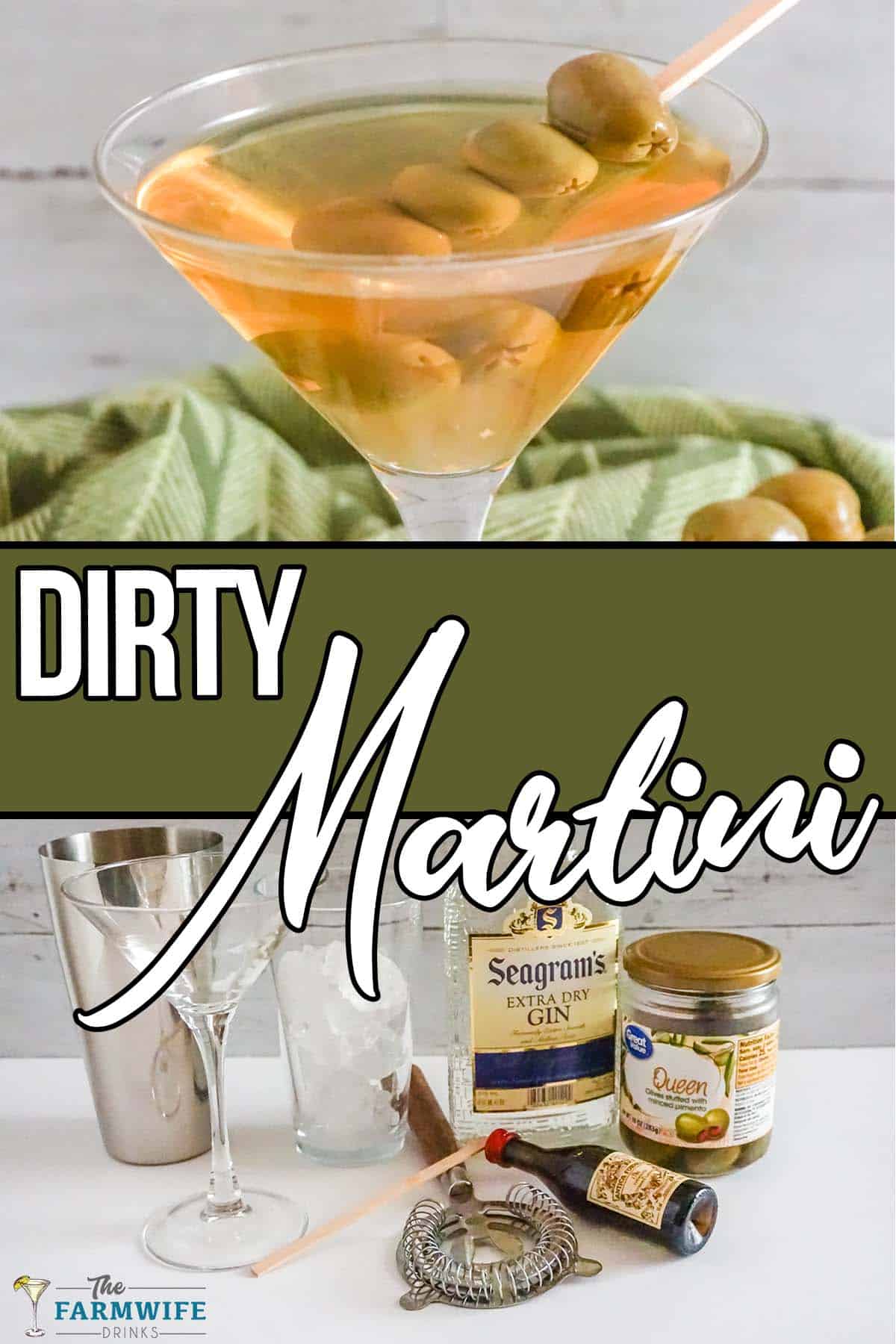 A Brief History of the Martini
The Martini. The very name conjures images of class and sophistication. But did you know that this iconic cocktail has a history as rich and nuanced as its flavor?
Dating back to the late 1800s, the classic Martini was a simple mix of gin and vermouth. But as time passed, variations emerged.
Enter the "dirty" Martini, beloved by olive lovers the world over. With a briny kick courtesy of olive juice, this modern twist on the classic has become a staple of cocktail culture.
Whether you prefer yours classic or dirty, one thing remains certain – the Martini will always be a timeless favorite.
Jump to: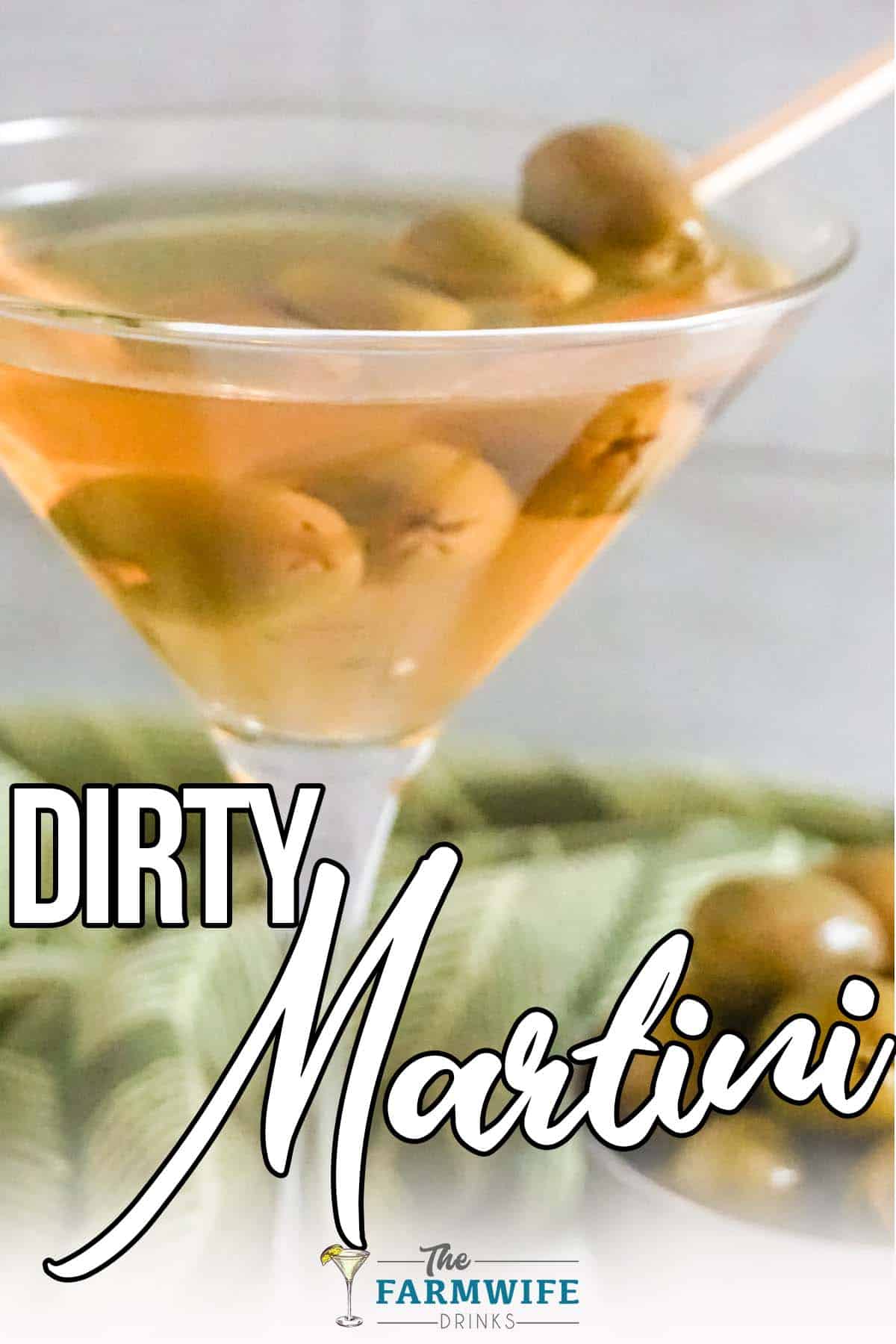 Ingredients
We've taken the classic cocktail and given it a bold and flavorful twist that's sure to impress even the most discerning palette. Here's what you'll need to make the perfect dirty martini:
Gin
Dry Vermouth
Olive Brine (juice)
See recipe card for quantities.
With just the right balance of briny olive juice, herbaceous gin, and a touch of dry vermouth, our recipe is the perfect way to unwind after a long day.
So go ahead, grab a shaker and mix up a round (or three) of our signature dirty martinis. Your taste buds will thank you.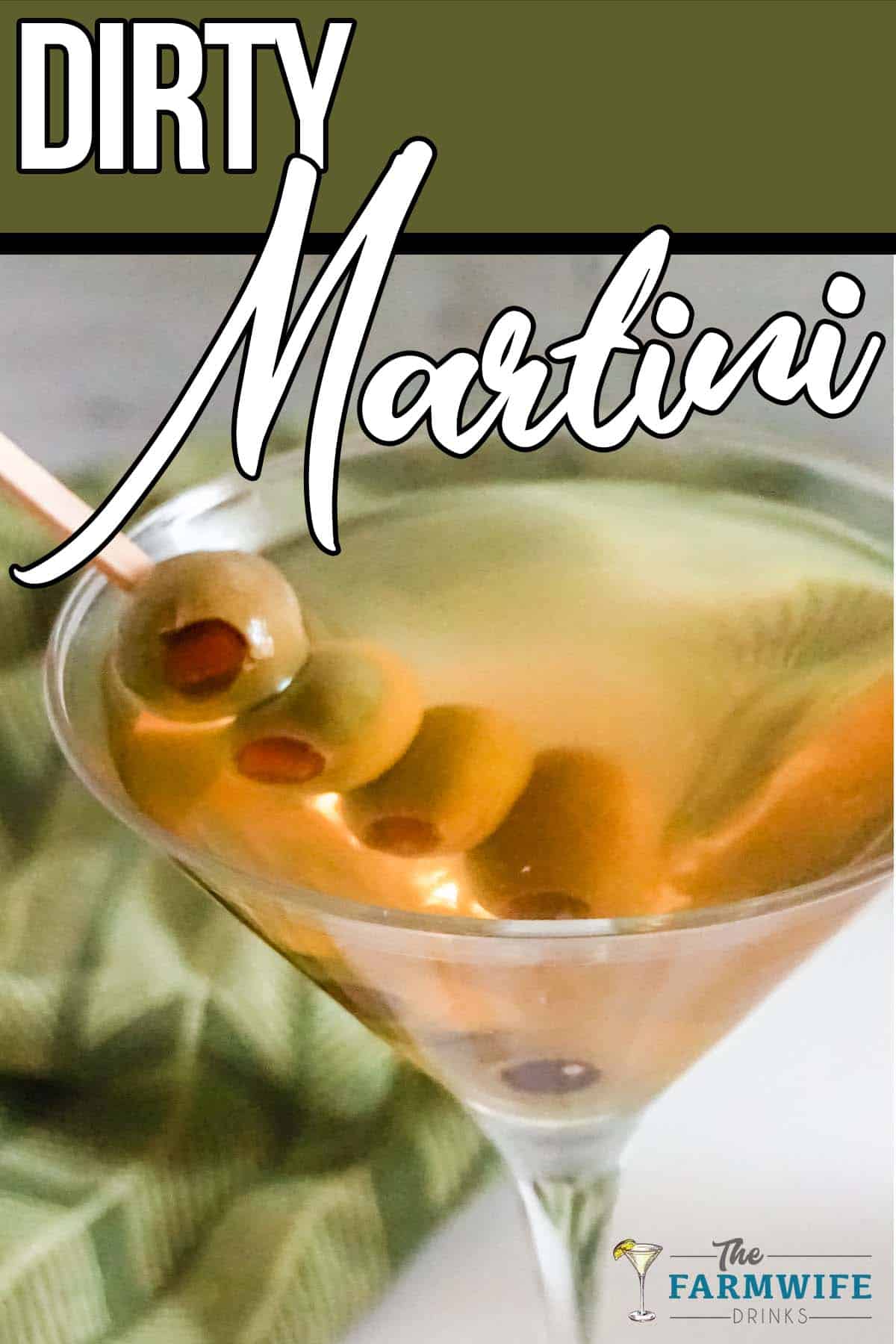 Instructions
Let's break out this recipe and get your dirty martini made!
In a shaker add Gin.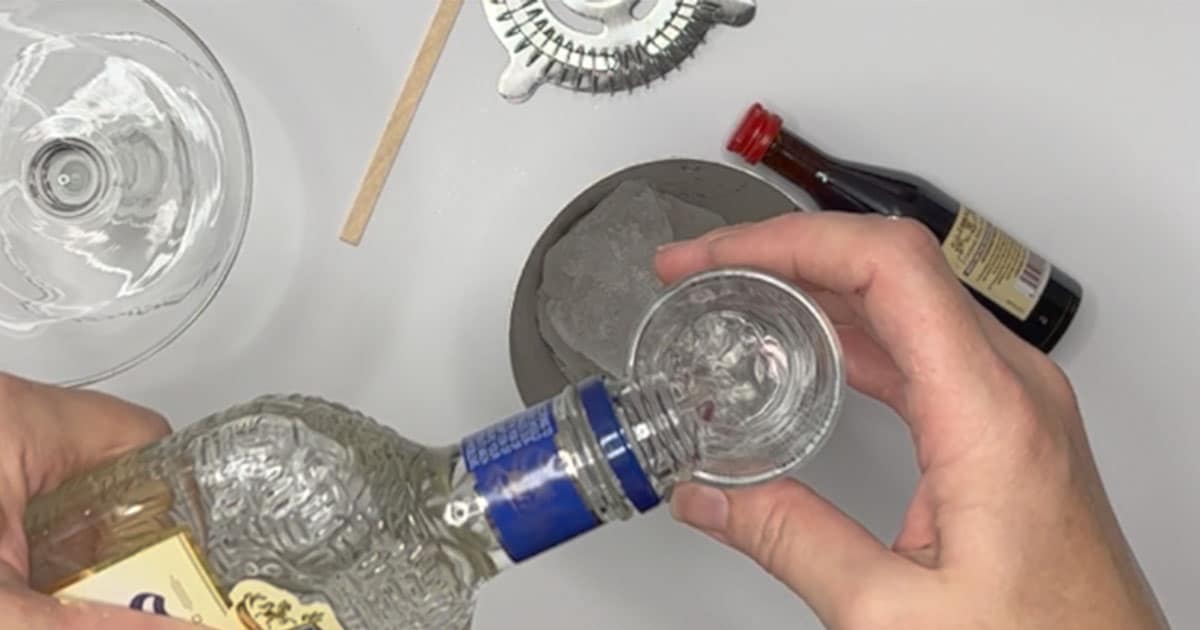 Add the Dry Vermouth.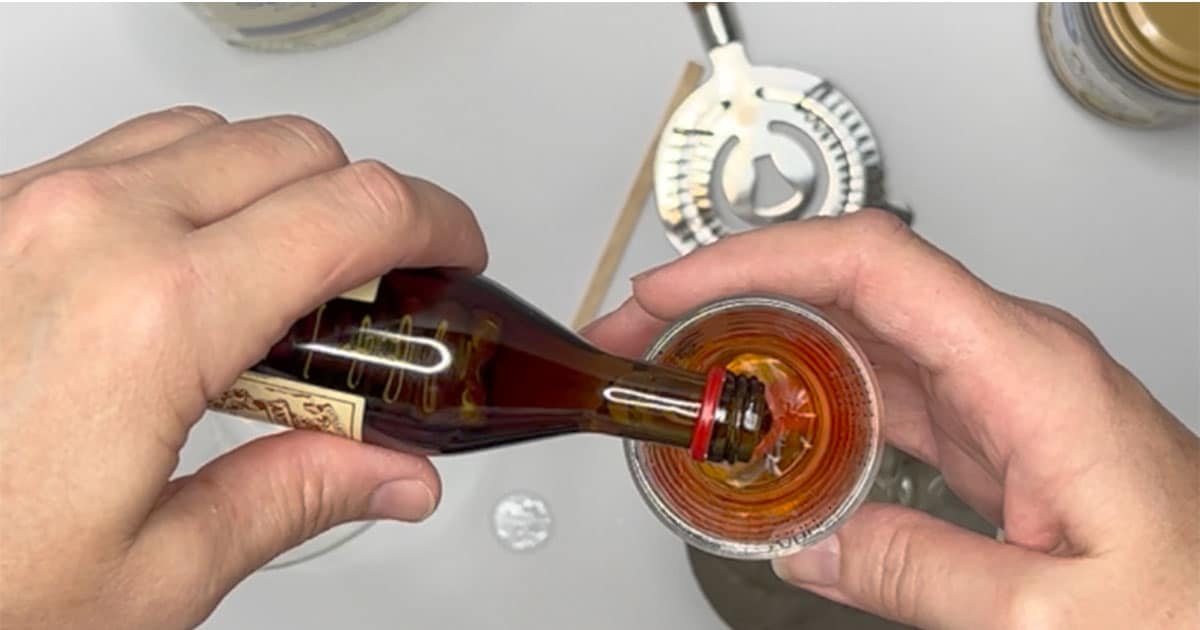 Finally, add the olive brine (olive juice) and ice.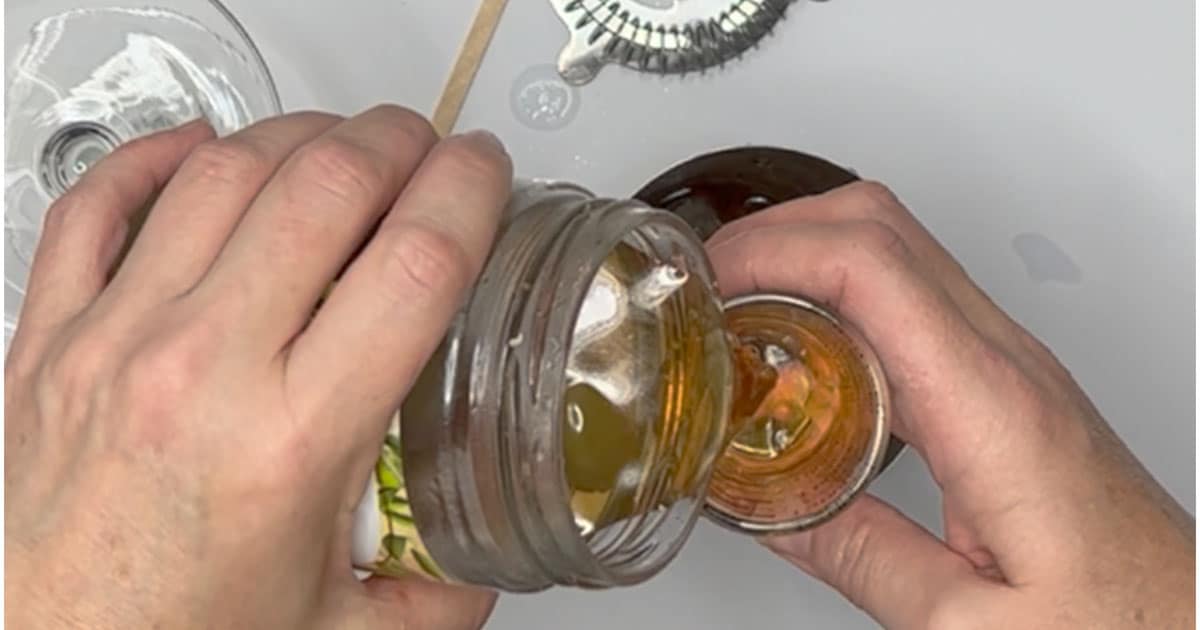 Shake together for 20-30 seconds.
Pour me cocktail into the martini glass using the strainer for the shaker.
Top Martini glass with 2-4 Olives on a toothpick.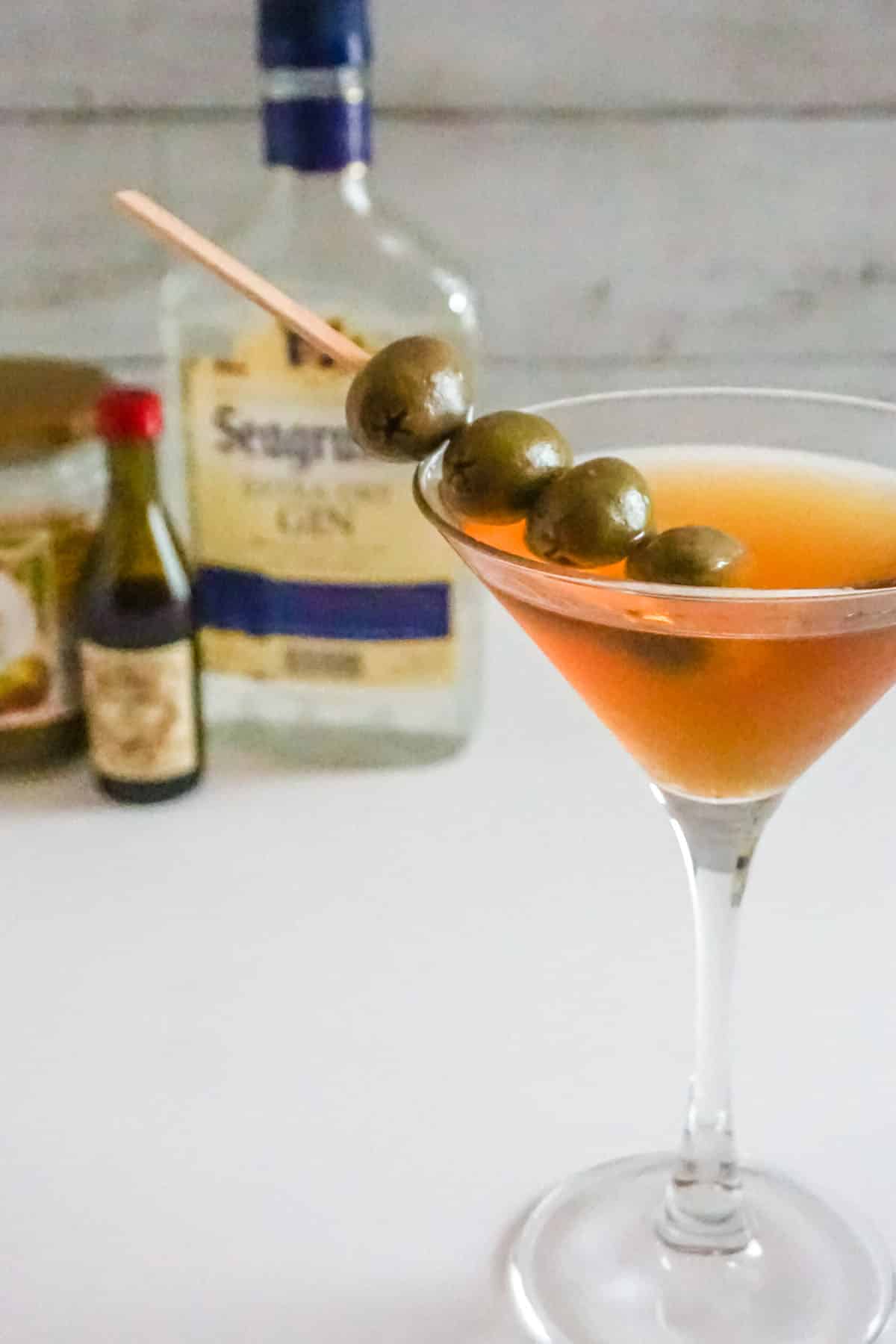 Tips and Tricks for Making the Perfect Dirty Martini
Ah, the Dirty Martini. A true classic. But how do you make the perfect one?
First things first, start with good quality gin or vodka. Any self-respecting bartender will tell you the same.
Then, add a splash of olive juice (the "dirty" part) to give it that distinctive flavor.
Don't skimp on the olives either, they're an essential part of the presentation.
Now, here's the tricky part: Shaken or stirred?
Some say a shaken martini is more diluted, others say stirring preserves the flavors.
We say try both and see which one suits your taste buds.
And finally, serve it up in a chilled glass with a toothpick of olives for garnish.
Cheers to the perfect Dirty Martini!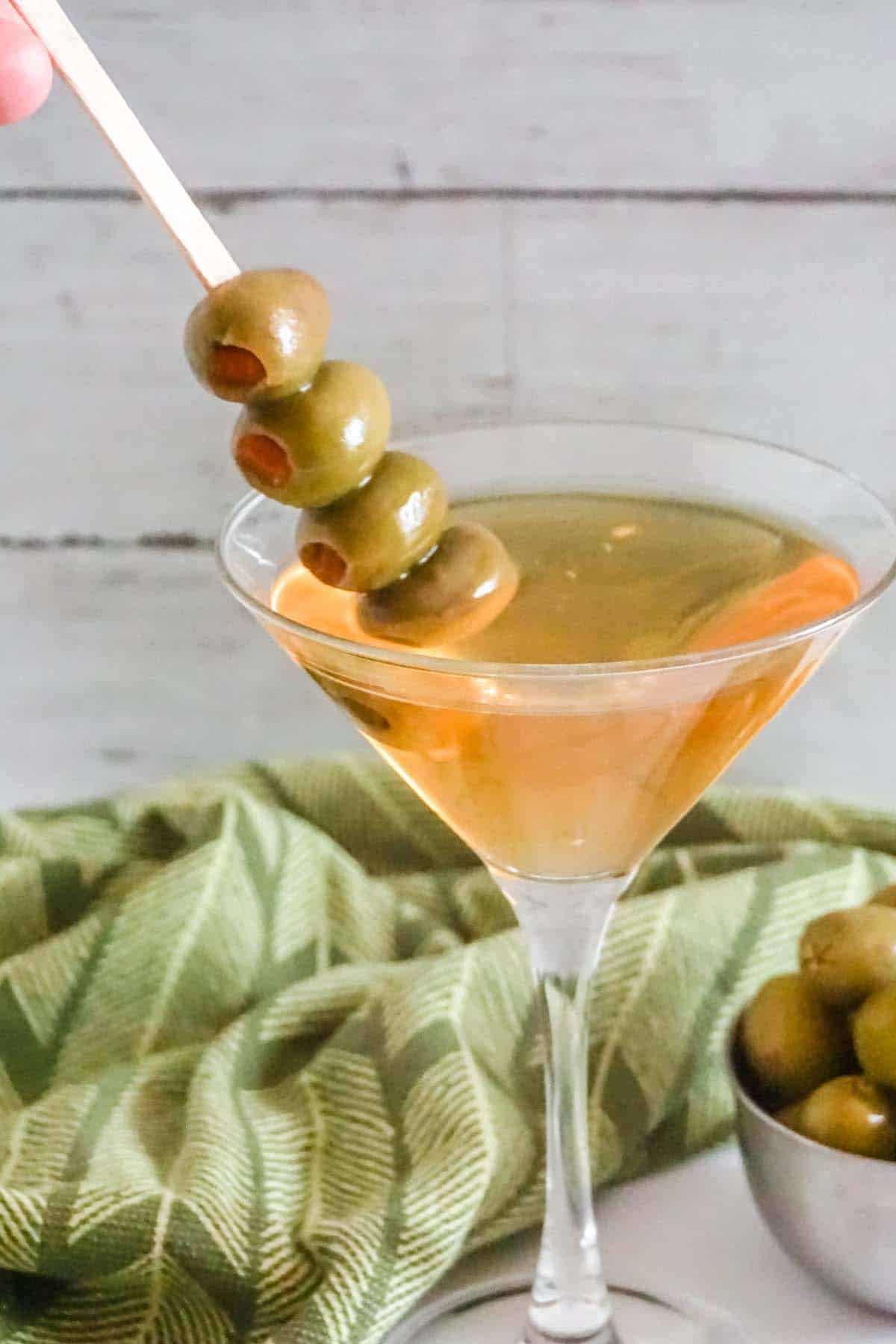 The Benefits of a Dirty Martini - why it's more than just a cocktail
You might not think that a drink with "dirty" in the name would have any benefits, but think again. The dirty martini is more than just a cocktail - it's an experience.
For starters, adding a splash of olive juice to your gin or vodka adds a salty depth of flavor that you just can't get with a regular martini.
Plus, those briny olives on a toothpick? A perfect snack to keep the party going.
And let's not forget about the health benefits - olives are packed with heart-healthy fats and antioxidants.
So go ahead, order yourself a dirty martini and raise a glass to not only a delicious drink, but a healthier you.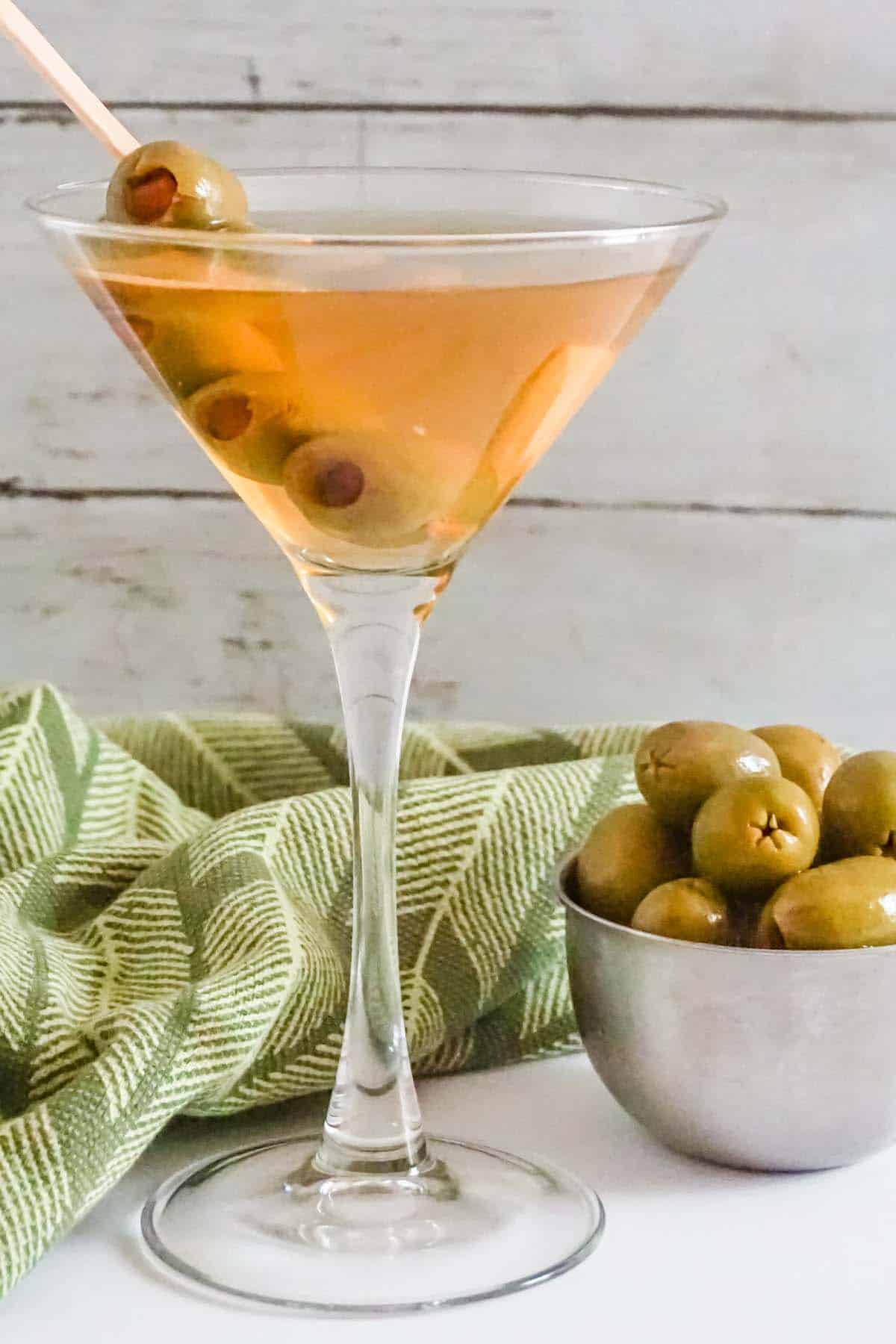 Different Ideas to Liven Up Your Dirty Martini - how to customize it
While a classic dirty martini may never go out of style, there are plenty of creative ways to make it feel fresh and exciting.
One option is to switch up the type of olives you use - try stuffed or even pickled varieties for a fun twist. You can even add-in some of those wee onions that are sometimes pickled along with the olives...so fun!
Another idea is to play around with the amount of brine you add to the mix, depending on your taste preferences. Some people love a double-dirty martini and who am I to judge?! HA!
For a truly unique spin, consider incorporating a flavored vodka or gin, like cucumber or jalapeno, to add some extra zing.
The options are endless, so don't be afraid to experiment and find your perfect dirty martini customization!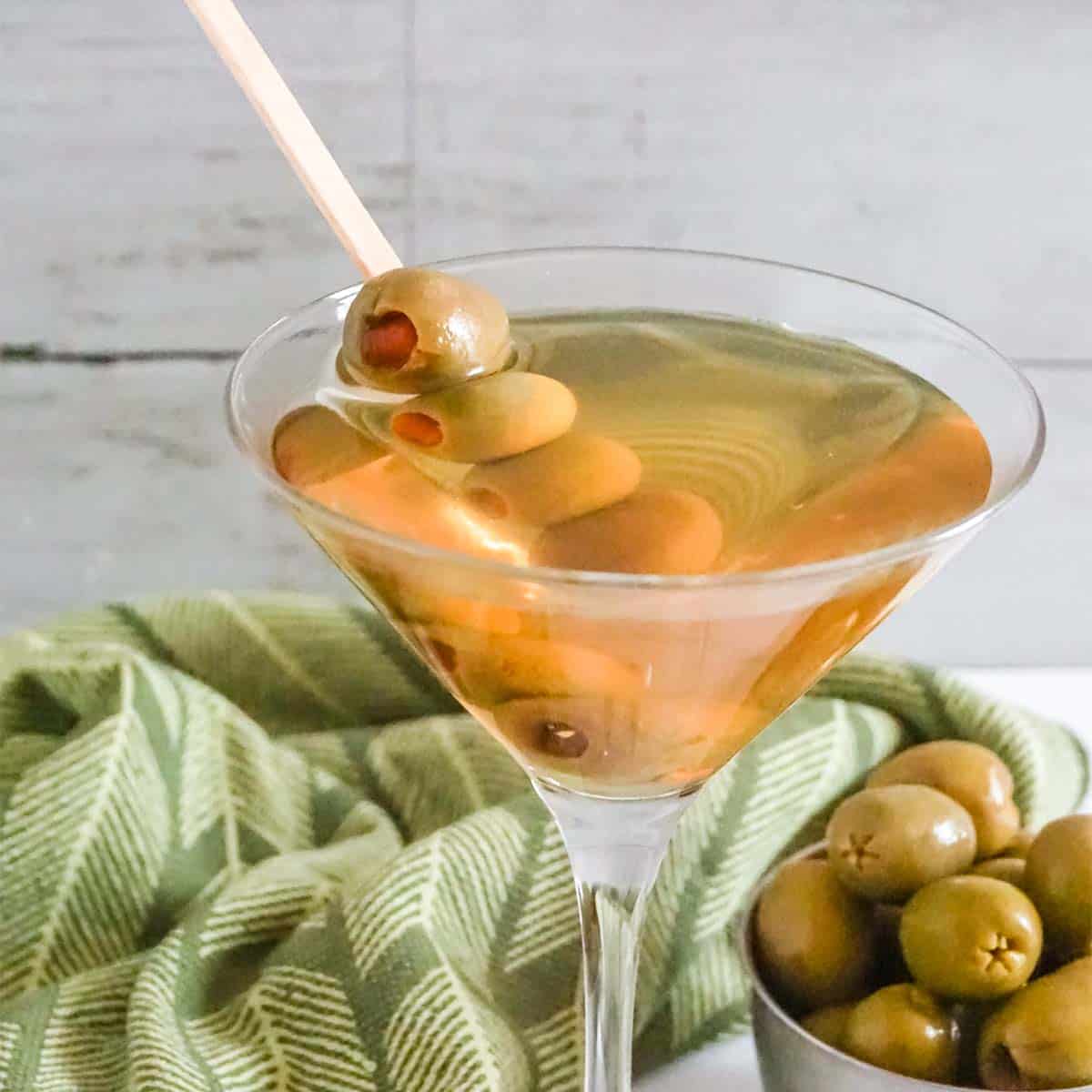 Fun Facts About the Dirty Martini
Ah, the Dirty Martini. One of the most iconic cocktails around, but did you know it actually has an interesting history? Legend has it that during the Prohibition era, bartenders would mask the taste of bootleg gin by adding olive brine to the mix.
Thus, the Dirty Martini was born.
And did you know that the original recipe called for a 50/50 ratio of gin and vermouth?
It wasn't until the 1930s that the famous 2:1 ratio was introduced.
And if you're wondering about where the name came from, it's simply because of the cloudy, "dirty" appearance of the olive brine in the clear glass.
So the next time you order a Dirty Martini, you can impress your friends with these fun facts!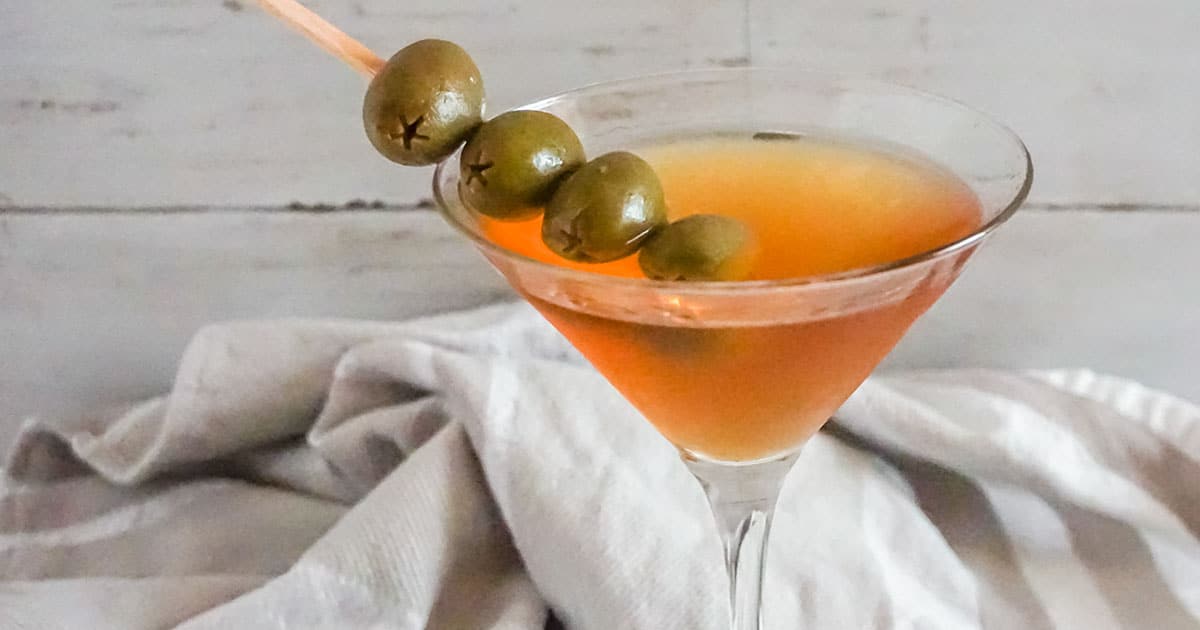 Home Bar Equipment
Having a well-stocked home bar with the equipment to make cocktails whenever you desire is important for the cocktail enthusiast. Build your bar for the perfect cocktail drinks with a few of my favorite items to make great drinks with great tools.
How to Store Cocktails
This cocktail is super easy to make, but you can make it ahead of time.
Refrigerating Leftovers - You can store leftovers of a dirty martini in the fridge for up to three days (but you probably won't have any, trust me).
Freezing Leftovers - Frozen dirty martini slushies can also be made with leftovers. Just pop the leftovers in a freezer bag and pull out later.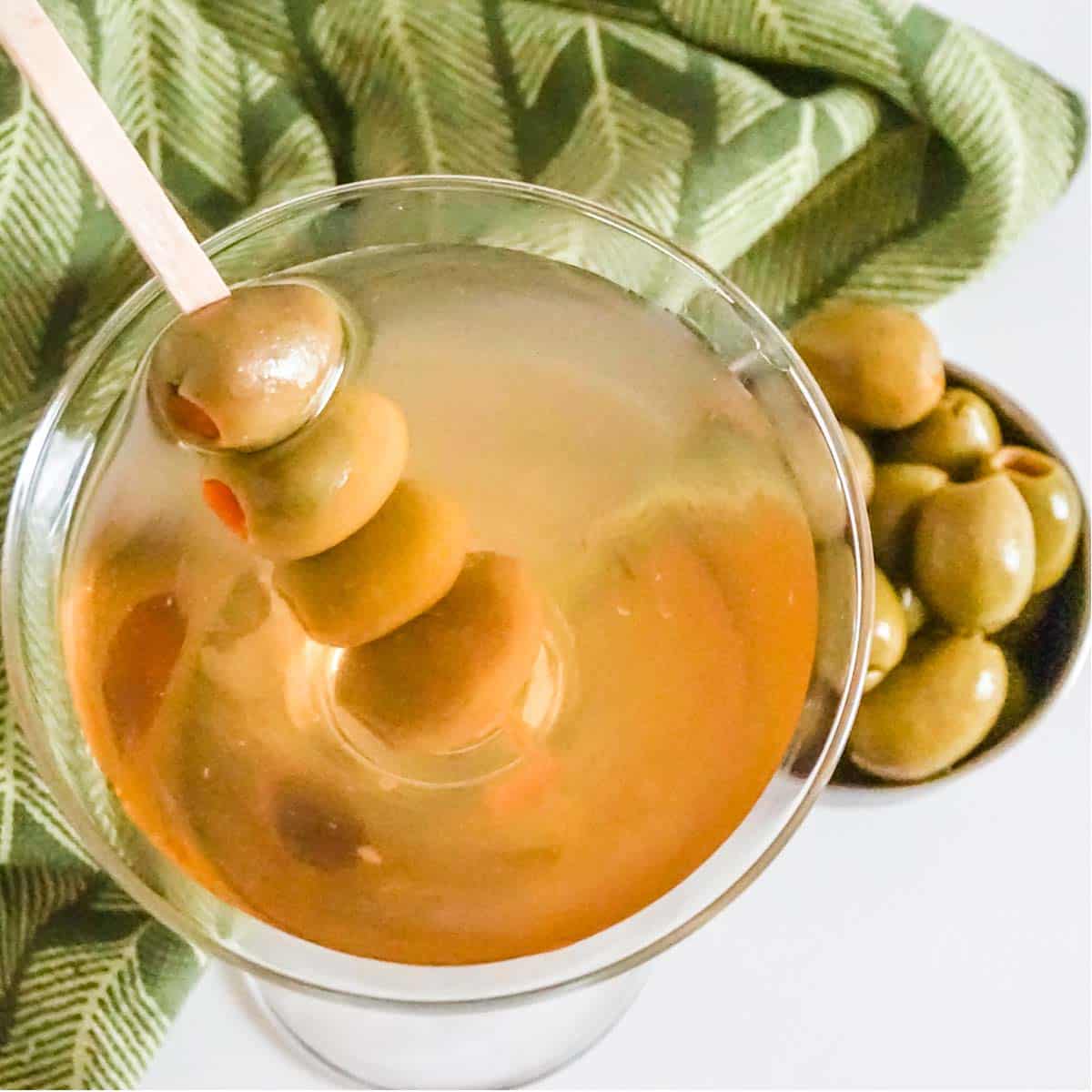 Tips for Making Stronger Cocktails
Start with high-quality ingredients and don't skimp on the spirits.
Use fresh juices, herbs, and spices to add layers of flavor.
Balance sweet and sour flavors by adding a bit of sugar or citrus juice where needed.
Consider using liqueurs for additional complexity.
Experiment with different combinations until you find something that works for your taste buds.
Use less ice in cocktails as it can dilute drinks too quickly.
Stir rather than shake when mixing drinks so they stay cold without watering down the alcohol content too much.
Add sweetness sparingly; if a drink tastes too sweet, add some bitters to balance it out.
Store all relevant ingredients together in one place so you have quick access when making drinks at home or behind a bar counter!
Tips for Making Chillier Cocktails
The heat of the summer can quickly make your cocktails warm. Here are a few tips for keeping your cocktails cool.
Freeze your Booze - Keep your liquor in the freezer in the summer. It will make your booze more syrupy but the cocktail ice cold.
Chill your Juices - Always have your mixers in the fridge. This means your juices too. Don't just keep your unopened juices on the shelf.
Refrigerate your Fruit - When using citrus, pop it in the fridge to chill it as well. It can act as ice cubes. While this recipe doesn't call for fruit, using frozen fruit instead of fresh fruit also helps keep drinks chilled.
With the popularity of the dirty martini, it's no surprise that it continues to be a classic staple in any good bar.
From olive juice, different vermouths, olives and all manner of adornments – there are endless paths to take when crafting your own dirty martini.
Get creative with your ingredients but make sure you're using quality liquors for an unforgettable dirty martini experience. Cheers!
RECIPE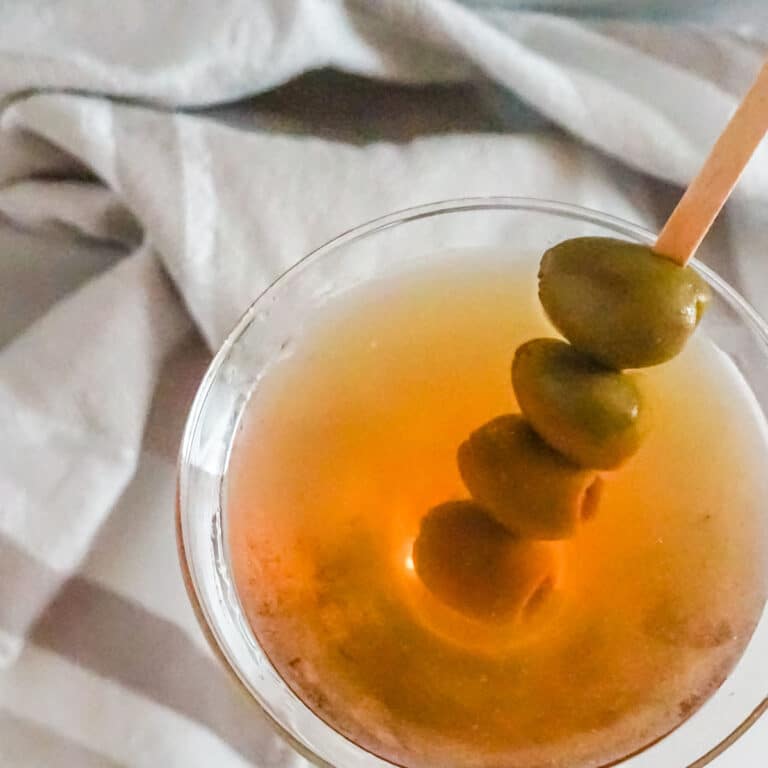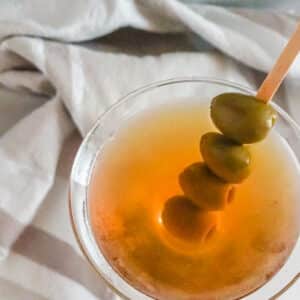 The Perfect Dirty Martini
When it comes to making the perfect dirty martini, you don't need to rely on fancy techniques or expensive ingredients!
Print
Pin
Rate
Ingredients
2 ½

oz

Gin

½

oz

Dry Vermouth

½-1

oz

Olive Brine

2-4

Olives
Instructions
In shaker combine Gin, Vermouth and Olive Brine with ice.

2 ½ oz Gin,

½ oz Dry Vermouth,

½-1 oz Olive Brine

Shake together for 20-30 seconds.

Pour cocktail into Martini glass using the strainer for the shaker.

Top Martini with 2-4 olives on a toothpick.
Nutrition
Serving:
1
g
|
Calories:
187
kcal
|
Carbohydrates:
1
g
|
Protein:
0.1
g
|
Fat:
1
g
|
Saturated Fat:
0.2
g
|
Polyunsaturated Fat:
0.1
g
|
Monounsaturated Fat:
1
g
|
Sodium:
126
mg
|
Potassium:
5
mg
|
Fiber:
0.3
g
|
Sugar:
0.04
g
|
Vitamin A:
31
IU
|
Calcium:
4
mg
|
Iron:
0.1
mg
Latest posts by Chantal Kirkland
(see all)