Do you love champagne? Do you love ice cream? If so, then you are going to LOVE this champagne ice cream float recipe! This is a delicious and decadent treat that is perfect for adults.
It is the perfect way to celebrate special occasions or just enjoy a quiet evening at home. We will give you all of the details on how to make this amazing drink, and I promise that you won't be disappointed!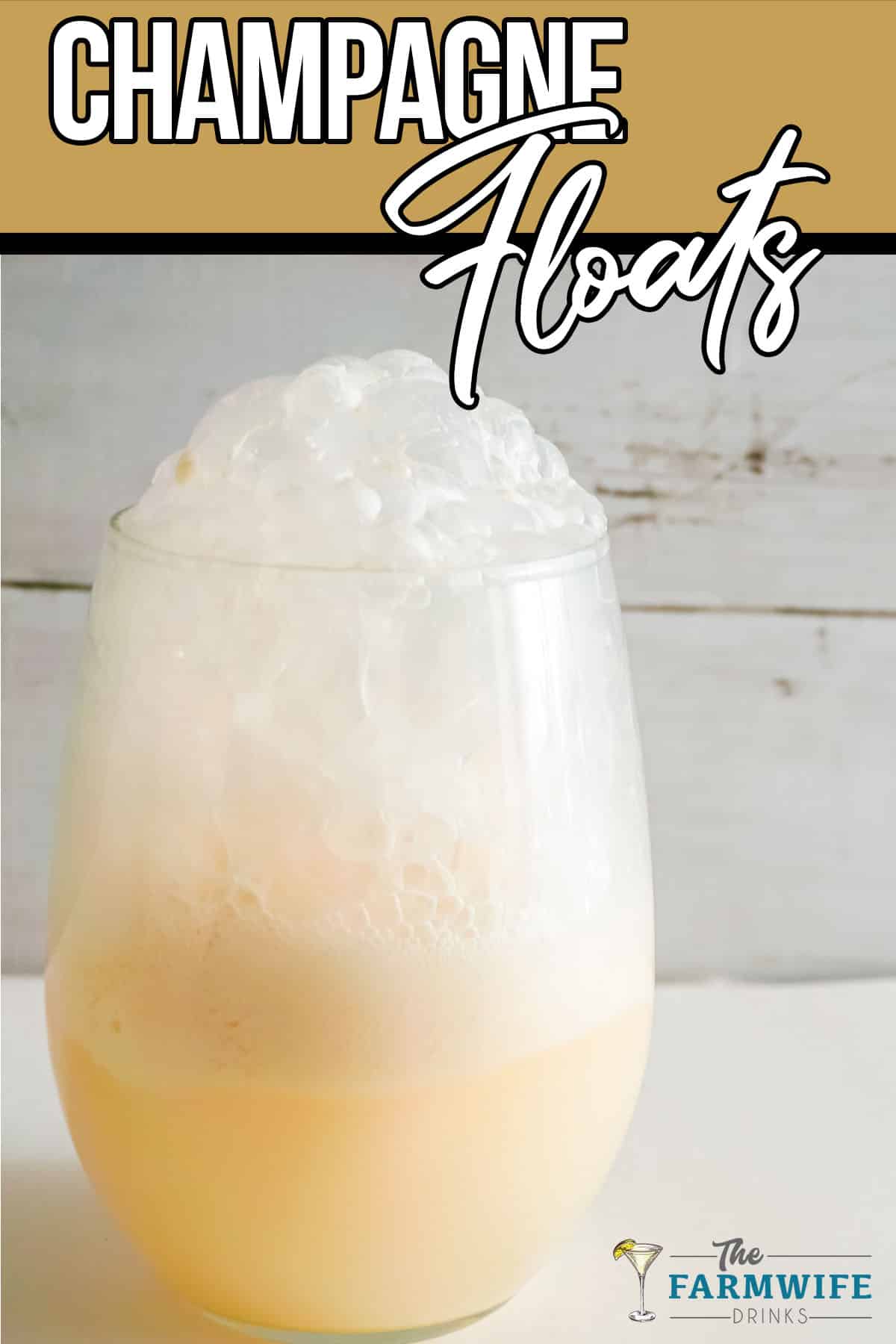 Indulge in This Delicious Champagne Ice Cream Float
Champagne is a delicious drink that pairs perfectly with sweet treats. In this blog post, we will be sharing our recipe for a champagne ice cream float! This is the perfect drink for adults who want to indulge in something special.
The champagne flavor pairs perfectly with the sweetness of the ice cream, and it's sure to please your taste buds. We hope you enjoy this delicious recipe!
What You Need to Make a Champagne Float
Making a champagne ice cream float is surprisingly simple. All you need are two ingredients: champagne and your favorite ice cream! Here's what I used:
8 oz (1 cup) Sparkling Wine/Champagne
3 Scoops Vanilla Ice Cream
If you don't have any champagne on hand, or if you're looking for something a bit more budget-friendly, then sparkling wine is also an excellent option. The flavor won't be quite the same as with champagne, but it will still make for a delicious treat!
With just these two ingredients, anyone can whip up this decadent drink in no time at all.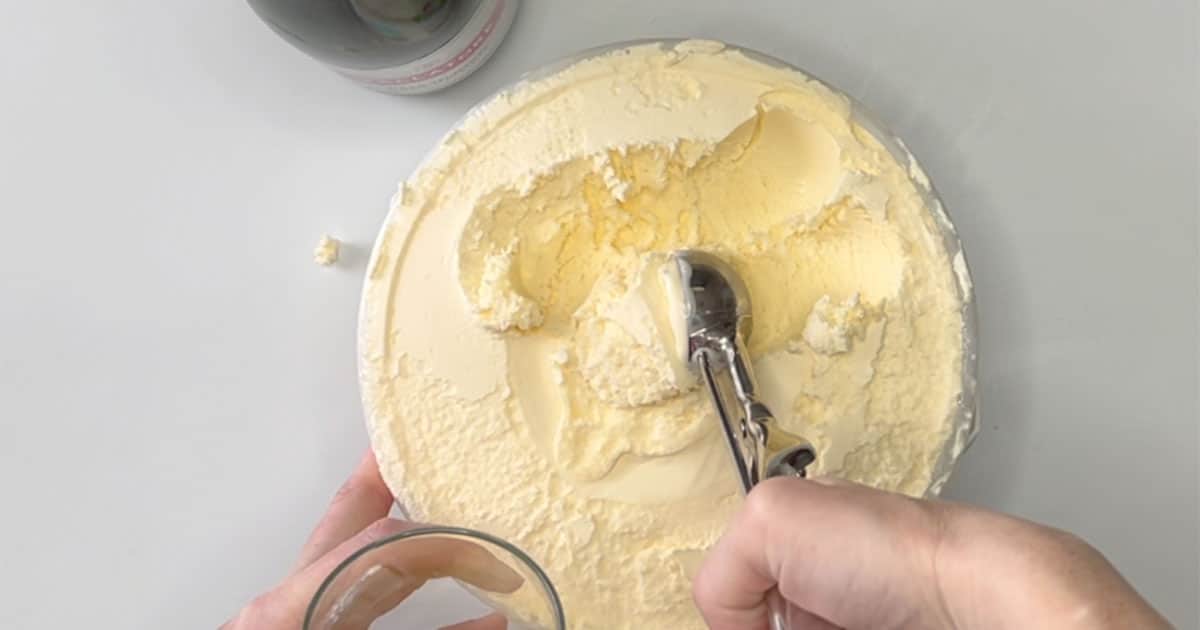 How to Make a Champagne Float
Put three mini scoops of Vanilla ice cream into a wine glass.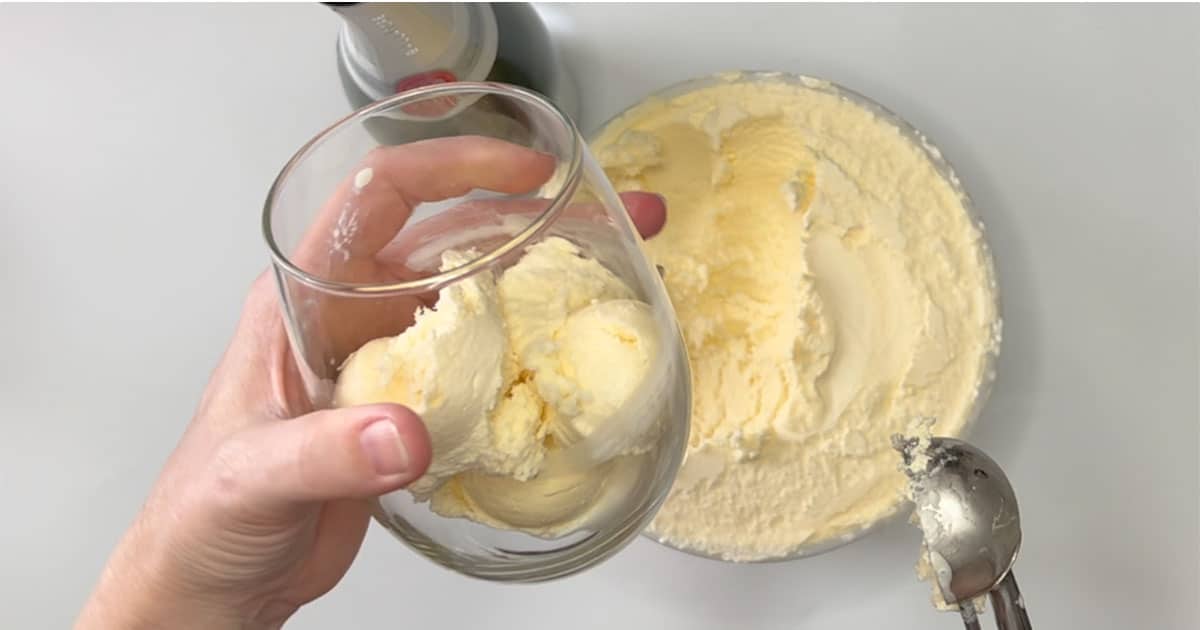 Pour sparkling wine over Ice Cream.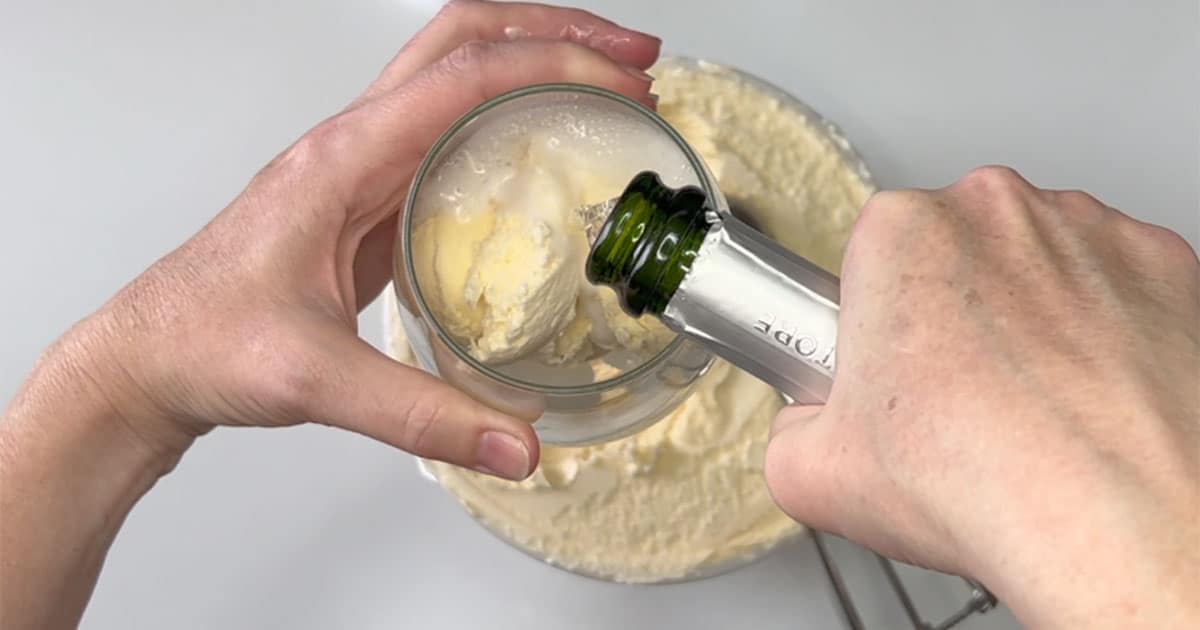 Tips to Make This Cocktail a Little Stronger?
An easy tip is to add another alcohol to this simple 2 ingredient cocktail without modifying the flavor at all, a great example would be to add in a flavored vodka like vanilla or whipped cream flavored vodka.
If you're looking for a stronger drink but don't mind making the flavor a little unique, then you can always add some other liquor. A splash of cognac or brandy will give it an extra kick. You could also try pouring in some orange liqueur for a hint of citrus flavor.
Is this Champagne Ice Cream Float Vegan?
Yes, this champagne ice cream float can easily be made vegan! Simply substitute your favorite vegan ice cream for the regular dairy-based kind. Plus, there are some brands of vegan sparkling wine available on the market too if you'd like to make your drink extra special.
Is This Champagne Float Gluten-Free?
Yes, this champagne float is naturally gluten-free! Just make sure to check the label on your sparkling wine or champagne to ensure it doesn't contain any gluten ingredients.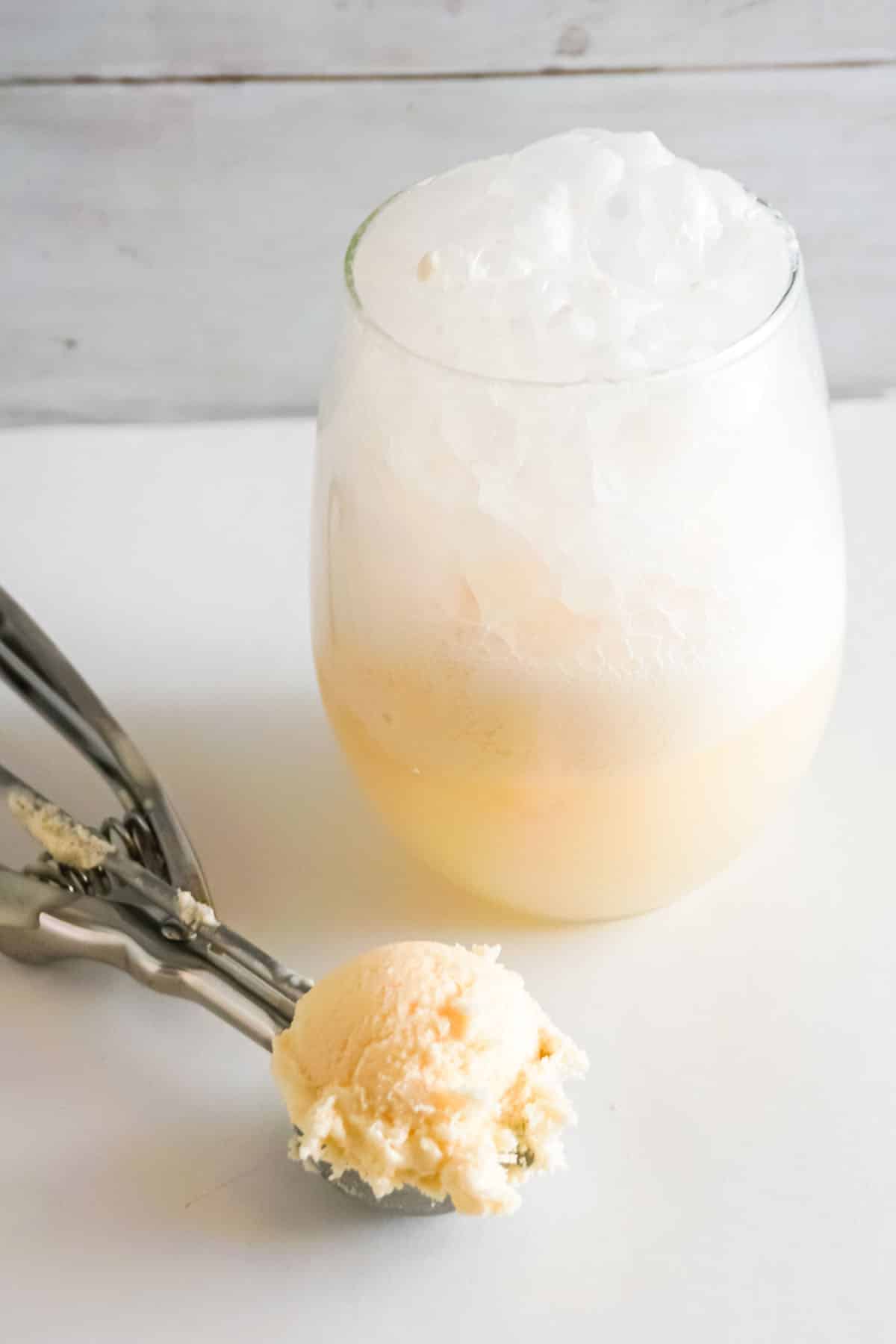 What Are Some Fun Variations on a Champagne Ice Cream Float?
We can easily replace the wine/or champagne in this recipe to any of your favorite choices. Another simple substitute in this recipe is to replace the vanilla ice cream to a Sherbert or another favorite ice cream. You can even change it up and just do whipped cream in the champagne instead, if ice cream isn't your thing.
Some of my favorite ideas for mixing up a champagne ice cream float are:
Raspberry Champagne Ice Cream Float: Replace the ice cream with raspberry sorbet for a fruity twist on the classic champagne float.
Irish Cream Champagne Float: Add a splash of Irish cream liqueur to your champagne and ice cream combo for an extra layer of flavor.
Coconut Rum & Mango Sorbet Float: Change up your ingredients by using mango sorbet and coconut rum in place of ice cream and champagne.
Boozy Chocolate Milkshake Float: For a decadent treat, mix together chocolate milkshake, dark rum, and sparkling wine for an indulgent adult beverage that's perfect for any occasion!
Cherry Cola & Bourbon Float: Mix cherry cola with bourbon whiskey and top it off with vanilla ice cream for a unique take on this classic drink recipe!
Mezcal & Vanilla Bean Ice Cream Float: Unusual yet delicious, this unique mixture combines smoky mezcal with sweet vanilla bean ice cream to make one tasty cocktail!
Spiced Apple Cider Margarita Float: Try something new by adding spiced apple cider margarita into your float instead of just regular beer or champagne!
Tips to Keep Your Champagne Float Chilled Longer
Champagne floats can be refrigerated to keep them chilled longer. Make sure to keep the champagne and ice cream separate until you're ready to serve it, as the carbonation in the champagne will cause the ice cream to melt faster.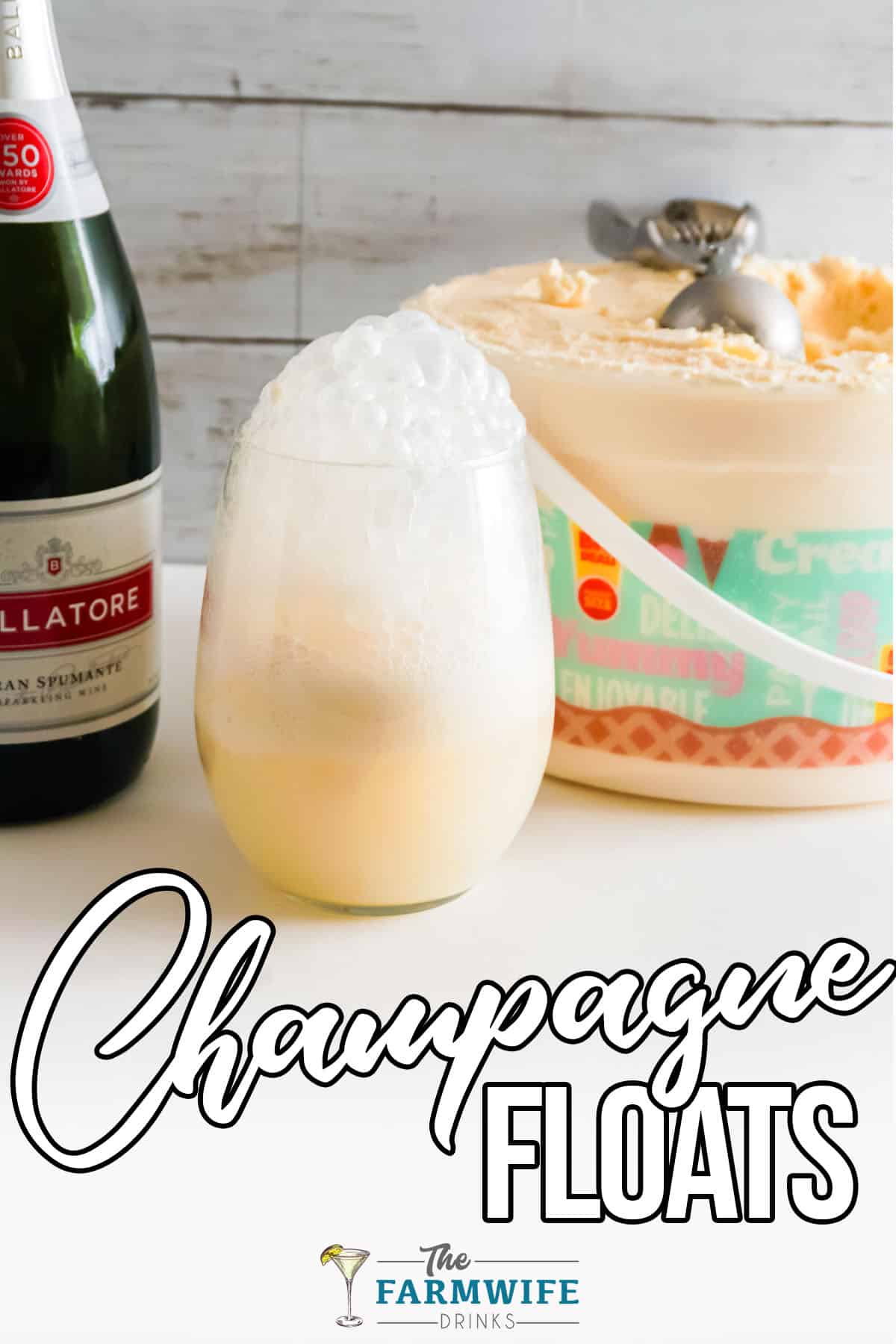 How to Store Any Leftovers
If you have the champagne and ice-cream already mixed together, I would store any leftovers in the freezer right away. Nobody wants a melted ice-cream float.
However, if you have not mixed them together the ice cream can go straight into the freezer while the champagne bottle can go into the fridge.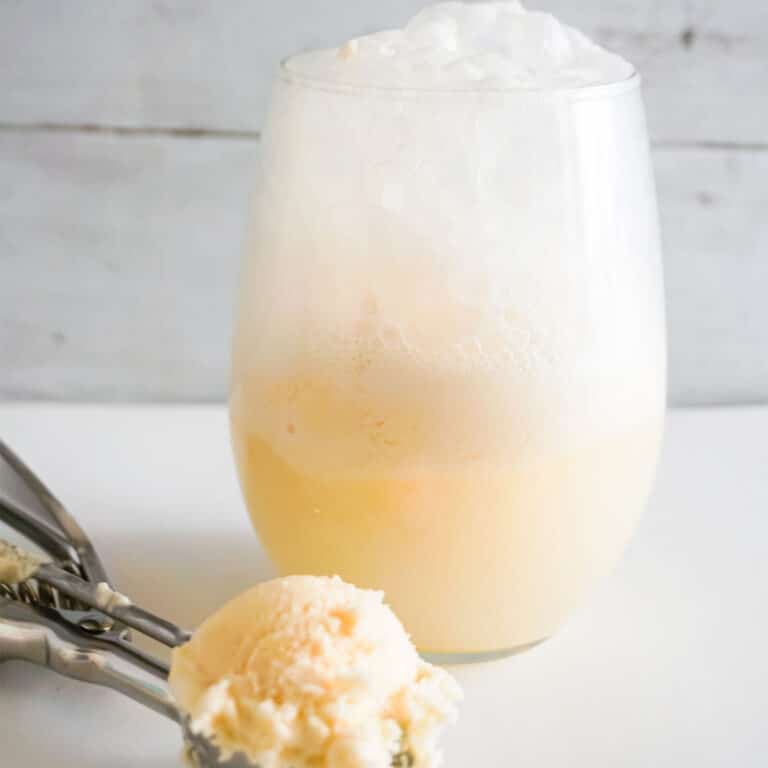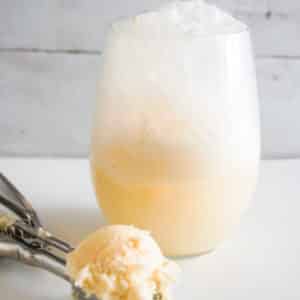 Champagne Float
While the kids go for their Root beer Float, try out this adult version with champagne or sparkling wine. Very bubbly and a creamy texture.
Print
Pin
Rate
Ingredients
8

oz

Sparkling Wine/Champagne

3

Scoops

Vanilla Ice Cream
Instructions
Put Three mini scoops into wine glass.

3 Scoops Vanilla Ice Cream

Pour sparkling wine/Champagne over Ice Cream.

8 oz Sparkling Wine/Champagne
Nutrition
Serving:
1
g
|
Calories:
521
kcal
|
Carbohydrates:
49
g
|
Protein:
7
g
|
Fat:
22
g
|
Saturated Fat:
13
g
|
Polyunsaturated Fat:
1
g
|
Monounsaturated Fat:
6
g
|
Cholesterol:
87
mg
|
Sodium:
174
mg
|
Potassium:
594
mg
|
Fiber:
1
g
|
Sugar:
45
g
|
Vitamin A:
834
IU
|
Vitamin C:
1
mg
|
Calcium:
274
mg
|
Iron:
1
mg
Latest posts by Chantal Kirkland
(see all)